Found August 07, 2013 on Fox Sports Wisconsin:
To be honest, I had no idea the direction I was going to go with this as of Tuesday afternoon. But luckily Brandon Jennings opened his mouth at his introductory press conference in Detroit. Athletes are in a tough spot in a setting like an introductory press conference, as everyone in the new city is expecting to walk away impressed. Jennings talked a big game in his new digs Tuesday, dropping a couple of lines sure to make all Milwaukee Bucks fans shake their heads and laugh. "The things I was doing in Milwaukee, I won't have to do here," Jennings said. "(Like) take all those bad shots, because we have so many pieces." He won't have to take all those bad shots? So, somebody was forcing Jennings to take those 20-foot fade-away two-pointers with 20 second on the shot clock? Sure, Jennings sometimes had to bail the Bucks out late in the shot clock, but the majority of the shots labeled "bad" came on his own. Jennings was confident in saying he's going to be a totally new player next season. Because the Pistons are so talented, Jennings is suddenly going to eliminate the bad shots and change his offensive game for the better. "I have that chip on my shoulder," Jennings said. "This year I think you are going to see a whole different player. All the talent I have around me, the veterans that are in the locker room, all these guys played at a high level. I can just be myself and who I was five years ago when I was in high school, playing AAU basketball." To me, that last line makes no sense. Why wasn't Jennings playing as the player he wanted to be all along? From the day he was drafted 10th overall in 2010, Jennings had every chance to succeed in Milwaukee. Scott Skiles handed him the ball as a 20-year-old and let him go. To say Jennings couldn't be the player he wanted to be in Milwaukee is a ridiculous statement. Some would argue the Bucks let Jennings have too much freedom. Consistency wasn't there in Jennings' tenure in town, maybe he feels that prevented him from improving. Brandon Jennings is not a bad player. He's a good player, but not a franchise player. Part of the reason the marriage between the Bucks and Jennings didn't work was because many expected and then hoped he would turn into a franchise player. The Bucks have been starved of a star player since the day they traded Ray Allen. Michael Redd was a very good player, but he wasn't a star. Early on in his rookie season, Jennings appeared to be the guy Milwaukee has been longing for. And then came the 55-point game. That night seemed like the coming out party for the kid who called himself "Young Buck" at the time. Bucks fans became believers -- this kid looked like the franchise player they had long desired. While a memorable night, the fact that was Jennings' most memorable moment in a Bucks uniform speaks to where things went from there. There was a whole lot of waiting for something to happen and nothing ever did. As time wore on and disappointment grew, Milwaukee's divorce from Jennings became more and more inevitable. While he'll only be 24-years-old at the start of next season, Jennings never was going to get any better in Milwaukee. He had become a headache, one that wasn't worth the trouble. Jennings is not a bad person by any stretch of the imagination. He did great work in the Milwaukee community and that should not be forgotten. The franchise had to move on and chose wisely in doing so, but pulling the trigger didn't come easy to general manager John Hammond. "It was a very difficult decision because I really appreciate Brandon Jennings and care from him very much," Hammond said. "I really appreciate what he brought to this organization for the last four years. I would call Brandon a warrior, a guy that competed every night and put forth a great effort for us." There's a chance Jennings can figure it out in Detroit and really be serious about changing his game for the better. I'm just a skeptic of it ever happening. He's known to talk a big game, just like he did again Tuesday when talking about Detroit's frontcourt. "They're going to make my job a lot easier, and of course I'm going to make their job a lot easier," Jennings said. "I guess you could say we can bring Lob City to Detroit this year." Just like his "Bucks in six" prediction before the playoff series with the Miami Heat, Jennings was probably just joking around. But stuff like this mixed with unfulfilled expectations is what wore his welcome thin in Milwaukee. It's crazy how ordinary his exit was after how remarkable his entrance was just four years ago, but it's time to move on for both Jennings and the Bucks. It's a fresh start for both parties, something Hammond discussed with Jennings right after the trade. "We'll see how it goes for him," Hammond said. "We talked, and we talked about those sort of things. I wish him nothing but the very, very best. He deserves it." Follow Andrew Gruman on Twitter
Original Story:
http://www.foxsportswisconsin.com/nba...
THE BACKYARD
BEST OF MAXIM
RELATED ARTICLES
The Detroit Pistons point guard Brandon Jennings is known for making outrageous promises that he knows he can't keep. Jennings faced the media on Tuesday with Pistons GM Joe Dumars to discuss his new lease on life now that he has a massive front court to work with. Jennings vowed to upgrade his game while bring the flash and bang of the Clippers to Detroit. Please click here...
AUBURN HILLS -- He wears No. 7, his name is Brandon and he's going to be the Pistons point guard. Despite all of that, Pistons fans won't fail to notice that Brandon Jennings is now running the show instead of Brandon Knight. Jennings was introduced to the Detroit media Tuesday, and made it clear that he thinks his talents will fit right into the new-look Pistons roster...
Photo Credit: Roberto Serra/Iguana Press/Getty Images It seemed as if the Detroit Pistons filled their glaring void at point guard when they acquired Brandon Jennings last week via sign-and-trade; but, were other intentions in mind? According to The Boston Globe, the Detroit Pistons could use Brandon Jennings as a 'trade chip' to acquire Rajon Rondo. There has been been an absurd...
Photo Credit: Eileen Blass, USA TODAY Sports Well, it's finally here. The NBA released the full 2013-14 schedule yesterday and now it's time to breakdown what the Detroit Pistons will have in front of them. First and foremost, the Detroit Pistons will open up the regular season at home against the Washington Wizards on Oct. 30. Detroit will also have four nationally televised...
New Pistons point guard Brandon Jennings made quite a few proclamations upon his introduction to Detroit vowing to be a different player chief among them. Jennings signed a three-year $24 million deal courtesy of a sign-and-trade with his former team the Milwaukee Bucks as the Pistons traded away the most recent "point guard of the future" Brandon Knight. It's not that Jennings...
Brandon Jennings is loving life as a Piston right now, but what happens if he doesn't start? Joe Dumars isn't sure who will start at point guard for the Detroit Pistons this season, but according to MLive, Dumars says every guard on the teams has told him that they plan on starting. "So did Will Bynum, so did Peyton Siva, so did Brandon Jennings. They all told me that when...
According to Pistons GM, Joe Dumars, the Pistons starting point guard job is up for grabs and not guaranteed to anybody, including recently acquired Brandon Jennings. In an interview with Brendan Savage of MLive, Dumars said that the decision is up to head coach, Maurice Cheeks, who says he's giving it to whoever "earns it." In fact, when Billups signed in Detroit, he said...
Come this season in Detroit, we will find out if Brandon Jennings is a man of his word or a Chris Paul doppelganger. Since joining the Pistons in a point-guard sign-and-trade swap that sent Brandon Knight to the Milwaukee Bucks last week, Jennings has gone on record to say that running with a front-line of Andre Drummond, Greg Monroe and freshly signed free agent Josh Smith reminds...
Hood By Air is definitely a brand to keep your eye on, their  collection combines streetwear  and high fashion pieces with emphasis on black and white hues. Hood By Air is getting much deserved attention with celebrity artists like Kanye West, and Rihanna wearing their edgy pieces. Now we can add pro athletes into the mix, as I recently spotted NBA baller Brandon Jennings (Detroit...
Joe Dumars isn't sure who will start at point guard for the Detroit Pistons this season. Brandon Jennings is assumed to have the inside track, but will compete with Chauncey Billups and Peyton Siva. Billups said he was returning to the Pistons to be their starter at point guard. "So did Will Bynum, so did Peyton Siva, so did Brandon Jennings. They all told me that when they...
Nathaniel S. Butler/NBAE/Getty According to a report from Brett Pollakoff of the Pro Basketball Talk blog on NBCSports.com, the Detroit Pistons still have intentions on making a splash even after acquiring athletic point guard Brandon Jennings. It has been reported that the team still has interest in acquiring Boston Celtics point guard Rajon Rondo. This is according to Gary Washburn...
NBA News

Delivered to your inbox

You'll also receive Yardbarker's daily Top 10, featuring the best sports stories from around the web. Customize your newsletter to get articles on your favorite sports and teams. And the best part? It's free!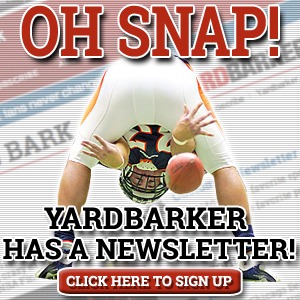 Latest Rumors
The Backyard

Today's Best Stuff

For Bloggers

Join the Yardbarker Network for more promotion, traffic, and money.

Company Info

Help

What is Yardbarker?

Yardbarker is the largest network of sports blogs and pro athlete blogs on the web. This site is the hub of the Yardbarker Network, where our editors and algorithms curate the best sports content from our network and beyond.