Found November 27, 2012 on Fox Sports Southwest:
OKLAHOMA CITY Scott Brooks is known for his low-key approach, so when he said Wednesday's game against Houston was something bigger, it made an impression. After all, Brooks is a company man, loves to talk about the process and the practice. Every game counts the same, all 82 of 'em, so getting too high for the Lakers or showing disinterest in the Bobcats would be a disservice to his team. But Wednesday? Even Brooks couldn't temper, stifle or diminish the situation. "I want to beat the Rockets," Brooks dead-panned. "They traded me in the second championship year. It took me five years to get over it. It's still personal." Brooks brought the LOL Tuesday, deflecting the topic away from another Rockets-Thunder connection, but there won't be any avoiding it Wednesday when James Harden returns to Oklahoma City. "It's a fun game," Brooks said. "You're talking great environment." But really this game has implications far beyond a regular November matchup. It's a statement situation wrapped inside the mystery of potential validation. Sure, it's early, but don't count on it being to soon for both the Thunder and Rockets to project who's winning, or who's won, the trade that shook up Oklahoma City and re-worked a Houston roster. Brooks and the players wouldn't say it, and you can't blame them, but c'mon, you just know the Oklahoma City players will be doing everything they can to limit Harden. Both scenarios - How much have the Thunder missed Harden and how well can Harden carry a team, will not be answered Wednesday, but both will be seen. And you just know Harden will be doing everything he can to show the Thunder made a mistake when they traded him just days before the season started. And while the teams will play two more times this season, you also know some team is going to feel pretty validated after the final buzzer Wednesday, because so far this season, it's been hard to tell who's won the trade. "There's always emotions," Brooks said. "You also have to understand it's a business. The team has to make the best decisions for the team. We've moved forward and moved on and we'll continue to charge forward." No player seemed to have a better connection with fans than Harden did with the Thunder. A definite crowd favorite, maybe because of his beard, or maybe because of his 6th-man style, coming off the bench but playing like a star. Harden is gone, not forgotten, but replaced. Kevin Martin is the new 6th-man, providing a comparable amount of scoring with a diminished amount of flair. Martin and Harden have switched roles. Harden, going from an important piece off the bench to the star of the team. Martin, in his ninth season in the league, has gone from star to complementary piece. Both have thrived. Martin is averaging 15.7 points per game. Harden is getting a team-high 25.2. And now Martin gets a chance at his former team, too. People seem to forget that. As much as folks want to make this about how Harden is missed, Martin will be dealing with the same set of emotions as he plays against the team where he suited up for more than two seasons. "I've been in the league nine years. I have nothing personal with anything," Martin said. "That's for everyone else to make anything they want to make out of it. Any big trade, people would think that. We're both doing great in the situations we're in." That situation has the Thunder at 10-4 and the Rockets at 6-7. The situation, as Brooks and his charges say, is not a Thunder-vs.-Harden game, but somewhere it has to be whether it's behind the curtain or on the stat sheet. There's no question, it's more emotional for the guy playing against his former team," Brooks said. "We need to beat the Rockets. It's not just James. When you come back and play against the team you've been traded, there's more emotions there. It's important that we focus on beating them and not just what he does." But what he does is make the Rockets go. Stop Harden, and the Thunder should thrive. He's the team's leading scorer on the fifth-highest scoring team in the league. "He has the green light and plays freely and can basically do what he wants," Thunder guard Russell Westbrook said. "Our job is not to worry about slowing James down. As long as we play team defense we'll be alright." More importantly, stop Harden and the Thunder can say they won the trade, that they don't miss him, that everything will be fine, or even better. For now.
Original Story:
http://www.foxsportssouthwest.com/11/...
THE BACKYARD
BEST OF MAXIM
RELATED ARTICLES
OKLAHOMA CITY Used to be, James Harden was cheered, not booed, even when he was bad. And by now you know what happened Wednesday night in his return to Oklahoma City as a starter and star for the Houston Rockets. Harden was real bad. Used to be, he was the most-popular player in Thunder blue, thanks to a game with flair and a beard that that was so popular it developed its own...
Tweet   James Harden made his much anticipated return to his old stomping grounds tonight as a member of the Houston Rockets and brought with him a 25.1 ppg average, good for fifth in the NBA. When asked about his return Harden said it would be "just another game" and he may very well believe [...]
HELLO, OLD FRIEND
James Harden had a rough game against his old team, the Oklahoma City Thunder. He shot poorly, and the Thunder showed that they're still the dominant team, even without their former sixth-man. Russell Westbrook didn't make Harden's night any better with this awesome block from behind on one of Harden's jumpers: I'm sure James Harden didn't even know Russell Westbrook...
James Harden scored 24 points and matched a career high with 12 assists, Patrick Patterson added 22 points and the Houston Rockets beat the Toronto Raptors 117-101 on Tuesday night. Omer Asik had 13 points and 18 rebounds for the Rockets, who have won four in a row. Andrea Bargnani scored 21 points and Terrence Ross added a career-high 19 for the Raptors, who have lost five straight...
Following their 117-101 win over the Raptors, the Rockets hopped on a plane for Minneapolis where they will attend Sasha McHale's funeral today in support of their head coach, Kevin McHale. But that's not the only reason it will be a long, emotional day. The team will fly to Oklahoma City immediately following the funeral to take on the Thunder tonight in James Harden's first...
Kevin Durant matched his season high with 37 points, and Oklahoma City beat the Houston Rockets 120-98 on Wednesday night in James Harden's first game back in Chesapeake Energy Arena since being traded by the Thunder before the season. Harden scored 17 points, but was limited to 3-for-16 shooting. He had six shots blocked by the Thunder. Patrick Patterson scored 27 points and...
OKLAHOMA CITY (AP) -- Kevin Durant matched his season high with 37 points, and Oklahoma City beat the Houston Rockets 120-98 on Wednesday night in James Harden's first game back in Chesapeake Energy Arena since being traded by the Thunder before the season. Harden scored 17 points, but was limited to 3-for-16 shooting. He had six shots blocked by the Thunder. Patrick Patterson...
Houston Rockets (7-7) vs. Oklahoma City Thunder (11-4) 8 p.m./NBATV Oh, hey there, James. Did not even notice you are gone. Why are you wearing red? There is a game tonight. Huh? You got traded. I thought you looked less beard-y coming off the bench. Tonight, James Harden returns to Oklahoma City for the first time since the trade at the beginning of the season that...
I haven't been the most devout NBA fan yet in this young season, so I was a little surprised to see that more than a month later, Oklahoma City Thunder fans are still mad at James Harden. In case you forgot – or simply don't care, because it's so damn trivial – Harden turned down a contract extension from the Thunder because it was reportedly lower than the max deal that...
Tomorrow marks exactly a month since the blockbuster trade that sent OKC's James Harden, Cole Aldrich, Daequan Cook and Lazar Hayward to Houston in return for Kevin Martin, Jeremy Lamb and picks. Now that the dust has settled, the Rockets will take on the Thunder at Chesapeake Energy Arena tomorrow night in the 1st matchup between the teams this season. So are the Thunder treating...
OKLAHOMA CITY -- It was supposed to be a homecoming for James Harden. After being traded to the Houston Rockets right before the season started, he made his first appearance back in Oklahoma City on Wednesday night. However, Kevin Durant spoiled the party. With another all-around strong game of 37 points, seven rebounds and four assists, he led the Thunder to a 120-98 victory at...
Monday, November 26th: Knicks @ Nets, 7:00 ET, TNT: Finally, it's the first ever battle of the boroughs!  This is the game originally scheduled for opening week that got postponed due to Hurricane Sandy, and TNT will treating us to a makeup presentation tonight at 7.  Hopefully Shaquille O'Neal will forget he has to work on a Monday this week! Tuesday, November 27th: Timberwolves...
NBA News

Delivered to your inbox

You'll also receive Yardbarker's daily Top 10, featuring the best sports stories from around the web. Customize your newsletter to get articles on your favorite sports and teams. And the best part? It's free!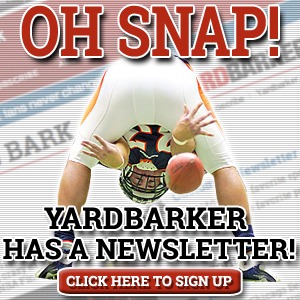 Latest Rumors
The Backyard

Today's Best Stuff

For Bloggers

Join the Yardbarker Network for more promotion, traffic, and money.

Company Info

Help

What is Yardbarker?

Yardbarker is the largest network of sports blogs and pro athlete blogs on the web. This site is the hub of the Yardbarker Network, where our editors and algorithms curate the best sports content from our network and beyond.