Posted April 22, 2013 on AP on Fox
PLAYERS:
James Harden
,
Kevin Durant
,
Russell Westbrook
,
Omer Asik
,
Jeremy Lin
,
Kevin Mchale
,
Thabo Sefolosha
,
Scott Brooks
,
Serge Ibaka
,
Kevin Martin
,
Chandler Parsons
,
Kendrick Perkins
TEAMS:
Houston Rockets
,
Oklahoma City Thunder
James Harden is going to need much more help from his Houston Rockets teammates if he hopes to knock off the team that traded him away before the season started. Kevin Durant scored 24 points, Russell Westbrook made a run at a triple-double in three quarters and the Oklahoma City Thunder routed Harden and the Rockets 120-91 on Sunday night in Game 1 of their first-round playoff series. ''Believe it or not, I think this was good for us,'' Harden said. ''Losing like this was definitely good for us. Now we know how to play.'' Harden scored 20 but Houston was held 15 points below its regular-season average while shooting 36 percent. The Rockets, who set a franchise record for 3-pointers during the regular season, finished 8 for 36 (22 percent) from behind the arc. Harden didn't get much help from the rest of his fellow starters, who combined for a total of three career playoff starts, all by center Omer Asik. None of the other starters scored in double figures and the unit went 17 for 50 from the field, with Harden making just six of his 19 attempts. ''We really don't have an excuse anymore,'' said Jeremy Lin, one of three Houston starters making their first career playoff appearance. ''We've gotten it out and played terrible all the way across the board - offensively, defensively. That one's over with.'' The Rockets made the playoffs for the first time in four years after acquiring Harden in a surprising trade at the end of training camp. He went on to become an All-Star and finish fifth in the league in scoring. ''James, on this team, has to shoulder a ton of responsibilities for us and he's been great all year long,'' coach Kevin McHale said. ''He's had an all-pro type of year. ... He'll play better, just like everybody. ''We ask him to do an awful lot for us - handle the ball, score the ball, pass the ball, make plays. I think that he had it going there for a little bit, but it wasn't James. It was us in general as a team. We never really caught a flow at all tonight.'' Game 2 is Wednesday night in Oklahoma City. Harden said he tried to block out what kind of reaction he might get from the crowd that once cheered for him and wore fake beards to mimic his trademark look. He was just focused on trying to win. Hours before going head-to-head with Harden, Durant said that ''we're not looking at him as a friend right now.'' But even right before tipoff, the situation didn't seem natural. ''It felt a little awkward just looking across there during the national anthem and seeing him with another team, but we've got to get past that. We're competing against his team, and he wants to win so bad,'' Durant said afterward. ''We know him personally, so we know how hard he competes and he knows how hard we compete.'' After letting Houston wipe away an 11-point deficit in the first half, the Thunder regained control with a 14-1 surge just before halftime and kept pouring it on. Just after a fan nailed a half-court shot to win $20,000 in the break after the third quarter, Durant drove for a two-handed slam while getting fouled and Oklahoma City was soon up by 30. Harden said he thought his team was ''shell shocked'' with so many players making their playoff debut, and they played like it. ''We didn't have a rhythm as a team. I felt like it was basically one on five every time,'' Harden said. McHale said he thought players were jogging, instead of going at their usual fast pace, and then failed to string together passes on offense. ''We just want to try to make them uncomfortable every time down,'' Durant said. The Thunder were already up by 23 when Larry Hill connected on the half-court shot and went bounding toward Oklahoma City's huddle in celebration, getting congratulated by Thabo Sefolosha before the team's bison mascot pulled him back away. Durant's dunk sparked a string of seven straight points for Oklahoma City, and Harden never even came off the bench in the fourth quarter. Coach Scott Brooks called timeout and pulled Durant a few moments later, and reserves finished out the game for the Thunder. Russell Westbrook ended up with 19 points, 10 assists and eight rebounds. Serge Ibaka chipped in 17 points and Kevin Martin, Harden's replacement in the sixth man role, had nine of his 16 points in the fourth quarter with the game already in hand. It was an impressive playoff opener for top-seeded Oklahoma City, which made it to the NBA Finals last season before losing to Miami in five games. The Thunder led by as much as 35 before Houston's reserves cut into the lead in garbage time. Oklahoma City scored the first six points of the game and opened a 13-2 lead as the Rockets failed to make a basket for the first 6 minutes of the game and started out just 1 for 13 from the field. Houston eventually settled in and charged back with a 13-2 push spanning the break between the first two quarters, with Chandler Parsons providing the final five points on a two-handed putback jam and a 3-pointer. Patrick Beverley pulled the Rockets even at 38 with a transition 3-pointer from the right wing, but the Rockets couldn't pull ahead before Oklahoma City's next surge. Sefolosha had a two-handed slam on a fast break and also assisted on Kendrick Perkins' two-handed dunk during the burst, which extended Oklahoma City's lead to 60-45 before Harden's driving layup in the final second before halftime. All but the first basket in the Thunder's run came after Asik joined Parsons on the bench with three fouls apiece. The Rockets never recovered. Notes: The game ball got switched out in the second quarter after it went into the stands and a drink was spilled on it. ... Harden scored a career-high 46 points in the Rockets' only regular-season win against Oklahoma City, but said he didn't gain any secrets from that performance to carry over into the playoffs. ''I'm not going to lie. I was just making shots,'' he said. ... The Thunder improved to 18-5 in playoff games in Oklahoma City.
Original Story:
http://msn.foxsports.com/nba/story/Ha...
THE BACKYARD
BEST OF MAXIM
RELATED ARTICLES
OKLAHOMA CITY -- Kendrick Perkins ran the break, Derek Fisher made a contested 3-pointer, Kevin Durant drew a charge on his old pal James Harden, dogs jumped rope at halftime and another fan made another 20,000 half-court shot. Everything went right for the Thunder against Houston in their first playoff game as the defending Western Conference champs, and if Sunday was supposed...
The Rockets are likely glad Houston isn't too far from Oklahoma City for more than it just being a short flight. It was a reason why they have decided not to stay the night after Game 1 of their first round playoff series against the Thunder on Sunday. "I just think you come back," Rockets coach Kevin McHale told the Houston Chronicle. "For a 45, 50-minute flight...
Jeremy Lin's season with the Houston Rockets has been much less glamorous in comparison to his season last year with the New York Knicks. He has taken a bit of a back seat to star James Harden, who was acquired from the Oklahoma City Thunder right before the season. Linsanity was in full effect last season, where a no-name point guard came off the bench to produce big time numbers...
Game 1 in OKC was a disaster for Jeremy Lin, James Harden and the rest of the Rockets. This series is going to be an utter mismatch.
CROSSED OVER
As the third quarter dwindled down during Game 1 of the Western Conference quarterfinals matchup of the Houston Rockets and Oklahoma City Thunder, Russell Westbrook performed a nifty move that broke the ankles of Patrick Beverly.  Although, Beverly should stay in hiding tomorrow, Westbrook was called for the offensive fouls as he took it to [...]The post Russell Westbrook Puts Patrick...
The Beard is back. After getting traded to Houston at the end of training camp, James Harden had a feeling he might be meeting up with his former Oklahoma City Thunder teammates when the NBA playoffs rolled around. Sure enough, his Rockets will open the postseason Sunday night at Oklahoma City. Harden spent his first few years in the league building friendships with Kevin Durant...
Game 1 between the Oklahoma City Thunder and The Houston Rockets was a massacre. The Rockets got punched in the mouth, plain and simple. Of course there was a Russell Westbrook highlight. Towards the end of the third quarter, Russ put Rockets Patrick Beverly on skates.   Russell was charged with an offensive foul. Didn't really matter, the Thunder were up by 20 at that point...
OKLAHOMA CITY (AP) -- Coach Kevin McHale was curious to see how his group of playoff newcomers would respond when the Houston Rockets returned to the postseason for the first time in four years. Now that that's over with and the jitters should be gone, it's time for the Rockets to try and tackle the matter of solving the Oklahoma City Thunder's versatile defense. The...
During the first game of the Oklahoma City Thunder / Houston Rockets playoff series, fans were treated to a dog show that… [[ Read More ]]
"Closing Time, open all the doors and let you out into the world, closing time, turn all the lights on over every boy and every girl, closing time, one last call for alcohol so finish your whiskey or beer, closing time, you don't have to go home but you can't stay here," are the lyrics of the Twin Cities'-based band Semisonic.  The lyrics are sadly appropriate...
The Beard is back. In a classic plot twist to spice up the NBA playoffs, Harden and his Houston Rockets faded just enough in the final stretch of the regular season to drop to the No. 8 seed in the Western Conference, just as his old team locked up the top seed. That set up a first-round clash between Harden and the Oklahoma City Thunder, the team that drafted him and where he...
Five things to watch in the first round of the NBA playoffs, which begin Saturday: GAME 3 IN BOSTON: April 26, 8 p.m., Knicks at Celtics. You won't want to be one second late for the start of that telecast on ESPN, because if the scene at the first Bruins game since the Boston Marathon explosions was any indicator, then the emotions that pour out from the stands in the Celtics...
NBA News

Delivered to your inbox

You'll also receive Yardbarker's daily Top 10, featuring the best sports stories from around the web. Customize your newsletter to get articles on your favorite sports and teams. And the best part? It's free!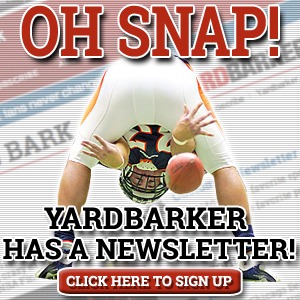 Latest Rumors
The Backyard

Today's Best Stuff

For Bloggers

Join the Yardbarker Network for more promotion, traffic, and money.

Company Info

Help

What is Yardbarker?

Yardbarker is the largest network of sports blogs and pro athlete blogs on the web. This site is the hub of the Yardbarker Network, where our editors and algorithms curate the best sports content from our network and beyond.