Found December 17, 2011 on Fox Sports Florida:
MIAMI - The NBA Finals will continue Sunday for Udonis Haslem. How's that? Well, the Miami Heat played their annual scrimmage game before fans Thursday night. And this is what president Pat Riley had to say about his power forward. "His mindset (Thursday), he came and played like the game was the 7th game," Riley said. "It was the Red-Black game." So one should expect nothing less from Haslem on Sunday at AmericanAirlines Arena, when the Heat plays their first of two preseason games against Orlando. Not that Haslem, who has been hungry since being undrafted out of Florida in 2002, doesn't always feel he has something to prove. But he's really revving up as he works his way back from the most troubling season of his career. Haslem missed the final 69 games of the regular season due to a ruptured ligament in his left foot. He first extended playoff stint wasn't until Game 2 of the Eastern Conference finals against Chicago. Working plenty off adrenaline, Haslem scored 13 points. But he didn't do much the rest of the postseason, averaging 5.6 points and shooting 39 percent in nine games as the Heat ended up losing 4-2 to Dallas in the NBA Finals. "I feel 100 percent better," Haslem said of now compared to last spring. "After the Chicago game (Game 2), everything was downhill for me in the playoffs last year. I feel great now. No pain. Knock on wood that it stays that way, and I'll just try to continue to get myself in the best condition possible and continue to work myself back in and help these guys win." Haslem, 31, says he's in the best shape of his career and is a new man. Even his hairstyle is different. Gone are the braids and cornrows. When Miami coach Erik Spoelstra first saw Haslem earlier this month after the end of a five-month lockout, he didn't immediately recognize him. "New year, new goals and new opportunity ahead of us," Haslem said of now having a short cut. "Just starting all over. Starting from scratch. Just want to start off with a clean slate." In order to work his way fully back, Haslem took a different offseason route than he had ever done. "This summer was the most productive summer I've had as far as building my body back," Haslem said. "I just stayed away from the basketball court as far as going up and down and hooping, and just really focused on plyometrics, band work, core work and just rebuilding my body and getting myself healthy. I knew once I came in here (back to AmericanAirlines Arena after lockout), I'd get myself in playing shape. I just had to be healthy." The 6-foot-8 Haslem unvelieved his new self before the public at Thursday's scrimmage. He had a game-high 23 points and eight rebounds and even took out rookie Terrel Harris when he went in for a layup late in the scrimmage. That wasn't all. "At one point in the game, he got an and one, and he's screaming and yelling,' and Heat guard Dwyane Wade. "We're on the other bench, and we're saying, Man, that's U.D.' No matter what is. If it's a pickup game, U.D., he's firing. He understands what helped get him to this day. Every night he goes out with a chip on his shoulder, no matter what he's doing. I've always said for nine years I'm glad to have that guy on my side." Both Haslem and Wade joined the Heat in 2003. When LeBron James and Chris Bosh arrived in the summer of 2010, what did Haslem do? He not only knew there would be no chance to start at power forward over Bosh, he took a pay cut, going from 7.1 million in 2009-10 to a five-year, 20 million deal. "I love that guy," Wade said. "No matter what it is, he plays everything the same. But it's good to see him out there. In a sense, the lockout was good for him. He really got an opportunity to get healthy. And he's playing. He's back to being U.D., eating the boards up, eating space up. We missed him a lot last year." Haslem, who has career averages of 10.1 points and 8.1 rebounds, is the quintessential Riley player. He does the gritty work and doesn't complain. "I wish every single player on this team could have his mentality," Riley said. "I wish we could clone him right here I just hope he stays healthy, because we are going to really need him." The Heat sure want a healthy Haslem to be on display in a real Game 7. Chris Tomasson can be reached at christomasson@hotmail.com or on Twitter @christomasson
Original Story:
http://www.foxsportsflorida.com/12/17...
THE BACKYARD
BEST OF MAXIM
RELATED ARTICLES
MIAMI Their big man has one foot out the door. One player called Sunday night's loss to the Heat "ridiculous." But don't despair, Orlando fans. At least that's the word from that big man, Dwight Howard. "There's no need for anybody, Magic fans or whatever, to just stress about the first game," Howard said after his team's 118-85 wipeout...
A lot of writers have discussed the lack in some departments in personnel for the Miami Heat, such as a big man to run the floor, or a point guard who can score more than the guys they sent on the court in their last finals appearance. Bringing in veteran F Shane Battier is actually a much bigger acquisition than most think, as he does not only bring a consistent long...
The Heat are just getting started, with Sunday's exhibition opener the first step toward the goal of a return visit to the NBA Finals. And while most teams and coaches say they don't look back, that isn't necessarily the case for this season's Heat. In many ways what transpired at the start and finish of last season stand as valuable teaching points for Erik Spoelstra. So...
Miami Heat team president Pat Riley said the franchise gave a new deal to coach Erik Spoelstra, whose contract was set to expire after this season.
LeBron James scored 19 points and the Miami Heat got their preseason off to an easy start, running away to beat the Orlando Magic 118-85 on Sunday night. Terrel Harris scored 16, while Dwyane Wade and Chris Bosh each had 14 for Miami. The Heat led 53-46 at halftime before turning it into a rout. Ryan Anderson and J.J. Redick each scored 22 for Orlando, which lost for the first...
MIAMI (AP) -- Heat president Pat Riley says coach Erik Spoelstra has received a new contract from the team.
MIAMI (AP) -- Heat president Pat Riley says coach Erik Spoelstra has received a new contract from the team.
LeBron James scored 19 points and the Miami Heat got their preseason off to an easy start, running away to beat the Orlando Magic 118-85 on Sunday night.
The Miami HEAT held the Orlando Magic under 90 points per 100 possessions and shot 14-of17 in the fourth quarter on the strength of their youth as the HEAT won, 118-85 in their first preseason game. LeBron James scored 19 and Norris Cole had eight assists.
Heat president Pat Riley says coach Erik Spoelstra has received a new contract from the team.
Heat News

Delivered to your inbox

You'll also receive Yardbarker's daily Top 10, featuring the best sports stories from around the web. Customize your newsletter to get articles on your favorite sports and teams. And the best part? It's free!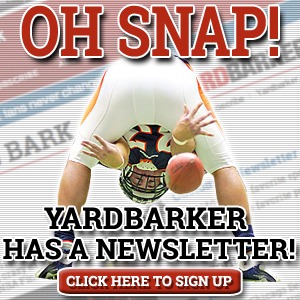 Latest Rumors
The Backyard

Today's Best Stuff

For Bloggers

Join the Yardbarker Network for more promotion, traffic, and money.

Company Info

Help

What is Yardbarker?

Yardbarker is the largest network of sports blogs and pro athlete blogs on the web. This site is the hub of the Yardbarker Network, where our editors and algorithms curate the best sports content from our network and beyond.