OK we lied. There are still a few more people/things/objects/idiots left to hate. Given that we need to start writing about the teams, we're going to wrap this up now since C Gally was a lazy sack of crap that didn't write when he needed to, so here is the final abridged version. Hit the jump. -------------------------------------------
Chris Bosh
. If there is one person I hate more than Lebron James on that team, it's Bosh. He is like the Jimmy Williams of a stacked team (stacked team in this instance being the VT defense back when Williams was a senior). You know, all he does is wave his arms around to pump people up and then absolutely blow assignments and acts like a huge dbag. Gah. What a toolbag. -------------------------------------------
Ndamukong Suh.
Do we really need to say much about this guy? He plays dirty football. Then he lies about playing dirty football. Remember last year's Thanksgiving Day game against the Packers? How he claims he was just trying to get up and then catch his balance when he mauled one of the offensive linemen?     -------------------------------------------
Jim Fogltance.
Who? OK, watch this painful clip for the 1,000,000th time. So, who do you think we're talking about now? The stupid replay official who OVERTURNED that beautiful touchdown by Coale. Un-freaking-believable. We don't care that the game should never have gone to overtime in the first place. Nevermind that we flat-out dominated Michigan that entire game. That's not the point. This guy had absolutely no business overturning that call. So angry…and yes, still until he provides VT fans with significant retribution. Like $1,000,000. That might do it. That concludes the everything else portion of HateFest. Stay tuned for why we hate each team we play this season.
Original Story:
http://www.thenorthendzone.com/hatefe...
MORE FROM YARDBARKER
Heat News

Delivered to your inbox

You'll also receive Yardbarker's daily Top 10, featuring the best sports stories from around the web. Customize your newsletter to get articles on your favorite sports and teams. And the best part? It's free!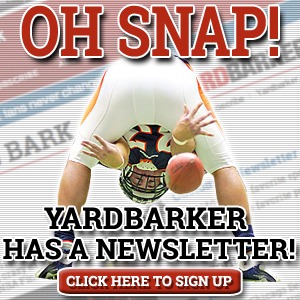 Latest Rumors
Best of Yardbarker

Today's Best Stuff

For Bloggers

Join the Yardbarker Network for more promotion, traffic, and money.

Company Info

Help

What is Yardbarker?

Yardbarker is the largest network of sports blogs and pro athlete blogs on the web. This site is the hub of the Yardbarker Network, where our editors and algorithms curate the best sports content from our network and beyond.