Found July 10, 2013 on Fox Sports South:
PLAYERS:
Danny Ferry
,
Paul Millsap
,
Mike Budenholzer
,
Josh Smith
,
Mike Woodson
,
Larry Drew
,
Kyle Korver
,
Ivan Johnson
,
Devin Harris
,
Jeff Teague
,
Gregg Popovich
,
Jerry Sloan
TEAMS:
Atlanta Hawks
,
Utah Jazz
ATLANTA -- As Atlanta Hawks general manager Danny Ferry introduced new forward Paul Millsap on Wednesday and enumerated the player's attributes, many of them had to do with character more than they did skill. "He embodies the things we want to have, the intangible things that we want to have in our program going forward from hard-working, toughness, relentless competitor that cares about his team and competes every night," Ferry said. "We want to continue to add players like Paul" -- then he caught himself, realizing he had yet to that point mentioned Millsap's skills that have allowed the 6-foot-8, 253-pounder to average as much as 17.3 points per game in a single season -- "especially players as good as Paul, as well. "So we're excited to have him with us. We look forward to a lot of success and ups and downs, everything that comes with a season. When you do that with a guy like Paul Millsap you're usually in better shape." In turn, Millsap has bought into the kind of values that Ferry wants to instill in what the GM refers to as his "program." On the playing court, those values will be imparted by new coach Mike Budenholzer, an import from San Antonio, the organization where Budenholzer and Ferry each learned about creating a winning NBA organization. Millsap said the chance to play for Budenholzer enticed him. "To see guys, coaches and players, leave from there and go to other organizations, you want to be a part of that," Millsap said, "and you hope that they take that with them and you're sure they will. So to see him come over here, that's where I wanted to be. That's what I wanted to be a part of and I want to build off his knowledge and I want to learn as much as I can from him because of where he came from." With Millsap essentially signed to take the spot formerly held by Josh Smith, comparisons between the two are inevitable. If the enduring images of Smith are the highlight reel dunk or the show-stopping blocked shot, then so are that of his grimace, his public disagreements on the bench with a coach -- be it Mike Woodson or Larry Drew -- and being called out during the playoffs on television by analyst Hubie Brown for arguing a noncall and failing to get back in transition defense against Orlando in 2010. The signing of Millsap -- and Ferry included the re-signing of Kyle Korver in that same vein -- is seen as an organizational decision to make a break with those negatives. In a league with as few players as the NBA, players' attitudes are available for all to see. Nonetheless, teams still have to do their due diligence when it comes to potential additions. "A very important part of our process is trying to learn as much as we can about a player during college," Ferry said, "and talking to all the coaches they've had in college and the people around them and that continues in the NBA. That intel is a vital part of our process in understanding the type of player and person you might be bringing into your program. So we've done a lot of homework." In Millsap's case, Ferry said that speaking to Korver, who played with Millsap for three seasons in Utah from 2007-08 to 2009-10, was part of the process. "Obviously, Kyle Korver spoke very highly of Paul and I spoke to other players and coaches that have been around Paul over the last several years," Ferry said. "There was not one person that didn't say he embodies being a great teammate, a hard worker, relentless competitor and really good player, a good teammate, a good person to play with. "Again, I think for us to move forward, those are the types of players -- those are the types of people -- we want to have in our program." To put it another way, the chances of a knucklehead playing for the Hawks going forward have virtually evaporated. Notice that the Hawks also chose not to retain forward Ivan Johnson, who took a few of the Hawks' dumb technical fouls in the playoffs against Indiana (Smith and Devin Harris, both gone, took some of the others, as did Jeff Teague, a restricted free agent, who seemingly is set to return). Johnson would have been easy to retain as a restricted free agent and would add some traits that the Hawks happen to be short on at present: size, muscle, rebounding and defense in the post. In fact, it's not a coincidence that Millsap and Korver both once played for the Jazz. Ferry said that San Antonio modeled itself on Utah. In 1994 when Gregg Popovich was hired as San Antonio's general manager -- and he hired current general manager R.C. Buford as head scout that same year Jerry Sloan had just finished his sixth season as the coach of the Jazz. (Popovich did not become the Spurs' coach until 1996.) "Interesting note along those lines," Ferry interjected following a question to Millsap about his time in Utah, "if you ask San Antonio and you ask R.C. and Pop who they would model or who they decided to model when they first started, it was Utah -- the values and the way they play, the way they went about their work day in and day out -- Utah is a program that anyone in the NBA certainly respects the professionalism in how they run their organization." With players like Millsap, the hope is that the same becomes true of the Hawks -- and that it shows in wins and losses.
Original Story:
http://www.foxsportssouth.com/nba/atl...
THE BACKYARD
BEST OF MAXIM
RELATED ARTICLES
ATLANTA What promised to be a potentially tumultuous offseason for the Hawks could result in even more seismic changes than expected. On Wednesday night, the Milwaukee Bucks signed Hawks starting point guardrestricted free agent Jeff Teague to an offer sheet. Now, Atlanta has three days to to match it, or simply let Teague follow former Hawks head coach Larry Drew to Milwaukee...
Hawks general manager Danny Ferry says he coveted Paul Millsap long before NBA free agency began. One minute after teams were allowed to begin negotiating with free agents last week, Ferry called Millsap to schedule a meeting and make his pitch. Millsap, who spent the last seven seasons with Utah, signed a two-year, $19 million contract with Atlanta on Wednesday. Ferry describes...
The Atlanta Hawks, facing a decision with restricted free agent Jeff Teague, have signed point guard Dennis Schroder, a first-round draft pick from Germany. The Hawks confirmed Thursday that Teague has signed a four-year, $32 million offer sheet with Milwaukee, where he would be reunited with former Atlanta coach Larry Drew. The Hawks have three days to match the offer. General...
Unless they elect to match an offer sheet, the Atlanta Hawks could lose their starting point guard, as restricted free agent Jeff Teague signed an offer sheet with the Milwaukee Bucks on Wednesday. The Milwaukee Journal-Sentinel reported the news, which it said team officials confirmed. The deal reportedly is for four years and worth 32-million. The Hawks have three days to match...
RFA Jeff Teague doesn't think the Hawks will match the offer from the Bucks and has told GM Danny Ferry that he is ready to move on, according to Chris Vivlamore of the Atlanta Journal-Constitution. Jeff Teague to the AJC: "I enjoyed by time there. They are going in a different direction. I'm going in a different direction. It's time to move on." "[Milwaukee] was a perfect...
The Atlanta Hawks announced their 2013 Summer League roster on Thursday. Dennis Schroder, John Jenkins, Shelvin Mack, Mike Muscala, Jared Cunningham, Mike Thomas and Adonis Thomas headline the roster.
The Milwaukee Bucks plan to sign restricted free-agent point guard Jeff Teague to a four-year, 32 million offer sheet, according to multiple reports. Once the offer sheet is officially signed, Atlanta would have three days to match the contract or let Teague go to the Bucks. Teague sent out a cryptic Tweet late Wednesday night: "It's a blessing all I can do is thank god...
TGR would like to welcome back Jordan Farmar after his one year in Turkey. Farmar should play nicely into the Lakers PG rotation. Read more HERE.
Jeff Teague reportedly plans to sign an offer sheet with the Milwaukee Bucks as a restricted free agent. The deal is reportedly worth $32 million over four years. Teague will now play the waiting game with his current team – the Atlanta Hawks – who have three days to match the offer once Teague signs, or they could allow him to go on his way. If Teague, the Hawks' starting...
Reportedly the Cleveland Cavaliers made a $24 million (with incentives) offer to Andrew Bynum on Monday; the newest report from Ken Berger states the enigmatic center will be meeting with the Atlanta Hawks on Tuesday, as well as, making his final decision. Andrew Bynum is meeting with Hawks officials in Atlanta on Tuesday and expects [...]The post Report: Atlanta Hawks to meet with...
Jordan Farmar and the Los Angeles Lakers have agreed to a one-year deal at the veteran's minimum. The Lakers must first negotiate a buyout with Farmar's club in Turkey, Anadolu Efes, which is believed to be in the $500,000 range. The buyout will not count against the cap of the Lakers. Farmar signed a three-year, $10.5 million deal last summer to play in the Turkish Basketball...
Jeff Teague plans to sign a four-year, $32 million-plus contract offer sheet with the Milwaukee Bucks, according to sources. Teague is a restricted free agent, giving the Atlanta Hawks three days to match the offer. New Bucks coach Larry Drew coached Teague with the Hawks.
NBA News

Delivered to your inbox

You'll also receive Yardbarker's daily Top 10, featuring the best sports stories from around the web. Customize your newsletter to get articles on your favorite sports and teams. And the best part? It's free!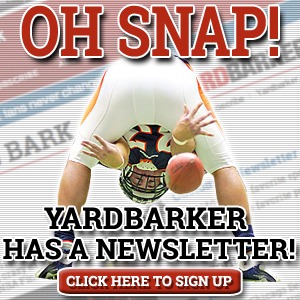 Latest Rumors
The Backyard

Today's Best Stuff

For Bloggers

Join the Yardbarker Network for more promotion, traffic, and money.

Company Info

Help

What is Yardbarker?

Yardbarker is the largest network of sports blogs and pro athlete blogs on the web. This site is the hub of the Yardbarker Network, where our editors and algorithms curate the best sports content from our network and beyond.