Found March 30, 2012 on Fox Sports Florida:
MIAMI It hardly had the feel of an NBA Finals rematch. Fans arrived late and they left early. Miami's foe Thursday night might have been Dallas, but that was in name only. These Mavericks don't bear a great resemblance to the outfit that beat the Heat in the last spring's Finals. The final score at AmericanAirlines Arena had the Heat winning 106-85. There were no miracle comebacks this time by the Mavericks, who were outscored 16-2 to close the night. Nobody seemed too surprised afterward in the Heat locker room. For starters, while nobody wanted to say it, it's evident the Mavericks (29-23) have slipped plenty since the last time they were in Miami, for the series-clinching Game 6. But also, the Heat are starting to expect good things happening at home, where they've won 15 straight and are 21-2 overall. "Not really," Heat guard Dwyane Wade said when asked if the lopsided score was surprising. "We've been playing very well here." As for the road, it's been a different story. So is it any wonder that after Thursday's game, the Heat were doing as much talking about playing at 17-34 Toronto on Friday as they were about having just beaten the defending champions by 21? The Heat are 15-11 on the road, which is the fourth-best mark in the league. But they've won just two of their past eight, with the past two games embarrassing losses at Oklahoma City and Indiana. If the Heat (36-13), who are 3 games behind Chicago in the East, want to claim the top seed, they had better make a move now. "We need to go on a streak," said Wade, who had 16 points. "We need to play well. When I say go on a streak, (I mean) just playing good basketball and see what the results do." One thing that would help is if Heat forward LeBron James can get back to playing at the MVP level he had been showing much of the season. If the Gallup Poll were to spring into action, James might now be trailing Thunder forward Kevin Durant. In none of his previous five games had James shot 50 percent, shooting 35 of 86 (40.7 percent) overall. With Miami placing six players in double figures Thursday, James wasn't needed to put up big numbers. But there were no complaints with his shooting 8 of 16 for 19 points, tying forward Chris Bosh for team honors, while grabbing nine rebounds and handing out five assists. "I missed a lot of shots that I know I'm capable of making," James said of his slump. "I felt like I was in a groove (Thursday)." How much James has been hurting during recent games is a matter of debate. He banged his head and his elbow March 20 against Phoenix and then dislocated a finger he popped back in place in the first half Monday at Indiana. "It's that point in the season," James said of his injuries. "Everybody (aches). I don't know if there is one person that is 100 percent at this point of the season. Any team. If I'm in uniform, I put a lot of pressure on myself to be productive. I've got ailments and things like that, but when I put on a uniform and put that jersey on my back, then I need to go out there and help our team win." James, the 2009 and 2010 MVP, did just that. If there was any duel between the guys who have won the award, it was gone by the second half. Dallas forward Dirk Nowitzki, the 2007 winner, shot 8 of 10 for 16 points in the first half before going 1 of 9 after intermission and finishing with 25 points. "They really picked up the pressure," Nowitzki said. "They got into us. We didn't really have any good looks anymore." Miami coach Erik Spoelstra spent the first 30 seconds of his postgame news conference talking about beating Dallas. Then he immediately launched into what could be his pregame pep talk in Toronto. "We go right back on the road," said Spoelstra, whose Heat play Sunday at Boston to conclude a stretch of five of six on the road. "No chance to feel comfortable. We can come up with any excuse that we want. I'll throw them out there right now, OK? "Back-to-back (games). We'll arrive in Toronto probably around 4 a.m. We'll probably get to sleep around 5:30 or 6. Early game (starting at 7 p.m.). Do you want any other excuses? We haven't played well on the road the last two games. This is great opportunity for us It's time for a response on the road." Yes, that's a lot of passion for a game against the lowly Raptors. But Spoelstra knows the Heat's recent road failings have put his team at bit of a crossroads. "We're going to play well on the road," Bosh declared. "We know we have some more work to do. We're going to pick it up." If the Heat don't, they always can make some excuses. Spoelstra has provided plenty of suggestions. Chris Tomasson can be reached at christomasson@hotmail.com or on Twitter: @christomasson
Original Story:
http://www.foxsportsflorida.com/03/30...
THE BACKYARD
BEST OF MAXIM
RELATED ARTICLES
Lebron James is enjoying himself.... A LITTLE TOO MUCH, as he was caught signing Ricky James "Super Freak" at Shane Battier's "South Beach Battioke" charity event at the Eden Roc Renaissance Hotel in Miami Beach.Guessing James had to dress in charater -- wearing the wing -- of Rick James to sing the song.Also, Heat president Pat Riley also sang a song at the...
LeBron James said it was one of the most painful moments that he can remember, one that is weighing heavily on him as the Miami Heat get ready for an NBA finals rematch with the Dallas Mavericks. No, the Heat forward isn't talking about losing last year's title series. He's talking about dislocating the ring finger on his left, non-shooting, hand at Indiana earlier...
The Miami Heat had a charity event last night that saw Pat Riley take the stage for an unmoving rendition of "My Girl" and LeBron James take the same stage to sing "Super Freak".And as you can tell by LeBron pictured in a wig to the left, he went all in with his performance. H/T Sportress of Blogitude
Oh look, Lebron James has "Lynnsanity"? In this awkward meeting between Lebron, Dwyane Wade, and WWE wrestler Rey Mysterio, James is caught on camera wearing a Nike "Lynnsanity" t-shirt. In his typical unoriginal fashion, LBJ slightly alters something that somebody else created and tries to make it his own thing (see Michael Jordan, Kobe Bryant, etc…). Nice try Lebron...
Shane Battier of the Miami Heat, hosted a charity event last night, which featured, among other things, LeBron James wearing a wig and belting out Super Freak, by Rick James (no relation).  The annual event is called "Battioke", which, of course, is a combination of Battier and Karaoke.  Battioke!  Anyway, here's King James, pretending to be the Real King James. http...
Less than a year after beating the Miami Heat in the NBA Finals, Jason Terry is considering the possibility of playing with LeBron James and Dwyane Wade next season. Terry's contract with the Dallas Mavericks will expire at the end of this season and he's set to beomce a free agent. He was asked about the idea of playing for Miami before the two teams faced off on Thursday...
MIAMI _ It hardly had the feel of an NBA Finals rematch. Fans arrived late and they left early. Miami's foe Thursday night might have been Dallas but that was in name only. These Mavericks don't bear a great resemblance to the outfit that beat the Heat 4-2 in the last spring's NBA Finals. The final score at AmericanAirlines Arena had the Heat winning 106-85. There were...
When looking at ways to slow down the Miami Heat a typical solution from NBA coaches this season has been to throw a zone defence at them. The logic is easy to see because few defenders can handle LeBron James or Dwyane Wade one-on-one, so it's a way to jam the paint, take away easy looks and limit their ability to use their athleticism. Last night the Dallas Mavericks went prolonged...
WWE has posted footage of Rey Mysterio meeting Miami Heat stars LeBron James and Dwayne Wade after Thursday's NBA game. The two said they hope to be at RAW the night after WrestleMania when they return from a road trip. Mysterio then talked about Wrestlemania hype in Miami, but did not comment on his return.
NBA News

Delivered to your inbox

You'll also receive Yardbarker's daily Top 10, featuring the best sports stories from around the web. Customize your newsletter to get articles on your favorite sports and teams. And the best part? It's free!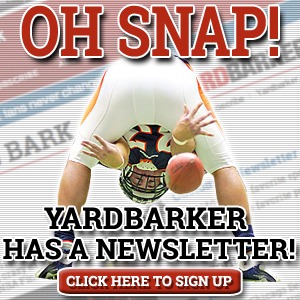 Latest Rumors
The Backyard

Today's Best Stuff

For Bloggers

Join the Yardbarker Network for more promotion, traffic, and money.

Company Info

Help

What is Yardbarker?

Yardbarker is the largest network of sports blogs and pro athlete blogs on the web. This site is the hub of the Yardbarker Network, where our editors and algorithms curate the best sports content from our network and beyond.