Found May 15, 2012 on Fox Sports Florida:
MIAMI -- The Miami Heat have found some new motivation against the Indiana Pacers. Or at least Dwyane Wade believes they have. In his press conference after Tuesday's 78-75 Game 2 East semifinal loss to the Pacers, the Heat guard was asked about Game 3 Thursday at Indiana. But he still wanted to talk about Game 2. "I heard they wanted to be like the Dallas Mavericks, in a sense," Wade said about an apparent reference to Pacers coach Frank Vogel using last year's team that beat the Heat in Miami for the title as motivation for his team. "I saw their little celebration at the end of that game. I don't know if they didn't expect to win but every night we go out on the court, we expect to win." Wade then was asked about the celebration but didn't elaborate on what specifically irritated him. "They say their identity, they say they want to like Dallas," Wade said. "So they celebrated like Dallas, I guess." Told about what Wade said, Pacers guard Paul George said he didn't see anything wrong with what his team did after the game. "If that's what he wants to fuel this loss, they should come out just the fact that we came here and took a win from them," George told FOX Sports Florida. "But we won this like we weren't surprised. We won it, and went right to the locker room." George said Wade was just looking for something to motivate his team. "I think it's an excuse," George said just before the team departed. "We won this game fair and square. We walked off and went to the locker room and now we're ready to get out of here... It's the same way when they won (Game 1). They celebrated, so we just did the same thing." This isn't the first time the Pacers have been accused of celebrating with too much zeal on an opponent's court. Chicago guard Derrick Rose made that accusation when the Pacers won 95-90 Jan. 25 at the United Center. Perhaps it fired up the Bulls. They won 92-72 when the teams next met, March 5 in Chicago. Chris Tomasson can be reached at christomasson@hotmail.com or on Twitter @christomasson
Original Story:
http://www.foxsportsflorida.com/05/15...
THE BACKYARD
BEST OF MAXIM
RELATED ARTICLES
ACT LIKE YOU'VE BEEN THERE?
The Heat star apparently took exception to how the Pacers celebrated so boisterously following Indiana's Game 2 win over Miami.
D-Wade followed up his All-Star game flagrant on Kobe with one on Collison. His arrogance is out of control. After watching Tuesday night's East semi-final Game 2 slugfest between the Miami Heat and Indiana Pacers, I've come to the conclusion that DWYANE WADE has a nasty chip on his shoulders…and not one necessarily designed to give him an edge. No, I think D-Wade's chip...
LONG DISTANCE CONNECTION
This air-mail delivery from Dwyane Wade to LeBron James comes with about 5 minutes to go in the first quarter of Sunday's second round action between the Heat and the Pacers. The fantastic pass, catch and slam brings the Heat to within three of the Pacers early on in the game. After the oop, the Pacers led 15-12 over the projected Eastern Conference kings. The Heat would stave...
Dwyane Wade augmented his crap game against the Pacers in Game 3 of the Eastern Conference Semifinals on Thursday by confronting coach Erik Spoelstra during a timeout. Wade had just missed a three and was late getting back on defense when the timeout was called. Spoelstra must have called him out about something, because Wade reacted in a negative manner and got in his coach's...
    The Indiana Pacers defeated the Miami Heat 94-75 tonight to take a 2-1 series lead in their Eastern Conference semifinals matchup. Indiana's defense held Miami to 37% shooting, with Dwyane Wade among those not able to find his shot. He finished with 5 points, making just 2 of 13 shots from the floor, [...]
Last night, a frustrated Dwyane Wade clearly shoved Darren Collison to the ground in transition, earning himself a flagrant 1 foul. Many people immediately compared it to the Jason Smith foul on Blake Griffin, which was called a Flagrant 2, and earned Smith a 2 game suspension. Even though the plays are similar, the league saw fit to not only not upgrade Wade's foul...
Dwyane Wade is making it more and more evident that he's a dirty player, and his actions on Tuesday only confirmed that opinion. Early in the fourth quarter of Game 2 between the Pacers and Heat, Wade forcefully shoved Darren Collison who was free on a fast break. Wade really ran into Collison as if he were a safety chasing down a receiver and trying to make a tackle. It was unnecessary...
Nothing will scream how awesome you are like this Lebron James/Dwyane Wade motorcycle helmet. If you want ride in style to the next Miami Heat playoff game, then I would recommend getting yourself one of these helmets for your bike. From what I read in Consumer Reports, this helmet is the best one out there at protecting you head until you actually crash, and then it disappears...
It's going to make me cry but this is the last installment of "Top 25 Toughest Players to Guard in the NBA. It has been a fun four day ride but, like all good things, it must come to an end. Today I unveil players 5-1. Here we go! (Tear, tear) 5. Chris Paul – Is there anything Paul can't do? He is a magician with the ball, a fierce competitor, strong as hell, and super-talented...
It's nice to have superstars like LeBron James, Kevin Durant, Dwyane Wade and Derrick Rose on your team. But you can't have a team of 12 superstars. It's not possible, at all. You need tough guys on your team, guy that will help motivate their teammates to take their game to another level or guys that will play limited minutes and give unlimited effort. Here are 12 players...
INDIANAPOLIS -- The Indiana Pacers no longer are just a nuisance. Instead, they're threatening to topple the balance of power in the Eastern Conference. On a night LeBron James was merely good and Dwyane Wade anything but for the Heat, the Pacers moved to a 2-1 lead in this best-of-seven Eastern Conference semifinal series with a 94-75 victory Thursday night at Bankers Life...
Following a hard foul by the only true mismatch in this second round series, Indiana Pacers C Roy Hibbert took down PF Chris Bosh in what looked like a harmless hard foul. The damage was done, as Miami Heat PF Chris Bosh may have to sit out the series with an abdominal strain. It seems as if for some strange reason the Big Three (or the Miami Thrice) play their best...
NBA News

Delivered to your inbox

You'll also receive Yardbarker's daily Top 10, featuring the best sports stories from around the web. Customize your newsletter to get articles on your favorite sports and teams. And the best part? It's free!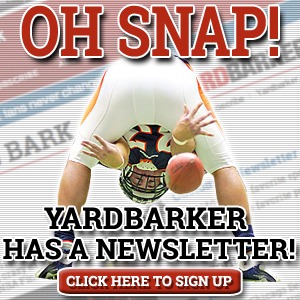 Latest Rumors
The Backyard

Today's Best Stuff

For Bloggers

Join the Yardbarker Network for more promotion, traffic, and money.

Company Info

Help

What is Yardbarker?

Yardbarker is the largest network of sports blogs and pro athlete blogs on the web. This site is the hub of the Yardbarker Network, where our editors and algorithms curate the best sports content from our network and beyond.