Posted April 02, 2012 on AP on Fox
When Monday's film session and court work were completed on the Heat practice floor, LeBron James and Dwyane Wade huddled with coach Erik Spoelstra and assistant David Fizdale for a chat. Everyone took a turn talking, everyone took a turn nodding. ''We'd be lying to ourselves,'' Wade said afterward, ''if we said we were playing our best basketball right now.'' Even if they did say that, no one would believe them. Not after seven losses in their last 10 road games, the last three of those defeats all by at least 15 points, capped by rock-bottom for this season so far, a 19-point loss at Boston on Sunday where Miami set season-lows for points, field-goal percentage, free throws made and free-throw percentage. The Heat have won 15 straight at home, the NBA's longest such streak this season, and start a five-game homestand on Tuesday against Philadelphia. Oklahoma City - which embarrassed the Heat last week - comes in on Wednesday, followed by games with Memphis on Friday, Detroit on Sunday and then the Celtics again next Tuesday. If there's a time for the Heat to get rolling again, it might be now. ''It's not about talk. It's not about whatever the perceptions are out there,'' Spoelstra said Monday. ''We're not a perfect team, like a lot of teams out there. Yesterday was unacceptable and today we worked as a group to fix it and to make it better.'' Spoelstra used that same word - unacceptable - after Sunday's loss. By then, his mind was made up that even with another hectic week ahead, the Heat couldn't afford to use Monday as an off day. There's simply too much for them to address. ''It's not like we're hitting the panic button,'' James said. ''He's saying it's unacceptable and we've got to own up to it. We've got a veteran ballclub and we know we can't play that way, offensively or defensively.'' Miami entered Monday 3-1/2 games behind Chicago in the race for the No. 1 seed in the Eastern Conference. The Bulls and Heat play twice more before the playoffs begin, and Miami is two games behind Chicago in the loss column. Oklahoma City came into Monday 2-1/2 games ahead of Miami in the race for the best overall record, with San Antonio just a half-game behind the Heat. With 15 games left in the regular season, Miami still insists there's more than enough time to get things back on track. And in James' mind, that's more vital than anything related to how the playoff brackets shake out. ''Right now it's not even about seeding for us,'' James said. ''We have to play better.'' Like every coach, Spoelstra preaches about consistency. Pleading for it might be the better description these days. In the past month, the Heat averaged 92.9 points on the road, shooting just under 45 percent. At home, those numbers rise to 97.7 points on nearly 49 percent shooting. The most glaring difference is the one Spoelstra probably ranks as the most important - in Miami, the Heat allowed 86 points per game in the past month, a far cry from the 95.1 they yielded away from home. ''We're much better than that,'' Spoelstra said. ''We're a tale of two teams sometimes and we're going to work and change that.'' It would take an unforeseeable collapse for Miami to finish any worse than No. 2 in the East, though James and Chris Bosh both said that the memories of being able to win a conference-final series against Chicago last year without the benefit of home-court advantage mean nothing to the Heat now. ''We just have to get back to our spacing, get back to our spots on the floor,'' Bosh said. ''We're focused and we know what we're doing.'' The one thing that is consistent with the Heat: Confidence isn't lacking. James has been banged up for a couple weeks, Mike Miller remains sidelined with a sprained ankle and Bosh managed only four points in the Boston game, tying a season-low. James says he's seeing gradual improvement, health-wise. Miller may be back soon. Bosh still insists Miami is the NBA's best team, saying he will not waver on that claim. Maybe a week of home cooking is all they'll need. ''It's the time of the year where if you're having problems and things are going wrong you have to figure it out,'' Wade said. ''You don't want to limp into the playoffs playing your worst. You want to go into the playoffs playing your best.'' --- Follow Tim Reynolds on Twitter at http://www.twitter.com/ByTimReynolds
Original Story:
http://msn.foxsports.com/nba/story/He...
THE BACKYARD
BEST OF MAXIM
RELATED ARTICLES
The nephew of Miami Heat star guard Dwyane Wade was one of 13 people shot – two fatally – during an outburst of violence in Chicago last week.According to reports, Wade's nephew, whose name has been withheld, was at a store on the South Side of Chicago when a hooded man entered and opened fire, hitting six people, one of which was killed. It was part of a series of shootings...
BOSTON A tired, dejected and exasperated Erik Spoelstra emerged from the visitors' locker room at TD Garden Sunday afternoon and addressed the buzzing media horde, where he attempted, once again, to explain how everything could have gone so horribly wrong for a team that can be so devastatingly good. "It's not about what we say right now," Spoelstra barked after...
MIAMI -- If Tom Brady goes awhile without a 300-yard passing game, it's a slump. If Tim Lincecum has a stretch without a 10-strikeout game, one wonders what's wrong. It's the same with Miami forward LeBron James. When he had failed to reach 30 points for nine straight games, his longest such streak since early in his second season of 2004-05, it was a drought. Well...
The big game tonight will most likely decide who will be this year's MVP. I hope everyone is as excited as I am to see the Kevin Durant v.s. LeBron James showdown!! I'm taking Miami -2.5  
In a game filled with many great moments, I think Avery Bradley's block on Dwyane Wade was my favorite in today's Boston Celtics vs Miami Heat match up. Great win today!
MIAMI It's simple. Either the Miami Heat are the Heat 2.0 hardened, emboldened and made better by all that's transpired since LeBron James uttered those words about South Beach. Or they're the same team that relentlessly showed signs all last season, to those willing to see, that their glorious trio came with a very real Achilles' heel the one that finally caught...
This strikes me as a pretty appropriate With Leather story to come out of WrestleMania weekend. Sweaterpunch alerts us to the fact that LeBron James and Dwyane Wade met up with Rey Mysterio over the weekend. Ignoring for a moment the completely stilted and uncomfortable exchange between the three men, the visual hilarity of Rey Rey getting a picture taken with these two massive...
For most of the season, the Celtics would have looked foolish trying to protect their trade secrets. A team that cannot rebound or beat quality opponents typically does not have any information anyone wants. Emboldened by their win over the Heat in what Dwyane Wade called "an old-fashioned butt-whooping," the Celtics demurred on questions about their defensive game plan...
8 a.m.: LeBron James and the Miami Heat visit the TD Garden on Sunday in what could be a first-round playoff preview. The Heat (37-13) hold the No. 2 seed in the Eastern Conference and as recently as three days ago were slated to meet the Celtics (29-22) in the opening round. The Celtics' move into the Atlantic Division lead changed that, and their success down the stretch will...
Centers are at such a dearth in talent right now in today's NBA that the Miami Heat would be just fine in a series against the Orlando Magic or Los Angeles Lakers. The Heat have enough talent in enough places to succeed against an elite center. Last season's Eastern Conference Finals proved that the regular season is only good for seeding, and that in critical junctures...
When I got back from Las Vegas early this morning, I had quite a few emails from readers tipping me off about the greatest sign in the history of sports fanfare at a recent Boston Bruins game. The only problem was that the sign was a photoshop from the folks at Masshole Sports and the real sign was much tamer. And as for the photoshops, I actually like this one a lot more. Thankfully...
Heat News

Delivered to your inbox

You'll also receive Yardbarker's daily Top 10, featuring the best sports stories from around the web. Customize your newsletter to get articles on your favorite sports and teams. And the best part? It's free!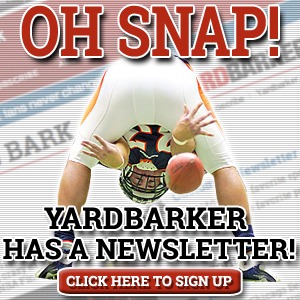 Latest Rumors
The Backyard

Today's Best Stuff

For Bloggers

Join the Yardbarker Network for more promotion, traffic, and money.

Company Info

Help

What is Yardbarker?

Yardbarker is the largest network of sports blogs and pro athlete blogs on the web. This site is the hub of the Yardbarker Network, where our editors and algorithms curate the best sports content from our network and beyond.