Found May 17, 2013 on Fox Sports Florida:
MIAMI -- The Miami Heat actually have lost a game this postseason. They've even trailed in the fourth quarter of two other games.What's the problem here?When a team wins 37 of its last 39 regular-season games, including a stretch of 27 straight, the bar is set high. Those on the Heat know that.So even though Miami has the best record of any team in the postseason, they believe they're not playing nearly as well as possible. And they're right."We have a lot of room for improvement," said forward LeBron James said Friday after practice. "We don't dwell on the things that we do well. We kind of take the things that we did bad and we try to get better with it."So let that be a warning to Indiana or New York, whichever team faces the Heat in the upcoming Eastern Conference finals. Let that be a message to San Antonio or Memphis, one of which could face the Heat in the Finals.The Heat aren't satisfied with their postseason showing so far even though they swept Milwaukee 4-0 in the first round and dispatched Chicago 4-1 in an East semifinal."We have not played a complete game yet," said forward Shane Battier. "We've played well enough to win and have had a couple of nice margins. But I think it's safe to say that we still feel like our best basketball is ahead of us... It's tougher from here on out."Yes, it will be.The Heat next Wednesday will start the East finals against the winner of the Indiana-New York series, which the Pacers lead 3-2 entering Saturdays home game. The Heat lost the season series 2-1 to Indiana and 3-1 to New York.Miami could have match-up problems against the bigger Pacers, if they advance. That also could be the case in the Finals regardless of the foe.The Heat's struggles at times against an undermanned Bulls team resulted in a realization they must better to claim a second straight NBA title. While Miami won Games 2 and 4 in routs, Game 1 was a stunning defeat at home, Game 3 was an ugly win in Chicago and the Heat blew an 18-point lead at home in Game 5 and fell behind by 11 late in the third quarter.Center Chris Bosh said the Heat must "bring more energy" if they "want to get out of the next series." Coach Erik Spoelstra said they need more "consistency.""Game 1 and Game 3 of the Chicago series we did not play to our capabilities," Spoelstra said. "Guys owned that and they understood that and we have to be better. ... Even after the win in Game 3 all of us did not feel great about the win because we didn't play well."The Heat haven't shot as well during the playoffs as they did during the regular season, with their field-goal percentage having dropped from 49.6 to 49.1, their 3-point marksmanship from 39.6 to 34.0 and their free-throw numbers from 75.4 to 75.1. Battier has had the most trouble, having shot a meager 12 of 46 (26.1 percent) on 3-pointers in the postseason.The Heat have been more foul prone during the playoffs, committing 21.8 per game as opposed to 18.7 during the regular season. Their turnovers have gone up from 13.9 a game to 14.8."We feel we can play better," said guard Dwyane Wade. "I think we proved that. We played our best game in the last game of last season (a resounding Game 5 Finals win over Oklahoma City). ... Coaches look for the perfect game. We're going to strive to get there until the end of the season and hopefully the last game of the year will be our best game of the year."Wade can play better. The bone bruise on his right knee has been a key factor is his stats dropping during the playoffs, including his scoring average plummeting from 21.2 to 13.0.But Wade's knee, which has no structural damage, figures to continue to improve with rest. It's no surprise he has no problem with the Heat starting the East finals Wednesday rather than Monday, which would have been the case had the Pacers closed out the Knicks on Thursday."I was actually hoping we would play Monday, but we'll take the extra two days," James said. "We got some guys that are banged up from the (Chicago series) and we got to take advantage of it."The Heat will look to take better advantage of it than the last time they had a long layoff. After having seven days off following the Milwaukee sweep, they suffered a stunning 93-86 loss to the Bulls in Game 1.Now, the Heat, who closed out the Bulls with a 94-91 win Wednesday, have six days off before the East finals. So what might be different to avoid a repeat of the last series?"I'm going to spend a little bit more time looking at our preparation before that Game 1 against Chicago and where we might be able to tweak it," said Spoelstra, whose team worked a lot on conditioning in Friday's practice, will take Saturday off and then will see Sunday if the next opponent is known. "(That will be done) without panicking. There's an objective lens and we just need to make the most educated decisions on what's real and what wasn't real. Part of it just might have been Chicago and what they brought to the game."Regardless of what is done, the Heat know they must play better than they did against the Bulls. Chicago was without injured starters Derrick Rose, Luol Deng and Kirk Hinrich but still won a game and had a good shot to claim two others."I don't think we've had a consistent showing just yet," Bosh said of the playoffs. "That's the difficult part to really dissect about it is because we're trying to find it and your brain wants to say, 'Hey, it's going pretty good.' But you have to get better."Just about every other team that won eight of its first nine playoff games would be feeling really good. But the Heat aren't just any team.Chris Tomasson can be reached at christomasson@hotmail.com or on Twitter @christomasson.
Original Story:
http://www.foxsportsflorida.com/nba/m...
THE BACKYARD
BEST OF MAXIM
RELATED ARTICLES
HEAT CHECK
After advancing to the conference semis, Frank Vogel referred to the Heat as the next team in their championship run, a comment LeBron James took umbrage with.
LeBron James is the best player on the planet and there shouldn't be much debate about that. With that being said, he is one of the best floppers in the NBA. Probably hard habit to kick, when you have done it for so long. He lied about not flopping before and we revealed a 7 min video of his most egregious flops. I am sure he will act like this didn't happen last night. Oscar...
The world of professional sports is like living in a comic book where everything is faster, higher, stronger, harder and infinitely more intense; star athletes are like mutant, superhuman X-Men characters.  For everyone that labors under the false notion that they were an ounce of training short of taking their talents to the show, read up and get an education in reality.  Who...
  There's a reason why LeBron James and Chris Paul are the best players at their respective positions, and that's because they work relentlessly at their craft. Back in 2008, James and Paul held a summer camp before the Beijing Olympics, and a college stars like Steph Curry and a significantly less hairy James Harden were amongst those invited. In the recently released video...
While the Miami Heat were waiting to see who they'd be competing against in the Eastern Conference finals, Dwyane Wade and LeBron James hit up the beach with their family and friends. The Heat will have had almost a week off when they face off against the Indiana Pacers on Wednesday. In the meantime, check out King James and WOW – yeah, I'm still not rolling with the "Way...
Former NBA big man Alonzo Mourning was on hand to celebrate a recent Microsoft store opening in Miami when he began fielding questions from the crowd.Naturally, the conversation quickly turned to Heat star LeBron James, and then eventually to King James versus Michael Jordan. This is when the former seven-time All-Star decided to share some gossip.
A year ago when Miami and Indiana faced off in the postseason, there were blood-drawing hits, flagrant fouls, technical fouls, choke signs being directed toward LeBron James and more than a few sharp-tongued comments. Here they possibly go again, at least on the comment front. The Eastern Conference finals between the Heat and Pacers won't begin until Wednesday night, but there...
The Miami Heat are headed back to the Eastern Conference finals. LeBron James scored 23 points, Dwyane Wade added 18 and the Heat rallied from an 11-point second-half deficit to beat the Chicago Bulls 94-91 on Wednesday night and close out their second-round series in five games. Chris Bosh scored 12 points and Udonis Haslem added 10 for Miami, which ran out to a 22-4 lead, then...
The Miami Heat have LeBron James, Dwyane Wade and Chris Bosh. The Spurs have dominated for years with the trio of Tim Duncan, Tony Parker and Manu Ginobili. Now the Memphis Grizzlies, who traded their leading scorer in January, have surged into their first Western Conference finals behind a very unlikely Big Three of their own. Marc Gasol still is Pau's little brother to some...
  Oh, you haven't heard about Andrew Wiggins?  High School hoops and blue chip prospects aren't your forte?  Let me give you a quick video education on Andrew Wiggins:  (warning, the following video may cause nausea due to excessive athleticism)   Wiggins has off-the-charts athleticism.  The 6'8 small forward regularly looks down at the rim while dunking.  He is the...
MIAMI (AP) -- A fast start and faster finish were enough to send the Miami Heat back to the Eastern Conference finals. LeBron James scored 23 points, Dwyane Wade added 18 and the Heat rallied from an 11-point second-half deficit to beat the Chicago Bulls 94-91 on Wednesday night and close out their second-round series in five games. Chris Bosh scored 12 points and Udonis Haslem...
NBA News

Delivered to your inbox

You'll also receive Yardbarker's daily Top 10, featuring the best sports stories from around the web. Customize your newsletter to get articles on your favorite sports and teams. And the best part? It's free!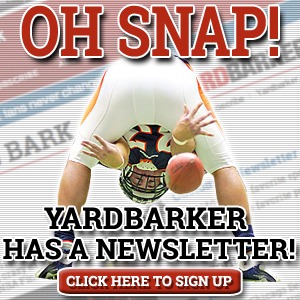 Latest Rumors
The Backyard

Today's Best Stuff

For Bloggers

Join the Yardbarker Network for more promotion, traffic, and money.

Company Info

Help

What is Yardbarker?

Yardbarker is the largest network of sports blogs and pro athlete blogs on the web. This site is the hub of the Yardbarker Network, where our editors and algorithms curate the best sports content from our network and beyond.