Found May 26, 2013 on Five Tool Tool:
Udonis and Umakethis In the first two games of the Eastern Conference Finals, at home, the Heat didn't look like, well, the team that had won an absurd percentage of games for the past 4+ months. Indy led for long stretches, crashed the boards, forced turnovers, and had their best player fight the Heat's best player to something akin to a draw. If you wanted to tell the story of how the Heat were a paper tiger who took advantage of two DOA playoff opponents, you had your chances. Tonight, the dominant Heat showed up. And they played a game that made them look like a club that can't possibly be beat. Starting the first quarter, the Heat threw doubles at Roy Hibbert, which is one of those between game adjustments that make you wonder, well, why that couldn't have been an in-game adjustment. Miami clearly ratcheted up the defense early as well, but didn't get the game into the up and down pace they prefer. Chris Bosh hit a three, which is usually not such a big d...
Original Story:
http://fivetooltool.blogspot.com/2013...
THE BACKYARD
BEST OF MAXIM
RELATED ARTICLES
Oh those crazy professional basketball players and their fashions! Dwayne Wade and LeBron James were at it again for Game Three of the Eastern Conference Finals. While the talk should be all about the way the Heat played--and a lot of it will be--we can't help but recognize the bold fashion moves that these titans of the hard court made Sunday. LeBron has worn some pretty...
'SO BE IT'
Discussing the NBA's flopping epidemic, LeBron James -- who insists he's not a flopper -- says it is acceptable for players to try to gain an advantage.
More in the Dwyane Wade fashion series. I think this one's gotta go back in the armoire. Cardigan AND a pocketbook? I'm all for pushing boundaries but cmon dood Wade and Melo's Girl Hangout The Golden Child
Juwan Howard may not be playing currently, but he gives some of the best high fives that you will ever see. Case in point. [Reddit] Article found on: Next Impulse Sports
I wouldn't be a good Celtics fan if I didn't take immense pleasure in the Heat losing or in the misery of their bandwagon fans.   It's interesting to see after all the "We got Ray" chants to begin the year they seem to be having some buyer's remorse.  Excuse me if I chuckle a bit.  And  I love how they end up trashing all their players.  It's one...
When even Udonis Haslem can't miss for Miami, you know Heat won't be beat.
Miami Heat fans have faced many unflattering stereotypes over the past few years, but Indiana Pacers announcer Mark Boyle (pictured) took it to another level on Friday night. The Pacers announcer must have seen Heat fans leaving American Airlines Arena as Miami was down at the end of Game 2 of the Eastern Conference finals, [...]
Really, what can you say? This was just one of those games where you have no choice but to shake your head, acknowledge the supremacy of the Miami Heat, and move on. This was the kind of game that reminds you why the Heat are the reigning NBA champs, and why LeBron James is head and shoulders above everyone else in the league. It is the kind of game that reminds us that as the Pacers...
LeBron James could be the next great two-sport star, according to Joe Theismann. James wouldn't be playing in the NFL and NBA at the same time, though. Theismann thinks James could start up an NFL career after he's done in the NBA. And Theismann wants to be involved – because he needs a job. "I would love to work him out and also serve as his agent," Theismann told FOX...
MIAMI -- If LeBron James really wants one day to be a quarterback, a possible mentor has emerged.Super Bowl champion and two-time Pro Bowl signal caller Joe Theismann said he's willing to offer his services this summer to teach the Miami Heat star the position. In fact, Theismann, who lives in Memphis, said he wouldn't hesitate to approach James, 28, with the idea if the...
Tweet One of the worst kept secrets in the NBA is that LeBron James is the best player in the league right. His combination of athleticism, leadership and unbelievable skill put him on his own tier right now in the league. However, Super Bowl Champion quarterback Joe Theismann thinks that LeBron could be successful at [...]
After dropping one at home, Miami Heat visit Indiana Pacers for Game 3.
NBA News

Delivered to your inbox

You'll also receive Yardbarker's daily Top 10, featuring the best sports stories from around the web. Customize your newsletter to get articles on your favorite sports and teams. And the best part? It's free!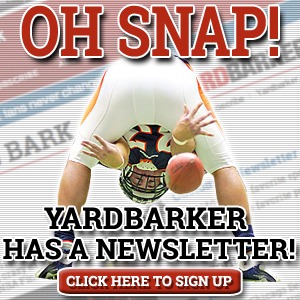 Latest Rumors
Best of Yardbarker

Today's Best Stuff

For Bloggers

Join the Yardbarker Network for more promotion, traffic, and money.

Company Info

Help

What is Yardbarker?

Yardbarker is the largest network of sports blogs and pro athlete blogs on the web. This site is the hub of the Yardbarker Network, where our editors and algorithms curate the best sports content from our network and beyond.