Found May 16, 2012 on Fox Sports Florida:
PLAYERS:
Chris Bosh
,
LeBron James
,
Dwyane Wade
,
Ronny Turiaf
,
Joel Anthony
,
Roy Hibbert
,
Erik Spoelstra
,
Mario Chalmers
,
Danny Granger
,
Frank Vogel
TEAMS:
Miami Heat
,
Indiana Pacers
MIAMI Chris Bosh is most appreciated when he doesn't play. In March, the Miami big man missed three games and the Heat lost two, to Utah and the Lakers. That sparked a minor panic about Miami's lack of size. Bosh soon returned and again was mostly forgotten about. The acclaim went to Heat perimeter stars LeBron James and Dwyane Wade. Well, Bosh is out again. And, judging from Tuesday night's 78-75 Game 2 East semifinal loss to Indiana, it could end up being a major panic. Bosh suffered an abdominal strain in Sunday's Game 1, and could be out for the remainder of the series. The Heat are looking for volunteers to step up in his absence, and nobody has raised a hand yet. James scored 28 points and Wade had 24 in the loss at AmericanAirlines Arena that knotted up the series 1-1. But players on the Heat who don't have gold medals at home combined for a meager 23 points. Take out James and Wade and the Heat couldn't have thrown the ball in the ocean off the deck of one of Heat owner Micky Arison's cruise ships. Nobody else scored more than five points. "Offensively, we just went through a tough stretch," Wade said. "As long as Chris Bosh is out, we're going to miss Chris Bosh. Our team is set up for him to be there. But when he's not, we got to find a way." The Heat didn't end up missing Bosh as much on defense as some might have been thought. Ronny Turiaf replaced him in the lineup but Joel Anthony came off the bench and gets most of the credit for neutralizing Pacers center Roy Hibbert, who shot just 2-of-6 for eight points. And Miami forced Indiana into 20 turnovers and 38 percent shooting. But Miami missed Bosh's rebounding, getting walloped 50-40 on the boards, and, of course, his scoring. Heat players not named Dwyane Wade or LeBron James combined to shoot a disastrous 9-of-34 (26.5 percent). "We will not be able to have somebody be Chris Bosh," Heat coach Erik Spoelstra said. "He is a major component of what we do, but we have enough and had some opportunities (Tuesday)." The Heat certainly did have their chances. The final one came just before the buzzer when guard Mario Chalmers launched a potential tying 3-pointer that clanged off the iron. "I had a good look at it," Chalmers said. "I felt like I was fouled on the 3 that I shot, but they didn't call it. Darren (Collison) got me for sure." Nevertheless, if you're keeping score, the Heat are now 1-of-22 from 3-point range in the series, including 1-of-16 on Tuesday. There were other chances. With 16 seconds left and Heat down 77-75, Wade drove in for a layup that James said he usually makes "nine, 10 out of 10 times." Instead, Wade, who was on the left side but used his right hand, said there was a "little contact" and he just "missed it short." Then there was James at the free-throw line. He doesn't make nine of 10 or 10 of 10, but he did shoot 77.1 percent, the second-best mark of his career, from the line this season. So much for percentages. James was just 8-of-13 on the night, including 4-of-8 in a fourth quarter that saw him miss his last three. The two misses that really hurt came with 54.3 seconds left and the Heat down 76-75. "The game isn't lost or won with those two free throws but I definitely want to come through for my teammates," said James, who set a Heat playoff record with six steals. "But I'll get another opportunity. I know I'll be at the line again in that situation. So just go up and make them." Next time, perhaps he won't be as tired. James played 43 minutes, including the entire second half. Spoelstra believed fatigue could have played a role in the misses. "He'll never make an excuse," Spoelstra said. "I wish I could have gotten (James) a minute or two of rest in the fourth quarter but because of the hole we dug (a nine-point deficit) there was no way to do it." With Bosh out, those in the renamed Big Two have to really step up their games. Before the game, both James and Wade had talked about needing to score more. But James scored less than a point more than his seasonal average of 27.1 and Wade less than two points over his average of 22.1. That wasn't exactly what they meant. Obviously, Miamis supporting cast must play better. But at the same time it wasnt as if a lot of Indiana players tore it up on offense. So youve got to figure the Pacers, who have plenty of guys to choose from, will get more of them going when they return home for Games 3 and 4 on Thursday and Sunday, respectively. Pacers forward Danny Granger, who had averaged 21.4 points in a first-round win over Orlando, has been brutal so far in the series. After shooting 5-of-14 for 11 points while fouling out Tuesday, he's now 6-of-24 and averaging 9.0 points. Perhaps frustrated, Granger whacked James under the basket midway through the fourth quarter. An unhappy James threw his arms up, and both players were assessed technicals. "He elbowed me in my nose," James said. "I just tried to get him up off I'm not fighting. I can't afford to fight. I can't afford to miss no games I'm here to try dominate both offensively and defensively." There also was frustration by Wade. He was assessed a flagrant 1 foul early in the fourth quarter for knocking down Collison. Spoelstra predicted beforehand the series would be so physical it will "feel like it's played in a cage." Pacers coach Frank Vogel hasn't disagreed. "We built this team, we started talking about smash-mouth basketball, about winning the war in the trenches, and that's with defense and rebounding," Vogel said of his team winning despite struggling offensively. Maybe Bosh isn't exactly known as a tough guy. But what Vogel is preaching is exactly what Bosh has the ability to mess up. "Scoring and rebounding," Chalmers answered quickly when asked what the Heat miss most about Bosh. One of these days, though, Bosh will return and maybe he won't be forgotten. The Heat just hope they're still in the playoffs when it happens. Chris Tomasson can be reached at christomasson@hotmail.com or on Twitter@christomasson
Original Story:
http://www.foxsportsflorida.com/05/16...
THE BACKYARD
BEST OF MAXIM
RELATED ARTICLES
MIAMI—Chris Bosh won't be taking the floor for the remainder of his team's series against the Pacers, but he's wholly convinced he is still an integral and valued member of the Heat and has assured the nursing staff at his rehab clinic that his teammates would definitely be by to see him before visiting hours conclude today. "They'll be here any moment," Bosh...
Miami Heat forward Chris Bosh has a strained abdominal muscle and will be out indefinitely, the team announced Monday after an MRI exam confirmed the injury. The 28-year-old Bosh suffered the injury in the first half of a 95-86 win over the Pacers on Sunday in the first game of the Eastern Conference semifinals. He had 13 points on 6-of-11 shooting from the floor and five rebounds...
Though the Miami Heat won Game 1 over a feisty Indiana Pacers in the second round of the playoffs, however, Chris Bosh suffered an abdominal strain in the win. And it seems this strain is much more severe than originally thought. It was reported Bosh will be out indefinitely in the series versus the Pacers but now it seems more definite that Miami will be without one of the &quot...
For the Heat, the waiting game is under way. With Chris Bosh sidelined with a lower-abdominal strain sustained in Sunday's Game 1 of this best-of-seven Eastern Conference semifinal series against the Indiana Pacers, the question becomes whether the All-Star power forward can make it back for any of the remainder of the postseason. Bosh is being listed as out indefinitely...
Add the Miami Heat to an ever-growing list of NBA playoff teams that have succumb to a nameless, faceless foe. The cruel, out-of-nowhere, stun-you-silent injury bug. On Sunday, in Miami's Game 1 win over the Indiana Pacers in the Eastern Conference semifinals, All-Star power forward Chris Bosh bulled to the hoop and dunked with venom late in the second quarter, straining a...
Chris Bosh did not travel with the Heat to Indiana, remaining in South Florida for treatment of his lower-abdominal strain.
Bosh lands awkwardly and strains an abdominal muscle after dunk drive. Silly rabbit. Dominant dunks are for men. The NBA injury bug continues to run roughshod over the playoffs. The Miami Heat reported today that power flower forward CHRIS BOSH is out indefinitely with a strained abdominal muscle. Posh Bosh injured himself trying to put the power back in his forward game on this...
Injuries to key players most likely altered the outcome of the Post Season for the Chicago Bulls and the Orlando Magic; as the Bulls lost to the eighth seeded Philadelphia 76ers, after losing point guard Derrick Rose and center Joakim Noah and the Magic lost to the Indiana Pacers while center Dwight Howard underwent back surgery. The Miami Heat are now in a similar situation as...
It was pretty clear from Game 1 that this series is not going to be as easy as many predicted for the Heat. And while Bosh may not have been the best post presence, he is still talented down low on the offensive end and is far and away the most athletic "big man" the Heat have. Joel Anthony and Ronny Turiaf won't have another five minute stretch like the second half they had...
Mark and McNeill jumped on the mic to break down the NBA Conference Semifinals. Some of the topics include the impact Chris Bosh's abdominal injury will have in the Miami Heat, Kevin Garnett jumping into his Delorian, the Lakers not playing with any passion and the epic roll the Spurs find themselves on. Here's the MP3 [...]
This week on The Slant, host Brad Stein interviews former Oregon State and current CFL football player Dorian Smith, author & motivational speaker Mark Eisenhart, and strength & conditioning coach Josh Hunt. Also, he discusses the impact of Chris Bosh's injury for the Heat, the LA Lakers' chances of upsetting the Thunder, and flopping in the NBA. Download & Listen Here
The Indiana Pacers won game two of their series with the Miami Heat 78 to 75 Tuesday night. The series is now tied at one and heads to Indiana for game three on Thursday night.  The Pacers leading scores were David West with 16 and George Hill with 15 while Dwyane Wade had 24 and Lebron James had a game high 28 for the Miami Heat. Many people thought that Miami would easily win...
NBA News

Delivered to your inbox

You'll also receive Yardbarker's daily Top 10, featuring the best sports stories from around the web. Customize your newsletter to get articles on your favorite sports and teams. And the best part? It's free!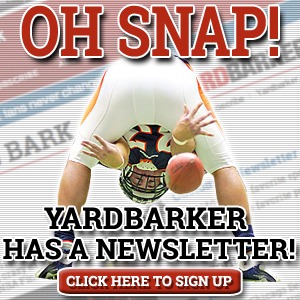 Latest Rumors
The Backyard

Today's Best Stuff

For Bloggers

Join the Yardbarker Network for more promotion, traffic, and money.

Company Info

Help

What is Yardbarker?

Yardbarker is the largest network of sports blogs and pro athlete blogs on the web. This site is the hub of the Yardbarker Network, where our editors and algorithms curate the best sports content from our network and beyond.