Found November 17, 2012 on Bacon Sports:
Very rarely do I nit-pick about athlete swag. Personality, style of dress, hairdo. All these things are usually off limits for me because who am I to say somebody else's steeze should be done away with. But when it comes to these high top fades slowly creeping their way back into the NBA and pop culture I have got to take a stand. We're all haters when it comes to some aspects of humanity and with no rhyme or reason attached. I admit, I HATE THE HIGH TOP FADE. I can't explain why, but as a black man who has seen some questionable hair styles and perpetrated a few myself (Cough: twisties, gigantic obtrusive afro, and half braids-half picked out fro) I find the 2012 high top fade comeback particularly annoying. Here's why. Most recently, Norris Cole, Iman Shumpert, and Kentucky freshman Nerlens Noel have painfully ushered in the era of high top fade peacocking on the basketball court. File this complaint under: They shoulda never GAVE these brothas Money! ala Dave Chappelle. Unfortunately, Cole, Shumpert, and Noel are all members of high profile teams that will play a lot of games on National TV this year. So this isolated sickness now has the potential to turn into a full blown epidemic if we don't nip it in the butt immediately. Why are HTFs a problem? Because these fools aren't "bringing it back" or going "retro" or paying homage to the "old school". They're just doing it because they know it looks really silly, but girls will want to bang them anyway so why not? In other words "peacocking". It's a shameless attempt to grab extra attention. Place it under the same category as LeBron's fake glasses, D Wades Pink leather pants, Dwight Howard's bow-ties, and Amare's denim vest and fedora combo. Peacocking has simply gone too far in pro sports. I only find the HTF in 2012 a little more egregious because the kids who rock it definitely don't relate to the high top fade and its origins. The high top fade blew up in the late 80s (1986-1991) when jheri curls seemed to have dried up and went away. Black men's hair became less damp, less chemically enhanced and getting your hair cut by an actual barber became cool again. The high top fade allowed for max creativity on the part of the barber and even more max time spent in the barber chair (FYI: Black people love barber shops so the cut was quite successful). But Cole, Shump, and Noel were born in 1988,1990, and 1994 respectively which means that by the time these kids were old enough to remember anything the HTF was dead and gone for the most part. It's not like these fools were listening to Bell Biv Devoe, Kid and Play, and Big Daddy Kane. They didn't fall in love with basketball because of the HTFs of Ewing, Pip, or Kenny "Sky" Walker. They may of caught some episodes of Fresh Prince or saw Eddie from Family Matters or maybe, just maybe these kids got a dose of Gerald from Nickelodeon's Hey Arnold or Alfy from My Brother and Me in their prime but even they weren't cool enough to spark an HTF revival! SIDEBAR: Black characters on Nickelodeon, most racist **** ever. Gerald from Hey Arnold didn't know how to swim or ride a bike?! Skeeter from Doug was dark Green, wore funky clothes and used to dance and beat box ALL THE TIME?! Susie from Rugrats had hair so wild and nappy, Don Imus would be right to criticize?! But all of that is for another post. The high top fade resurgence needs to stop because not only do I think it looks stupid but it's actually bad for an athlete's career. I'll prove it.  Let's take a look at some prominent high top fades from 2010 and beyond. All of them had negative effects on the athletes that wore them. Brandon Jennings—Bad Hair Years: 2009, 2010, 2011 Jennings rocked an HTF on and off for one year in Europe and during his rookie and sophomore campaigns in the NBA. In those three years, Jennings has never shot over 40% from the field or averaged more than 17 points, including a season in Europe where his numbers were PATHETIC. In 2009 he averaged 5 points and 2 assists per game with that crap on his head. Last season, he dumped the fade and had the best year of his career, 19 ppg, 6 assists, and over 40% shooting from the floor. Norris Cole— Bad Hair Years: 2009, 2011, 2012 Cole and his HTF did quite well at Cleveland State where he set all types of records. After being drafted, he cut that **** off and last year turned into a pretty solid defender and mid-range shooter for the Heat on their championship run. Now that he feels he's arrived, however, he's grown that **** out again and his stats are a joke this year so far because of it. 4 ppg on 33% shooting from the floor, and 25% shooting from 3. Keep in mind ALL of his shots are wide open off double teams from the big three. The HTF will kill his career if he's not careful. Iman Shumpert—Bad Hair Year: 2012 I know he had normal haircut when he suffered that gruesome ACL injury in the playoffs vs. the Heat last year in April, but growing his hair into the retro fade has not had a positive impact on his return. Around September of this year Shumpert unveiled the look, and although his Knicks are 6-0, he may be losing his starting job to Raymond Felton and Ronnie Brewer. With Melo killing at the four position and the Knicks rolling with the NBA's best record, grumblings inside the Knicks organization suggest that both Shump and Amare could be assigned bench roles as they make their way back into the Knicks playing roster. Blame the freakin fade Iman. Greg Oden—Bad Hair Year: 2010 Another case of bad hair affecting injuries in a negative way. Oden played just twenty one games in the 2009-2010 season after re-injuring his left knee and requiring surgery. After what was called a successful surgery that off-season, Oden returned to the court to rehab in summer 2010 sporting a new HTF for the comeback. Wouldn't you know it a nagging pain in his right knee revealed a need for major knee cap surgery and ended his return season in 2010-11 before it even got started. The high top fade strikes again. Even beyond the NBA, football and baseball have their fair share of problems with the High Top Fade as well. All of these guys have given the HTF a try and look at their careers. Terrell Pryor, QB, Oakland Raiders. Bum ass backup. Yet to attempt a pass in an NFL game. Tiquan Underwood, WR, Tampa Bay Buccaneers.    25 catches for 2 career TDs in 3 NFL seasons. Dee Gordon, SS, Los Angeles Dodgers.     Career .260 hitter, 89 strikeouts and only 130 hits. I fear that a similar fate awaits star forward, Nerlens Noel at Kentucky if he doesn't return to 2012 and get a normal haircut. He's definitely a beast at the moment, but that "hey look at me" shock value retro haircut simply does not bode well for pro sports success. If people stop telling him it's cool it will cease to be cool. So I implore you, please let's start hating this hair trend with as much passion as necessary. Otherwise, we may have to pretend to take these dudes and their ill-advised throwback haircuts seriously.  This was written by Jason Millison. He's the man behind the sports blog 2for3.  The post High top fades. It's gotta stop. appeared first on Bacon Sports.
Original Story:
http://www.baconsports.com/high-top-f...
THE BACKYARD
BEST OF MAXIM
RELATED ARTICLES
Early in the first quarter Jason Kidd had a wide open three-point shot that he decided to turn down in favor of his killer ball fake. The same ball fake that has worked wonders in him getting his defender in the air and drawing the foul. This time however, Kidd wasn't as fortunate to just go to the charity stripe to knock down a few free throws. His defender corked him in the head...
While the Miami Heat were already expecting to be without Dwayne Wade last night against the Phoenix Suns due to a foot injury, an illness had LeBron James listed as a game-time decision. James was able to suit up and help the Heat beat the Sun 97-88 last night.James played for 41 minutes, scoring 21 points while grabbing seven rebounds. Following the game James said there was never...
The Miami Heat have suffered a few shocking defeats thus far but they rebounded against the Denver Nuggets on Thursday to pull off a 98-93 victory. The Heat became the first team in the Eastern Conference to win seven games and improved to 3-2 on a six-game road trip that ends Saturday in Phoenix. LeBron James paced Miami with 27 points, eight rebounds and 12 assists. Please Click...
MIAMI -- On his 30th birthday last January, Dwyane Wade wasn't overly thrilled being shut down due to injury. It turned out to be a good present. It's time for the Miami Heat again to do what's best for Wade's even if he might not like it. The shooting guard is hurting. After making progress in his recovery from knee surgery last July, Wade has been bothered in...
The Miami Heat leaned on LeBron James in their most recent victory, and they may have to do so again with Dwyane Wade and Mario Chalmers nursing injuries. Wade and Chalmers may not play when Miami closes out its six-game road trip Saturday night against a Phoenix Suns team it dominated two weeks ago. With Wade out with a sprained left foot and Chalmers leaving in the first quarter...
Game time: Saturday at 9 p.m. ET TV: Sun Sports The Miami Heat leaned on LeBron James in their most recent victory, and they may have to do so again with Dwyane Wade and Mario Chalmers nursing injuries. Wade and Chalmers may not play when Miami closes out its six-game road trip Saturday night against a Phoenix Suns team it dominated two weeks ago. With Wade out with a sprained...
Carmelo Anthony kept the ball moving, setting up key baskets for Raymond Felton, J.R. Smith and Jason Kidd.
After handing the New York Knicks their first loss of the season, the Memphis Grizzlies now have the NBA's best record. Zach Randolph had 20 points and 15 rebounds, Marc Gasol added 24 points and the Grizzlies beat the Knicks 105-95 Friday night, ending New York's season-opening eight-game winning streak. Memphis used a big third-quarter run to increase its lead to 21 points...
Here's your soundtrack for this one. Play in the background, or not. Tonight in Memphis, the New York Knicks did something they haven't done all year, and something that every other team has done already. They lost, for the first time, and while the result wasn't in any way surprising (they were on the down slope of a back to back, they had extended a lot of energy...
Riding a five-game winning streak, and being the lone undefeated team in the NBA, heading into last night's contest versus the San Antonio Spurs the odds were stacked against the New York Knicks. The last time New York won in San Antonio was back in March, 2003 and the team was facing a Spurs team that was coming off a huge win against the Lakers and owners of a record with...
NBA News

Delivered to your inbox

You'll also receive Yardbarker's daily Top 10, featuring the best sports stories from around the web. Customize your newsletter to get articles on your favorite sports and teams. And the best part? It's free!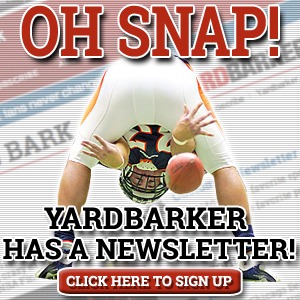 Latest Rumors
The Backyard

Today's Best Stuff

For Bloggers

Join the Yardbarker Network for more promotion, traffic, and money.

Company Info

Help

What is Yardbarker?

Yardbarker is the largest network of sports blogs and pro athlete blogs on the web. This site is the hub of the Yardbarker Network, where our editors and algorithms curate the best sports content from our network and beyond.