Found June 17, 2013 on Pass The Pill:
Just how effective could the pairing of Chris Paul and Dwight Howard be? Photo Credit: LA Times A big story that has been going around the internet the last week has been about Chris Paul and Dwight Howard stating their desire to team up and play together next season. Both of their Los Angeles teams underperformed this past season and post season, which leads to the next question. Would a tandem of Paul and Howard work? When looking at the career Dwight Howard has had, he has tended to make headlines for his off court attitude and back and forth decisions on where he has a desire to play. Ultimately, it landed him this past year on the LA Lakers, where he and Kobe Bryant led a veteran group to a lowly 7 seed in the West and a first round playoff exit. Dwight put up steady numbers with 17.1 PPG and 12.4 RPG, but was unable to help carry the Lakers when Kobe went down. However, Dwight remains the unanimous top center in the NBA. He definitely needs to clean his act up, but he has not gotten enough credit given some of the horrendous teams that he had surrounding him in Orlando. He still made them a top team year in and year out, even making the Finals one of those years. He is still the best center in the league, and will dominate when playing good ball. Chris Paul has had two solid years with the LA Clippers averaging 16.9 PPG and 9.7 APG last year. He helped lead the Clippers to a 4 seed in the West where they held a 2-0 series lead over the Grizzlies before losing the next 4 and being eliminated. Ultimately, this was a huge disappointment for a team with the most athletic frontcourt in the NBA with Blake Griffin and DeAndre Jordan, and a no doubt top 3 point guard, and in my mind, best point guard in the NBA. Paul can dish out assists left and right, yet takes over the scoring game when he needs to. In New Orleans, he made Emeka Okafor a force inside, so we can only imagine what he'd do for Dwight. Paul has not played with someone of Howard's capabilities, so the desire to see him team up with him grows with these talks. So if a team is able to pull off an enormous offseason and reel in both Paul and Howard, the question remains, will they be able to succeed together? When looking at all of the possible scenarios and taking into consideration both players wishes and desired destinations, it looks like this dream tandem if it going to happen, is going to happen with the Clippers. Looking at the Clippers, it does seem plausible since they both enjoy Los Angeles, and the Clippers are getting a new coach and have assets to trade away to make room. Even without Blake Griffin which looks like has to happen to get Howard, the Clippers would be working with the best point guard and center in the league. If nothing else for a year or two, I see this tandem working out better than many would believe. Dwight has put up great career stats without playing with a top 10 point guard (at the time; Steve Nash is well past his prime) his whole career. With Paul, I think we would see Howard's best season yet. We have not seen a team be able to put together a true point guard and true center combo like this in a very long time. They would struggle in the West in their first year or two, but there is no reason why these two would not pose a major threat to the top teams in the West down the road. It is no doubt a long shot at this point, but it is a very exciting scenario to dream about nonetheless. The post How Effective Would the Chris Paul and Dwight Howard Tandem Be? appeared first on Pass The Pill - Kings of Hoops.
Original Story:
http://sports-kings.com/passthepill/h...
THE BACKYARD
BEST OF MAXIM
RELATED ARTICLES
The Los Angeles Lakers would like to re-sign Dwight Howard and build their franchise around him. The team has made that abundantly clear since the end of the season, but Howard has made it equally clear that he would like to explore all of his options first. If LA is going to lose Howard in [...]
The Dwight Howard sweepstakes reached the apex of their annoyingness late last week. This may prove untrue in a week, when intrepid journalists start rummaging through Dwight Howard's trash for clues as to his impending free-agency decision, but I'm going to go ahead and say it anyway. It might be a quiet kind of annoying, a subtle kind, but it's the worst. It's...
  Crazy Ron Ron is back, call him whatever you like. Metta World Peace did an interview on SportsRadio 610 in Houston on Monday, and when the topic of Dwight Howard's free agency came up things got quite interesting. Metta replied with the following on Dwight possibly going to the Rockets:  "Well, he's not going to Houston, I tell you that." "You know how those horses...
Any team looking to get into the Dwight Howard sweepstakes will have to sign him on their own, because the Lakers will be unlikely to agree to a sign and trade of their All Star big man. ESPN.com is reporting that the Lakers, who are aware that they could lose Howard to the Rockets, would rather save Howard's cap space for 2014, the Summer of Lebron, than agree to a sign and trade...
I am always interested to see whether NBA players continue watching the playoffs even after their team has been eliminated from contention. You always find some that are adamant about not watching the Finals at all and according to TMZ you can include one Dwight Howard in that category. Dwight was leaving a restaurant last night and when asked by TMZ if he was watching the game inside...
Metta World Peace, who used to be called Ron Artest, is quite a character to interact with.  When he first went to the Lakers, he made an attempt to interact [...]
Dwight Howard will likely determine most of what happens with the entire NBA free-agent market this summer, and those in league circles have little clue which team he will choose. Howard, who was traded from the Orlando Magic to the Los Angeles Lakers before the start of this past season, is an unrestricted free agent, able to sign with any team. The Lakers have the ability to...
Mark October 9 on your calendars, Magic fans. It marks the official opening of the 2013-14 season. Orlando will host the New Orleans Pelicans at the Veterans Memorial Arena in downtown Jacksonville in their preseason opener, the team announced. The game will be at 7 p.m. and the rest of the preseason schedule will be released later on. This will mark the Magic's third...
After losing in the first and second round of the playoffs over the past two years. The Los Angeles Clippers are working harder than ever, for maybe the first time ever, in making sure that never happens again with this core group. Earlier today it was reported that the Clippers have been talking with the Boston Celtics for a trade that would send current in limbo Celtics head coach...
Currently in NBA news, the LA Clippers and Boston Celtics are having discussions about the Clippers acquiring the services of Doc Rivers, Kevin Garnett, and Paul Pierce. The Clippers are attempting to be an instant title contender right now, on paper, for 2014. But is blowing up a young, promising team the right answer for this team and what would it cost them? And how can the Utah...
NBA News

Delivered to your inbox

You'll also receive Yardbarker's daily Top 10, featuring the best sports stories from around the web. Customize your newsletter to get articles on your favorite sports and teams. And the best part? It's free!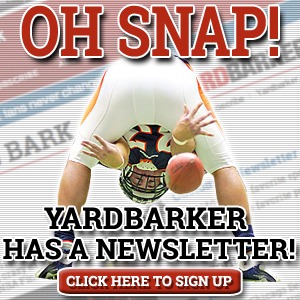 Latest Rumors
Best of Yardbarker

Today's Best Stuff

For Bloggers

Join the Yardbarker Network for more promotion, traffic, and money.

Company Info

Help

What is Yardbarker?

Yardbarker is the largest network of sports blogs and pro athlete blogs on the web. This site is the hub of the Yardbarker Network, where our editors and algorithms curate the best sports content from our network and beyond.