Found March 31, 2013 on Pass The Pill:
 In the waning moments of game one Derrick Rose sets up a pick and roll, one of his go-to plays. Noah lays down a pick on Jrue Holiday, leaving Spencer Hawes to switch onto one of the most dangerous men in the league, especially while driving. Hawes immediately starts back pedaling and everyone has seen this type of play hundreds of times from Rose. He hesitates left and freezes Hawes, Rose then hop steps right to set up the go-to floater. Upon landing his ACL is obliterated and he keeps his head and throws a bail-out pass to Carlos Boozer, immediately leaving Rose seething in pain on the ground. You can almost see the air being sucked out of the stadium and out of the city of Chicago. We all know the scene and this moment has been played over and over by the Adidas ad campaign "The Return." Now it is indeed a big moment when Rose makes his return to the hardwood, especially now when the Bulls have been struggling as of late, but I'm not sure that is the best move for him. When he comes back people will be supportive and understand he won't be up to MVP caliber right away and they really should taper their expectations a bit for him. If you've watched ESPN in the past five years you will have seen the best player in the league hands down, Lebron James get ridiculed for being "unclutch" or "can't carry a team" which is absurd, would Derrick Rose start hearing that about him, even though he has a much better team surrounding him then Lebron did in Cleveland? Derrick Rose is also a very emotional, wears his heart on his sleeve kind of player, how would he react to that? If you're not ready to shoulder the burden again of an entire city, don't rush back just to appease analysts. Most people are on his side in his decision not to be back quite yet, but in an incredibly fickle league that booed Lebron for leaving Cleveland, and boo Kris Humphreys for marrying Kim Kardashian, it might be just a matter of time before they turn on him and question his toughness. If you've never had knee injury of this magnitude, then I'm not sure if you can fully understand how tough it can be at times to get back. Being a professional athlete and being in peak physical condition to have your body betray you, is a tough thing to get over mentally. Not to mention that you were fine earlier that day walking and running around to being shut down for several months while you recover. It amazes me when athletes come out and say that they just stayed in a good place mentally and always thought positively about getting back, it's complete BS. Just about every person to have a significant knee injury like this has a bad day during the recovery process somewhere. Another reason Rose should wait until he is ready is his game is based primarily off explosiveness, unlike Rubio who made his return earlier this season. Rubio's game is mostly a grounded game and very little has to do with him making explosive cuts and quick bursts of speed, and with all that in mind Rubio has been returning to form since the all-star break, which took two and a half months of minute regulating and subpar performances. I'd understand if Rose doesn't make the return this season, especially since playoffs is a more physical style of basketball, can risk re-injury if his leg is still weak and isn't completely up to the task of possibly landing awkwardly. What I'd like to see is Rose make his debut in a less meaningful game. Maybe targeting April 5th Magic game to make the first appearance for around 14minutes of play, just to get out there and see some game speed again. Plus you're at home and it'd make the Chicago fans go berserk. To Derrick Rose, wish you the best on your return and don't beat yourself up if you play worse than expected. The post Is Derrick Rose being too cautious? appeared first on Pass The Pill - Kings of Hoops.
Original Story:
http://sports-kings.com/passthepill/i...
THE BACKYARD
BEST OF MAXIM
RELATED ARTICLES
Thanks to the realm of Twitter, a poem written by a student by the name of Jacob Nordbrock about Chicago Bulls guard Nate Robinson has surfaced.The poem itself earned an "A+" and with such lines as "He plays so smooth cause he's always ballin", I can understand why:
FREE SWINGER
Chicago Bulls' Carlos Boozer celebrated a basket against the Dallas Mavericks on Saturday with a fist pump that nearly devastated a ref's family jewels.
Carlos Boozer needs a little bit of work on his celebrations, you can confirm that with referee Danny Crawford. Boozer had just finished nailing a layup which he got fouled on, and as he did a nice celebration fist punch his hand found Danny Crawford's groin. In what could have been a much worse situation, Crawford laughed it off and acted as the professional that he is. The...
Carlos Boozer's fist and referee Danny Crawford's manly region collided Saturday to produce a video clip for the ages. Boozer was working on Dirk Nowitzki in the paint and spun toward the baseline to attempt a shot during the second quarter of the Chicago Bulls-Dallas Mavericks game. Boozer made the shot despite being fouled by Dirk, and he was so stoked about making the and...
via SI- The Point Forward Hilarious moment.  Ben Golliver with the quick youtube skills to get this up 10 minutes after it happened. Being live at the game was even better for me.  Everyone was upset by this play besides Danny Crawford, who is an outstanding NBA official.  If this was Joey, he would have challenged Boozer to a fight.
There is one thing that just about anyone that has ever played an organized sport has wanted to do at one time or another--hit a ref. Those guys are annoying. To be fair, they are charged with a pretty tough task in regulating the game. More often than not they do just fine, but when they do mess up boy do they mess up. So when Carlos Boozer made a heck of a play and in his excitement...
Luol Deng scored 28 points, Jimmy Butler and Nate Robinson each added 16, and the Chicago Bulls beat Detroit 95-94 to extend their winning streak to 18 straight against the Pistons. Rodney Stuckey scored 25 points and Greg Monroe added 18 points for the Pistons, who have not beaten Chicago since Dec. 23, 2008. The Bulls rallied from a 13-point deficit to tie the score 78-all with...
(Things Danny Ainge would say...) Bulls big man Carlos Boozer is punching everything that moves these days, including referee Dan Crawford. Though this time it was on a celebratory fist pump. Bonus?... Full story at Bob's Blitz ~ http://www.bobsblitz.com
CHICAGO (AP) -- Luol Deng scored 28 points, Jimmy Butler and Nate Robinson each added 16, and the Chicago Bulls beat Detroit 95-94 to extend their winning streak to 18 straight against the Pistons. Rodney Stuckey scored 25 points and Greg Monroe added 18 points for the Pistons, who have not beaten Chicago since Dec. 23, 2008. The Bulls rallied from a 13-point deficit to tie...
The Miami Heat's 27-game-win streak came to end last week at the hands of the Chicago Bulls. The incredible run was the second longest in NBA history, just five games shy of the record the 72 Lakers held with 33 games. Even President Obama, an avid basketball fan,  had to weigh in on the Heat's loss to the Bulls while in Miami to discuss his economic plan. THE PRESIDENT: Now...
After a disappointing end to their longest winning streak in two months, a matchup with the sputtering Detroit Pistons should help the Chicago Bulls bounce back. While they're likely to be short-handed again, the Bulls return home Sunday night looking for an 18th straight victory over the Pistons. Chicago (39-32) matched a season high with its third straight win when it ended...
NBA News

Delivered to your inbox

You'll also receive Yardbarker's daily Top 10, featuring the best sports stories from around the web. Customize your newsletter to get articles on your favorite sports and teams. And the best part? It's free!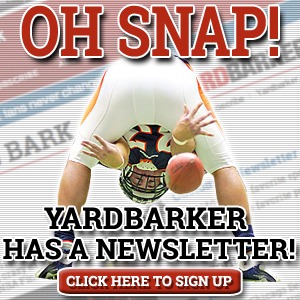 Latest Rumors
Best of Yardbarker

Today's Best Stuff

For Bloggers

Join the Yardbarker Network for more promotion, traffic, and money.

Company Info

Help

What is Yardbarker?

Yardbarker is the largest network of sports blogs and pro athlete blogs on the web. This site is the hub of the Yardbarker Network, where our editors and algorithms curate the best sports content from our network and beyond.