Found August 22, 2012 on CJ Sports NFL Talk:
When you first think of a guy who can fit the Thunder as a team and an organization, you think of a couple of words: Humble, grounded, mature, and young.  A lot goes into scouting a player that will fit the Thunder well, besides their talent level. The guy who sets the example for that is Kevin Durant, as he has been a low-key and humble kind of guy that is the face of the franchise. One of Durant's biggest fans is the Thunder's recent draft pick, Perry Jones III.
"Everybody knows that I wasn't supposed to slide as far as I did but, to be honest, I'm happy I did. This is a great organization. I mean, it's the perfect spot," said Jones III after he was selected 28th to the Thunder.
Perfect spot is right, but the question is: How will Jones III fit into next year's rotation? My answer: Perfectly. There was a big piece missing in the puzzle for the Thunder coming into the 2012-2013 season, and that being an inside scoring presence. Don't not be mistaken,  Ibaka and Perkins play a big role for this Oklahoma City team, but both of their games, don't not include scoring the basketball, as Perkins averaged 5.1 points per game, and Ibaka averaged 9.1 points per game. If you look at the past champions, they all had a guy who could score the ball, and really stretch the floor out. Two years ago, it was Dirk for the Mavs, and this year it was Chris Bosh. With Jones III only being a rookie this year, he obviously won't be ready to take on that big of a role, but he could still make a big impact for the Thunder next year. How so, though? With the loss of Nazr Mohammed, the Thunder are in need of a back-up center. The question now becomes; will it be Cole Aldrich or the rookie Perry Jones III? I think it has to be Perry Jones III. When you talk about a guy who is versatile, Jones III is the guy. He can play the 3 or the 4 and really do anything, whether its hit a three or score on the low-block. Next year, he could build off of Nick Collison's game and become another big scorer off the bench alongside Harden.  The bench next year should look something like: Maynor, Harden, Cook, Jones III, and Collison. Jones III on being selected to the Thunder, "I think everything happens for a reason and these guys treat me like family, so I'm more excited to be here than anything." Well, now the battle starts for Perry Jones III, as he has to beat out Cole Aldrich for a spot in the rotation. As much as I hate to say this, I hope he does.     Related articles
For the Love of money: What the Thunders' Ibaka extension means for Harden (110sportztalk.com)
Serge Ibaka signs: Why Sam Presti is a genius (110sportztalk.com)
NBA Roundtable: Experts Talking 2012-2013 Season (110sportztalk.com)
Original Story:
http://110sportztalk.com/is-former-ba...
THE BACKYARD
BEST OF MAXIM
RELATED ARTICLES
A recently tweeted photo making its way around the interwebs stars Oklahoma City Thunder star James Harden rocking it straight-up pimp style during what was identified on Twitter as an "all white yacht party." And as you can see, Harden is indeed kicking it in white pants but for a dash of color, has added [...]
GM Sam Presti inked Serge Ibaka to 4-year, $48 million extension. The Thunder are now committed to paying Durant, Westbrook, and Ibaka just a hair under $44 million come 2013-2014. Throw in Kendrick Perkins and that figure jumps up to $52 million. Prior to this extension, a lot of people have been left wondering how the small market Thunder will handle the contracts of the core 4...
  "If things continue like this, I will not return…" That's what Ibaka had to say regarding his role with the Spanish National team during the Olympics. Ibaka was primarily displeased with the way he was used on the court and his overall minutes in the game. Ibaka tallied 12pts. and 9 boards in the game against the U.S…..in just 22 minutes of play.  
Serge Ibaka had a great season last year, leading the NBA in blocked shots, and now he has a contract to match his production. He is considered one of the NBA's best weak side defenders, and Ibaka's contract was extended for the next four seasons at the price of just under $50 million for the life of the contract.
With Kevin Durant, Russell Westbrook and Serge Ibaka signed to multi-year contracts, James Harden remains the core member of the Thunder that Sam Presti still needs to agree to terms with.
Serge Ibaka's base salary for his four-year extension is worth $49 million.
Oklahoma City's signing of rim protector Serge Ibaka (4-year, $48 million) should open the eyes of Phoenix Suns fans regarding James Harden. While the Thunder could manage to sign Harden, their chances of doing so took a hit with the signing of Ibaka. Harden, who played his college ball at Arizona State, is open to [...] [[ This is a content summary only. Visit my website for...
What a summer for members of the U.S. men's basketball team. Blake Griffin tore the meniscus in his left knee. Andre Iguodala was traded. James Harden, who is eligible for a new contract at the end of this NBA season, returned from competing in an international tournament with many of the best players in the world to discover that re-signing him was not the top priority on his...
Last week we talked about how much the Los Angeles Lakers will have to pay in taxes if they want to keep the team they currently have together. It's a lot of money but the Lakers might think it's worth it if they can take home a title. Plus, it's Los Angeles and paying that much money would not be impossible or unheard of. It's a different story in Oklahoma City. The...
NBA News

Delivered to your inbox

You'll also receive Yardbarker's daily Top 10, featuring the best sports stories from around the web. Customize your newsletter to get articles on your favorite sports and teams. And the best part? It's free!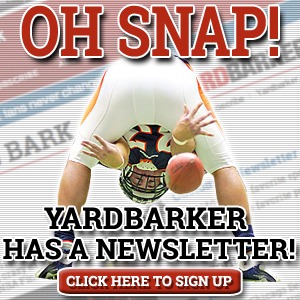 Latest Rumors
Best of Yardbarker

Today's Best Stuff

For Bloggers

Join the Yardbarker Network for more promotion, traffic, and money.

Company Info

Help

What is Yardbarker?

Yardbarker is the largest network of sports blogs and pro athlete blogs on the web. This site is the hub of the Yardbarker Network, where our editors and algorithms curate the best sports content from our network and beyond.