The New York Knicks, currently struggling through a variety of issues ranging from injuries to anger management to flawed construction, haven't come within nine points of a playoff win in their last five tries.  With Thursday night's 17-point loss to LeBron James and the Miami Heat, the 'Bockers dropped their 13th consecutive postseason game, a new NBA record.  The historic losing streak began in Toronto just over 11 years ago, back when… …Vince Carter lit 'em up for 32.
…the first round was best of five.
…Wikipedia was less than four months old.
…Mike Dunleavy Jr. was a reigning NCAA Champion.
…Janet Jackson, Shaggy, and Crazy Town had #1 hits.
…Bismack Biyombo was 8 years old.
…Isiah Thomas was coaching the Pacers.
…Jay-Z and Nas hated each other.
…Baywatch and The Angry Beavers were still on TV.
…a gallon of regular gasoline cost $1.46.
…Google was a privately-owned company.
…Mitchell & Ness was in the process doubling their sales revenue.
…Allen Iverson was MVP of the NBA.
…Shrek was yet to hit theaters.
…Bill Clinton was fewer than three months removed from the White House.
…Jerry Stackhouse was a 30-point-per-game scorer.
…Myspace.com didn't exist.
…the original iPod was still being developed.
…Kwame Brown, Tyson Chandler, and Eddy Curry were seniors in high school.
…LeBron James was yet to reach the cover of SLAM Magazine.
…the Baltimore Ravens, quarterbacked by Trent Dilfer, were Super Bowl champs.
…Michael Jordan had only played for one NBA team.
…the first XBox was yet to hit shelves.
…Carmelo Anthony was playing AAU games against Amare Stoudemire. Yep, it's been a while since the Knicks have experienced even the slightest degree of postseason success.  I was 12 years old when they last won a game, and only 11 when they actually took a series.  For over half my life the Knicks have pretty much sucked, and I sometimes wonder how old I'll be by the time they produce a real winner (assuming I'm fortunate enough to live that long).  The day the Knicks win an NBA title they'll probably be able to celebrate with a trip to the moon.
Original Story:
http://nba247365.com/?p=6296
PLAYERS:
LeBron James
,
Vince Carter
,
Janet Jackson
,
Bismack Biyombo
,
Allen Iverson
,
Bill Clinton
,
Jerry Stackhouse
,
Kwame Brown
,
Tyson Chandler
,
Eddy Curry
,
Trent Dilfer
,
Carmelo Anthony
,
Amare Stoudemire
,
Mike Dunleavy Jr.
TEAMS:
New York Knicks
,
Miami Heat
,
Dallas Mavericks
,
Charlotte Hornets
,
Atlanta Hawks
,
Milwaukee Bucks
,
Baltimore Ravens
MORE FROM YARDBARKER
NBA News

Delivered to your inbox

You'll also receive Yardbarker's daily Top 10, featuring the best sports stories from around the web. Customize your newsletter to get articles on your favorite sports and teams. And the best part? It's free!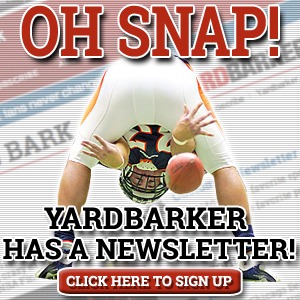 Latest Rumors
Best of Yardbarker

Today's Best Stuff

For Bloggers

Join the Yardbarker Network for more promotion, traffic, and money.

Company Info

Help

What is Yardbarker?

Yardbarker is the largest network of sports blogs and pro athlete blogs on the web. This site is the hub of the Yardbarker Network, where our editors and algorithms curate the best sports content from our network and beyond.