Found April 08, 2013 on BlackSportsOnline:
How could C Webb not being haunted by the timeout? The only thing I can equate it to, is the Bill Buckner error in the World Series. It might even be worse, because it was compounded by the fact that Webber, was also involved in a scandal, that led to him being banned from the University, Michigan being put on probation, wins being vacated and the Fab 5 banners being taken down. So, I am not surprised that Webber feels a certain way about Michigan now, especially with the current team one win away from the championship the Fab 5 could never win, but Jalen Rose wants Webber to get over it. "The elephant in the room has been Chris Webber," Rose told Bill Simmons on his podcast on Sunday. "While he loves us like brothers and vice versa there has been a communication separation that has basically taken place since we all were teammates. I think the time out had a lot to do with it. I think he wants to disassociate himself with that moment and with that school, in theory with us, to kind of rebuild his life mentally to say, 'My career really started my rookie year in the NBA, but that's really not how it works.'" "He was the person eventually that ended up having the unfortunate timeout. He was the person involved with the Ed Martin situation that led to the banners being taken down and the wins being vacated. He was the person that chose not to participate in the Fab Five doc," Rose continued. "Now hopefully he's not the only person that chooses not to participate in celebrating Michigan basketball being back on top 20 years after we played in the final game. It would mean so much to the university, so much to the current players…The world knows that he's going to be in Atlanta, so it's almost like a flagrant omission if he decides not to come." I am a proponent of leaving school when you know you are going to be a high draft pick.  Chris Webber knew he was going to be the #1 pick in the NBA draft, but I truly believe he should have stayed in school.  I think Michigan would have went undefeated.  I believe Webber would have been a monster and exercised a lot of demons.  He was a very good NBA player, but if those demons would have been exercised in college, I think he would have been even better.  There was always something holding him back from being great. I disagree with Rose that it would be a "flagrant omission", because no one knows exactly how Webber is feeling and maybe he doesn't want to be a distraction. I do hope he comes, the Fab 5 meant more to a lot of kids myself included (I still has a Webber Michigan Jersey in storage from when I was 13 years old) than just basketball. It would be nice to see them all together again supporting the Wolverines.
Original Story:
http://blacksportsonline.com/home/201...
THE BACKYARD
BEST OF MAXIM
RELATED ARTICLES
Chris Webber was the subject of much speculation over the past week on whether or not he would show up for a Fab Five reunion in Atlanta. Webber, who has shied away from the University of Michigan since a scandal involving him rocked the program, arrived in Atlanta to support the school in their title [...]
Chris Webber ended all the suspense. The former Fab Five member showed up at the national championship game Monday in Atlanta to root on the Michigan Wolverines as they took on the Louisville Cardinals. Webber had a falling out with Michigan, and Jalen Rose and Jimmy King had said he wasn't in contact with them. Looks like C-Webb changed his mind.
Chris Webber has kept his distance from Michigan since his role in the boosting scandal with Ed Martin led to sanctions for the University that included Michigan pulling down the Fab Five's 1993 national finalist banner. But on the 20th anniversary of the "Fab 5″ making it to the NCAA finals, the school was once again back in the spotlight on Monday night. Jalen Rose, Juwan...
The Fab Five would love former Michigan teammate Chris Webber to be at the 2013 NCAA title game, but will he make an appearance?
Jalen Rose called out Chris Webber on Monday morning, announcing that all the members of Michigan's famed Fab Five but Webber have committed to appearing at the Georgia Dome for tonight's NCAA Championship to cheer on the Wolverines.
Former five-time NBA All-Star Chris Webber showed up at the Georgia Dome just about the time Michigan's starting lineup was being introduced before the Wolverines squared off against Louisville in Monday's night's national championship game.
In the photo above, catch a glimpse of the notorious and ridiculously talented "Fab Five" squad rooting on their Alma mater Michigan as the Wolverines take on Louisville in tonight's national championship game. Creating a befitting buzz, this legendary quintet consisted of Jimmy King, Juwan Howard, Chris Webber, Jalen Rose, Ray Jackson. Widely considered to be one of...
Jalen Rose and Jimmy King spoke with the media at half time of the national championship in Atlanta about the Fab Five's reunion at the Georgia Dome. Watch both players in the embedded media players below. Apologies for the audio, it's not exactly quiet in the Georgia Dome.
Jalen Rose joined Bill Simmons for Grantland's "BS Podcast" on Sunday night, and the former Fab Fiver issued a plea to his former teammate, Chris Webber, in hopes of getting Webber to attend Monday night's national title game between Michigan and Louisville. "Hopefully, he's not the only person that chooses not to participate in celebrating Michigan basketball being back...
Every once in a while we like to present to you feature posts from guest bloggers. This article is the work of Felipe Diaz, a fine and enthusiastic young man from the great state of Wisconsin who is currently a junior at the University of Wisconsin-Milwaukee studying Film Production and Marketing. Felipe is a self-professed MMA and football fan, who honed his writing skills on his...
On TNT's Thursday broadcast of the Thunder-Warriors game, the broadcast booth will have a completely different look: there won't be a play-by-play announcer as reported by USA Today. Steve Kerr, Chris Webber, and Reggie Miller, all three of whom are analysts for NBA games on TNT, will be manning the booth, creating an innovative, interesting (and potentially disastrous...
NBA News

Delivered to your inbox

You'll also receive Yardbarker's daily Top 10, featuring the best sports stories from around the web. Customize your newsletter to get articles on your favorite sports and teams. And the best part? It's free!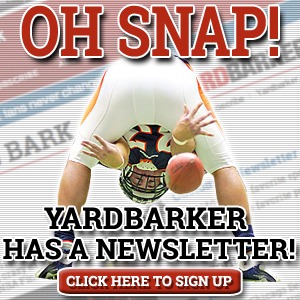 Latest Rumors
The Backyard

Today's Best Stuff

For Bloggers

Join the Yardbarker Network for more promotion, traffic, and money.

Company Info

Help

What is Yardbarker?

Yardbarker is the largest network of sports blogs and pro athlete blogs on the web. This site is the hub of the Yardbarker Network, where our editors and algorithms curate the best sports content from our network and beyond.