Found April 05, 2012 on Fox Sports Florida:
MIAMI This was perhaps the most gifted basketball player in the world playing at his God-given best on defense. This was LeBron James, the oft-maligned and always-criticized Miami Heat forward, defending Kevin Durant, the Oklahoma City All-Star who is maybe the NBA's most talented scorer. And James took it personally. "Anytime you get an opportunity to go against one of the best," James said, "you definitely take the challenge." In this battle between the NBA's top two MVP candidates, James won. He crowded Durant, got all up into his business, and shut him down in the Heat's 98-93 victory over the Thunder in Wednesday's nationally-televised showdown. With 1:24 left and the Heat leading, 94-93, Durant threw up an awkward fadeaway jumper that glanced off the top of the backboard as time expired on the shot clock. With 19.5 seconds left, and Oklahoma City trailing, 96-93, Durant ran off screen from baseline to top of key, with James trailing, and put up a 26-foot three-pointer that missed badly. "You've got to want that matchup," Heat forward Udonis Haslem said. "He accepted the challenge and that's what we expect him to do as our leader and our MVP candidate." OK, James didn't really shut him down. Durant ended with 30 points on 11-of-21 shooting. But Durant had nine turnovers. In the second half, Durant had 15 points, but on 5-for-11 shooting with five turnovers. In the fourth quarter he had nine points on 4-of-6 shooting. But as crazy as it sounds, James, a three-time first-team All-Defensive selection, did a damn good job on Durant defensively. With 1:24 left and the Heat leading, 94-93, Durant, with James pressuring him, threw up an awkward fadeaway jumper that glanced off the top of the backboard as time expired on the shot clock. With 19.5 seconds left, and Oklahoma City trailing, 96-93, Durant, with James locked-in and trailing, ran off screen from baseline to top of key and put up a 26-foot three-pointer that missed badly. James was successful all night, and those were just two late-game examples. "It's about as tough a cover as you can get and LeBron really worked the game," coach Erik Spoelstra said. When these teams met last week, in that 103-87 smackdown victory by Oklahoma City, Durant had 28 points, nine rebounds and eight assists with just two turnovers. He was all over the place . It was an embarrassment to the Heat, and especially to James. "I'm a competitor," James said. "I didn't play like I know I'm capable of playing in that game." So James, who, by the way, also scored a game-high 34 points on Wednesday, grabbed seven rebounds, handed out 10 assists and had four steals, vowed to improve on that shabby performance. He dug in, stayed with Durant as he ran off screens, kept a hand in his face on jumpers, and generally made himself another appendage, linking himself to Durant's upper body. For all the abuse James takes for being a choker on offense, you never hear that charge against James defensively. Ever. He performs on defense. He defends all five positions and usually takes the opponent's best scorer. Do you remember him locking down Chicago's Derrick Rose in last year's Eastern Conference finals? Wednesday's performance against Durant was reminiscent of that impressive defensive effort. "LeBron took the challenge, got into his airspace," forward Chris Bosh said of James' defense on Durant, "and that's really not easy to do." Durant's game is no surprise to James. The two worked out together for a week during the summer at the University of Akron. They called it hell week. It was two-day-workouts and they were grueling. But even amid mind-numbing fatigue the two still found a way to compete. It was the same thing Wednesday, especially late when the game was painfully close, with neither team gaining more than a two-possession lead. "It reminded me of the summer when we were both working out together, pushing each other staying on top of each other," James said. "Even though we were working out together we were looking at each other, trying to be the best in those workouts." On Wednesday, only one could be the best, and it was James, and that was because of his work on the defensive end.
Original Story:
http://www.foxsportsflorida.com/04/05...
THE BACKYARD
BEST OF MAXIM
RELATED ARTICLES
Generally speaking, I think a lot of writers try to ignore ESPN First Take analyst Skip Bayless' existence. He's become the poster child for what a lot of ESPN programming has become: two people sitting across the table yelling at each other. Having said that, one of Bayless' reoccurring rants is that Russell Westbrook should never, ever, ever shoot more than Kevin...
Skip Bayless is a master of his craft. That craft of course being trolling and the douchebaggery that goes along with such a skill. For reasons I find incomprehensible, he's given two hours each day to showcase his "talent" by antagonizing those in sports seemingly at random while competing in phony debates with imbeciles the caliber of Rob Parker. It's very rare...
MIAMI -- If Tom Brady goes awhile without a 300-yard passing game, it's a slump. If Tim Lincecum has a stretch without a 10-strikeout game, one wonders what's wrong. It's the same with Miami forward LeBron James. When he had failed to reach 30 points for nine straight games, his longest such streak since early in his second season of 2004-05, it was a drought. Well...
In the midst of the busiest portion of their schedule, the Memphis Grizzlies seemed to tire down the stretch in their third game in as many nights. They won't get much respite with a visit to Miami. Coming off an impressive victory over the top team in the Western Conference, the Heat look to match a team record with their 18th straight home win Friday night when they face...
Danny Granger scored 13 of his 26 points in the fourth quarter to help the Indiana Pacers beat the Oklahoma City Thunder 103-98 on Friday night for their fourth straight win. Roy Hibbert had 21 points and 12 rebounds, David West scored 14 points and Paul George added eight points and a career-high 16 rebounds for the Pacers (34-21), who have won eight of 10. Kevin Durant scored...
Last night I was asked to join John Russo on his radio show "Out of Bounds." We talked about the Miami Heat being the top team in the NBA, LeBron James' fourth quarter struggles, Derrick Rose's kryptonite, and the sneaky Spurs being poised for a deep playoff run. Here's the audio of my segment: Download audio file (OOB-452012-RyanMcNeil.mp3) sr_adspace_id...
The big game tonight will most likely decide who will be this year's MVP. I hope everyone is as excited as I am to see the Kevin Durant v.s. LeBron James showdown!! I'm taking Miami -2.5  
Baseball is a mind game, most of all. It plays Yahtzee with your skull. Think too much, and you're toast. Blow off the details, and you're on the next bus back to Burlington. You seek the happy medium, accent on the happy part. Our time, they say. Our time. "If positive thinking always worked do you think you could beat LeBron James, 1-on-1?" Bob Weinberg asks...
Centers are at such a dearth in talent right now in today's NBA that the Miami Heat would be just fine in a series against the Orlando Magic or Los Angeles Lakers. The Heat have enough talent in enough places to succeed against an elite center. Last season's Eastern Conference Finals proved that the regular season is only good for seeding, and that in critical junctures...
NBA News

Delivered to your inbox

You'll also receive Yardbarker's daily Top 10, featuring the best sports stories from around the web. Customize your newsletter to get articles on your favorite sports and teams. And the best part? It's free!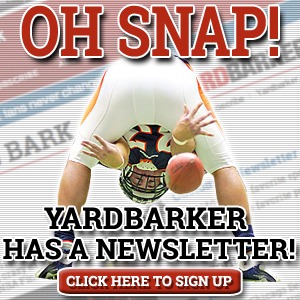 Latest Rumors
The Backyard

Today's Best Stuff

For Bloggers

Join the Yardbarker Network for more promotion, traffic, and money.

Company Info

Help

What is Yardbarker?

Yardbarker is the largest network of sports blogs and pro athlete blogs on the web. This site is the hub of the Yardbarker Network, where our editors and algorithms curate the best sports content from our network and beyond.