Found June 19, 2012 on Fox Sports Florida:
PLAYERS:
LeBron James
,
Bob McAdoo
,
Chris Bosh
,
Wilt Chamberlain
,
Magic Johnson
,
Hakeem Olajuwon
,
Kobe Bryant
,
Kevin Garnett
,
Paul Pierce
,
Ray Allen
TEAMS:
Miami Heat
,
Boston Celtics
,
Los Angeles Lakers
,
Portland Trail Blazers
MIAMI -- When LeBron James arrived in Miami before last season, Heat assistant coach Bob McAdoo had a presentation of show and tell. McAdoo is one of the few guys on the planet who at least has somewhat walked in similar shoes as James. Likes James, he has won an NBA MVP and a scoring title (actually, three). Like James, he had toiled for many years without winning a title. And, like James, he joined forces with superstars on another team in pursuit of that ring. "When he first got here, I kind of showed him our Lakers pictures and I said, 'I understand what you did,'" McAdoo, who joined the Lakers in 1981-82 and won a championship that season as well as one in 1984-85, said in an interview Monday with FOX Sports Florida. "I had to get with a team of other stars and people didn't make a big deal out of it." Yes, there are differences. While James was 25 and the top player in the game when he bolted from Cleveland to the Heat as a free agent, McAdoo was 30 and on the decline when he became a free agent and ended up being traded from New Jersey to the Lakers due to compensation rules that were in place at the time. But the thinking of the two was similar. James, trying to win his first title on a Miami team that leads Oklahoma City 2-1 in the NBA Finals, wasn't able to win a ring in his seven seasons with weak Cavaliers supporting casts. McAdoo couldn't get one in nine seasons on also-ran teams, most notably Buffalo and New York. "I said (to James that) those (top) teams of the '80s had a lot of stars on the team," McAdoo, a Hall of Fame forward-center, said of his 2010 talk with James. "The 76ers had Moses (Malone), Julius (Erving), Maurice Cheeks, Bobby Jones. The Celtics had (Larry) Bird, (Kevin) McHale, (Robert) Parish. You needed those type of players to win. "You weren't going to be a lone wolf out there like LeBron kind of was in Cleveland to win a championship. He was kind of stuck out there like I was in Buffalo or New York, and we just didn't have enough talent. I showed (James) and I told him, 'You got to be teamed with other stars to even have a chance (at a title) because the teams that are winning are the teams that got all the talent."' James got ample criticism for abandoning his home-state Cavaliers to join fellow stars Dwayne Wade and Chris Bosh in Miami. Plenty of it had to do with the way he handled it, announcing his plans on the ill-fated "The Decision" show. Nevertheless, James hardly is the first established star to bolt a team in search of a better place to win a championship. Wilt Chamberlain forced trades twice in the 1960s, and won titles with star-laden teams Philadelphia in 1967 and the Lakers in 1972. Kareem Abdul-Jabbar requested a trade from Milwaukee to the Lakers in 1975, although it would five years before Magic Johnson showed up and there was a star pairing that led to a title. After the 1981-82 season, Malone, who had led an undermanned Houston team to the Finals the previous season, became a free agent and a trade was worked out with Philadelphia. It immediately resulted in a championship. When it became apparent he wasn't going to win a title in Portland, Clyde Drexler forced a trade in February 1995 to Houston. Four months later, he paired with Hakeem Olajuwon to win a crown. Orlando center Shaquille O'Neal left Orlando as a free agent in the summer of 1996 to join a Lakers team that didn't then have any other stars but had a history of excellence and an intriguing rookie in Kobe Bryant. Eventually, the pair won the first three championships of the last decade. In the summer of 2008, Kevin Garnett maneuvered his way in a trade from Minnesota to Boston to join forces with fellow stars Paul Pierce and Ray Allen. That instantly produced a title. "I think it was a great move," Drexler said in an interview with FOX Sports Florida about James' decision to go to the Heat. "Because, if you look at the team he left, would you want to stay with that team? If you keep playing 48 minutes and scoring 40 points, it's going to take years off your career, and you still may not win. But if he's going to go play with some other (top) players, one, he's got some help, which means a lot. Two, he's got a better chance to win. And living in Miami is not really a bad place. It's a no-brainer (James going to Miami). "If I had not gone to Houston, I would not have a ring You need multiple stars (to win a championship). You always have When I was in Portland, we had players good enough to get to the Finals but the super teams are going to get us." Drexler's Trail Blazers lost in the Finals to Detroit in 1990 and Chicago in 1992. When the team went into a rebuilding mode, Drexler wanted out and a trade was put together for him to go to the Rockets. At 32, Drexler was seven years older than when James joined his new team. But the guard still averaged 21.4 points in 35 1994-95 regular-season games for the Rockets and 20.5 during their playoff title run. He then averaged more than 18 points in each of his final three Houston seasons before ending his Hall of Fame career. Malone leaving Houston as a free agent after an MVP season to join star-laden Philadelphia is perhaps the situation in NBA history most similar to James bolting the Cavaliers after winning two straight MVPs. Some of the other big names were traded rather than having become free agents, some were at least slightly past their prime and Abdul-Jabbar and O'Neal didn't immediately join other stars with their new teams. But however and whenever it happens, history shows multiple stars are need to win championships. And it was apparent James, who technically left the Cavaliers in a sign-and-trade, didn't feel confident about a big-time player ever joining him in Cleveland. "I know the history of the game," said James, who this season won his third MVP and was the scoring champion with the Cavaliers in 2007-08. "You've got to have superstars and stars to win a championship. You've got to have a great coaching staff and a great organization. But as many as (Michael) Jordan won (six), he had a great supporting cast around him. As many as Bird won (three), he had a supporting cast. As many as Magic won (five), he had a supporting cast, same with (Tim) Duncan (a San Antonio big man with four titles). I understand that you can't do it by yourself." McAdoo figured that out early in his career with Buffalo. He won the scoring title in his second season of 1973-74, and then won it again the next two years. He won his MVP in 1974-75, when he averaged 34.5 points and 14.1 rebounds. But the Braves never could advance farther than the Eastern Conference semifinals. When McAdoo had a chance to join Johnson and Abdul-Jabbar with the Lakers, he jumped at even if it meant a reduced role. McAdoo agreed to come of the bench, and he still averaged as many as 15.0 points in 1982-83. He played in the Finals during each of his four Lakers seasons. "The biggest thing is he made a sacrifice to join that team," James said. "You look at Doo's resume before he joined the Lakers He could score with the best of them. But I think he knew that if he was going to be joining the Lakers, he wasn't going to be that same player. So he had to make sacrifices. "Now, I'm not saying that's me because I still have to play at a high level and Doo came off the bench for that Laker team, but I think sacrifice is the word I'm trying to say. He had to make a sacrifice for the better of the team to win a championship." If James in the next week finally wins his first championship, there's going to be talk by some it is cheapened because he had to leave Cleveland for Miami to get it done. But none of that talk will come from Drexler. He even had no problem with the ESPN-aired "The Decision." "I think it's crazy as great as he is," Drexler said when asked if he believes James still gets undue criticism for having gone from the Cavaliers to the Heat. "The guy is phenomenal. He's underrated. As good as he is, he's still underrated. "How many players got traded and found out about it on the radio on the way home? How many times did that happen? A million. He at least had ("The Decision") to let (the Cavaliers) know, 'I enjoyed it, but I'm going to take my talents to South Florida because I think I have a better chance (to win a championship).'" That chance soon might become reality. If it does, James hardly would be the first star who needed to team up with other stars to win a title. Chris Tomasson can be reached at christomasson@hotmail.com or on Twitter @christomasson
Original Story:
http://www.foxsportsflorida.com/06/19...
THE BACKYARD
BEST OF MAXIM
RELATED ARTICLES
IT HURTS
LeBron James couldn't finish Game 4 because of leg cramps, and several NHL players questioned his toughness through tweets.
This is not a typical Lebron James article about his stats, awards or endorsements. This article is about the psyche of Lebron James and how he can use failure as a motivation tool. One of the most difficult things in life for a human being to deal with is failure, but what can be even more devastating is if [...]
Me: Hi LeBron's Headband, thanks for coming. LBJH: Thanks for having me, Matt. Me: So how have these playoffs gone for you so far? LBJH: It's been hard, honestly. Me: Why is that? LBJH: Well if LeBron were a bench player, everything would be fine, but since he's active in the offense, I find myself always hanging on for dear life. Me: Do you ever talk to him about...
MIAMI -- LeBron James hasn't been this close to a championship since his Akron St. Vincent-St. Mary team beat Kettering Alter on March 22, 2003 for the Ohio Division II title. The Miami Heat haven't been this near a title since exactly six years ago Wednesday, when they defeated Dallas in Game 6 of the NBA Finals to wrap up the 2006 crown. Put them both together, and Thursday...
Halfway to a title, and LeBron James shows no sign of letting this one get away. James had 29 points and 14 rebounds, and the Miami Heat took a 2-1 lead in the NBA Finals with a 91-85 victory over the Oklahoma City Thunder on Sunday night. Dwyane Wade had 25 points, seven rebounds and seven assists for the Heat, who were in this same position through three games last year, then...
MIAMI Forget for a moment the painful grimace on the face of LeBron James. When he was carried off the court late Tuesday by teammate Juwan Howard and trainer Jay Sabol, isn't that how an enduring moment from a defining career turn, rich with symbolism, is supposed to look? It appeared that way Wednesday, the day after, when the buildup to Game 5 revolved less around the minutiae...
Just goes to show, Lebron has awful taste. [Follow me @TravisHouser]
MIAMI (AP) -- LeBron James and the Miami Heat are one win away from an NBA championship. James had 26 points, 12 assists and nine rebounds before dealing with leg cramps late, Dwyane Wade scored 25 and the Heat rallied from 17 points down to beat the Oklahoma City Thunder 104-98 in Game 4 of the NBA Finals on Tuesday night. The Heat now lead the best-of-seven series 3-1, and could...
Hockey players have taken to Twitter to fire a few slapshots at LeBron James, ripping into the Heat star about the leg cramps he suffered in Game 4 against the Thunder. James missed the closing minutes of a Miami victory and looked to be in an incredible amount of pain on the sidelines. "We get it Lebron, it doesn't hurt when you're running around but it looks unbearable...
Ed Lacerte has been called the Celtics' MVP, but he was snubbed for the NBA award this season in favor of some guy named LeBron James. Lacerte, the Celtics' head athletic trainer, settled for a different honor Wednesday when he was named the 2011-12 recipient of the Joe O'Toole Athletic Trainer of the Year Award. The award is given annually to a member of the National...
LeBron James and the Miami Heat are now only one win away from an NBA Championship. Despite Russell Westbrook's 43 points, the Heat went on to a 104-98 victory over the Oklahoma City Thunder giving them a commanding 3-1 series lead, something no other NBA team has been able to overcome in NBA finals history. LeBron James had 26 points, 12 assists and nine rebounds before being...
With the game once again knotted up late in the fourth quarter, Oklahoma City choked. Despite the league's best player—the only guy who has shown the ability to slow down Kevin Durant, by the way—checking in and out of play with a leg cramp, the Thunder failed to execute on both ends of the floor, falling into a 3-1 hole in the NBA Finals with a third consecutive loss. But...
NBA News

Delivered to your inbox

You'll also receive Yardbarker's daily Top 10, featuring the best sports stories from around the web. Customize your newsletter to get articles on your favorite sports and teams. And the best part? It's free!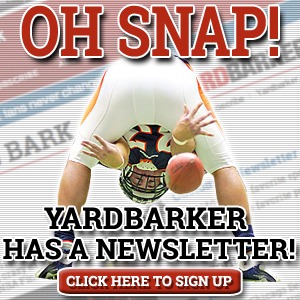 Latest Rumors
The Backyard

Today's Best Stuff

For Bloggers

Join the Yardbarker Network for more promotion, traffic, and money.

Company Info

Help

What is Yardbarker?

Yardbarker is the largest network of sports blogs and pro athlete blogs on the web. This site is the hub of the Yardbarker Network, where our editors and algorithms curate the best sports content from our network and beyond.