Found April 04, 2012 on Fox Sports Florida:
PLAYERS:
Tom Brady
,
Tim Lincecum
,
LeBron James
,
Dwyane Wade
,
Chris Bosh
,
Kevin Durant
,
Erik Spoelstra
,
Mario Chalmers
,
Shane Battier
,
Joel Anthony
,
Ronny Turiaf
,
Andre Iguodala
,
Doug Collins
TEAMS:
New England Patriots
,
San Francisco Giants
,
Miami Heat
,
Oklahoma City Thunder
,
Philadelphia 76ers
MIAMI -- If Tom Brady goes awhile without a 300-yard passing game, it's a slump. If Tim Lincecum has a stretch without a 10-strikeout game, one wonders what's wrong. It's the same with Miami forward LeBron James. When he had failed to reach 30 points for nine straight games, his longest such streak since early in his second season of 2004-05, it was a drought. Well, James corrected that Tuesday night at AmericanAirlines Arena. With the Heat without fellow scoring star Dwyane Wade due to a sore left knee, James stepped up to score a season-high 41 points in a 99-93 win over Philadelphia. "I guess so," James said when asked if he had been in a slump by his standards. "I don't know. It doesn't really matter to me about scoring. I never base my career on scoring and 30-point games or whatever the streak is." James hadn't reached 30 points since he had 35 March 14 at Chicago. In his previous nine games, he had averaged 21.0 points to drop his seasonal average to 26.5 and career mark to 27.6. But James took over when the Heat needed him Tuesday. He scored 23 points in the second half, including 15 in the fourth quarter, as Miami stormed back from a 54-51 halftime deficit and broke away from 86-83 lead with 2 minutes left in the game. The win provided the formality of the Heat clinching a playoff berth. And they won their 16th straight home game, two shy of the team record. "It's good," Heat forward Chris Bosh said of James getting his second 40-point game of the season and first since scoring 40 Feb. 1 at Milwaukee. "(James' scoring ability) never leaves him. It was good just to see him aggressive and put everything behind him and just play basketball. We all know that he can score. He knows that he can score. And it's been a while since I've seen him have a 40-point game, and I think this is a great confidence builder." Since James' previous game of 30 or more, he had banged his head in a game and suffered injuries to his right (shooting) elbow and left finger. The nine-game slowdown, during which the Heat went 6-3, included James shooting 48.1 percent to drop his seasonal mark to 53.5. James also during those three tough weeks lost the grip he had to win a third MVP award. Most NBA insiders believe he has fallen behind Oklahoma City forward Kevin Durant, but James can do something about that Wednesday when the Thunder visits American Airlines Arena. Miami coach Erik Spoelstra said he's "hopeful" Wade will return. Spoelstra learned about two hours before tipoff that Wade wouldn't be able to go due to to lingering soreness from banging knees in Sunday's 91-72 loss at Boston. "We're not weighing opponents or anything like that," said Spoelstra, dismissing any speculation that Wade, no longer a youngster at 30, was being rested for Wednesday's big game. "But I think we'll see some significant progress in the next 24 hours and then we'll reevaluate (Wade) before the (Thunder) game." James said he had hints Wade might not play as Tuesday's tipoff approached. "I wasn't surprised," said James, whose Heat are 9-1 this season in games Wade has missed. "There was a little bit of a chance. He had talked about his knee kind of bothering him a little bit. But we were ready for him to play. And, if not, guys were ready to step up." One who did was point guard Mario Chalmers, whose 19 points were his best effort since Feb. 21. Bosh added 17 points but that's about his average. Shane Battier got the start for Wade. But that wasn't the only lineup change Spoelstra made. Getting the call at center in place of Joel Anthony was recently acquired Ronny Turiaf, who provides more offense and Tuesday had six points and six rebounds in 23 minutes. Anthony had started 50 of the first 51 games, missing one due to injury. "This is not in cement," said Spoelstra of the move, saying he liked how Turiaf played and that he often has wanted Anthony in a situation where he provides "energy" off the bench. After the Heat was battered in Beantown, Spoelstra was looking for energy anywhere he could get it. In the end, James picked a great time to have his highest-scoring game since he had 43 points March 18, 2011 at Atlanta. "We needed it, quite frankly," Spoelstra said. "There is no question about it, with Dwyane out, we knew (James) would have to shoulder a little bit more offensively and the ball was going though him a little more often." It helped James even more when Philadelphia defensive specialist Andre Iguodala was lost for the game late in the third quarter when Chalmers inadvertently hit him and he suffered a left eye contusion. Iguodala said after the hit he was "seeing double," but that he soon was much better. It only looked to the 76ers the rest of the way that two LeBron Jameses were swooping down the lane. James was all over the place in the fourth quarter, shooting 4-of-7 from the field and 7-of-9 from the foul line. "At the end of the game, LeBron James showed why he is one of the great players in the game, if not the greatest," said 76ers coach Doug Collins. With praise like that, now you know why there are far different standards for James than others. Nine straight games without scoring 30 points definitely was a slump. Chris Tomasson can be reached at christomasson@hotmail.com or on Twitter@christomasson
Original Story:
http://www.foxsportsflorida.com/04/04...
THE BACKYARD
BEST OF MAXIM
RELATED ARTICLES
MIAMI This was perhaps the most gifted basketball player in the world playing at his God-given best on defense. This was LeBron James, the oft-maligned and always-criticized Miami Heat forward, defending Kevin Durant, the Oklahoma City All-Star who is maybe the NBA's most talented scorer. And James took it personally. "Anytime you get an opportunity to go against one...
The big game tonight will most likely decide who will be this year's MVP. I hope everyone is as excited as I am to see the Kevin Durant v.s. LeBron James showdown!! I'm taking Miami -2.5  
MIAMI It's simple. Either the Miami Heat are the Heat 2.0 hardened, emboldened and made better by all that's transpired since LeBron James uttered those words about South Beach. Or they're the same team that relentlessly showed signs all last season, to those willing to see, that their glorious trio came with a very real Achilles' heel the one that finally caught...
When Monday's film session and court work were completed on the Heat practice floor, LeBron James and Dwyane Wade huddled with coach Erik Spoelstra and assistant David Fizdale for a chat. Everyone took a turn talking, everyone took a turn nodding. ''We'd be lying to ourselves,'' Wade said afterward, ''if we said we were playing our best basketball...
This strikes me as a pretty appropriate With Leather story to come out of WrestleMania weekend. Sweaterpunch alerts us to the fact that LeBron James and Dwyane Wade met up with Rey Mysterio over the weekend. Ignoring for a moment the completely stilted and uncomfortable exchange between the three men, the visual hilarity of Rey Rey getting a picture taken with these two massive...
Baseball is a mind game, most of all. It plays Yahtzee with your skull. Think too much, and you're toast. Blow off the details, and you're on the next bus back to Burlington. You seek the happy medium, accent on the happy part. Our time, they say. Our time. "If positive thinking always worked do you think you could beat LeBron James, 1-on-1?" Bob Weinberg asks...
MIAMI (AP) -- LeBron James had 34 points and 10 assists, Dwyane Wade scored 19 points and the Miami Heat avenged a loss at Oklahoma City last week, rallying to beat the Thunder 98-93 on Wednesday night for their 17th straight home victory. Mario Chalmers scored 13 points, and Chris Bosh had 12 for Miami, which trailed by 11 in the first half before a comeback fueled in part by Russell...
Centers are at such a dearth in talent right now in today's NBA that the Miami Heat would be just fine in a series against the Orlando Magic or Los Angeles Lakers. The Heat have enough talent in enough places to succeed against an elite center. Last season's Eastern Conference Finals proved that the regular season is only good for seeding, and that in critical junctures...
Paul Pierce rivaled Lebron James with a stellar all-around performance against the Heat on Sunday. And the Celtics captain is being properly recognized for his outstanding play of late. On Monday, Pierce was named as the NBA's Eastern Conference Player of the Week. This is the second time that Pierce has won the award this season, also taking home the honors during the first...
When I got back from Las Vegas early this morning, I had quite a few emails from readers tipping me off about the greatest sign in the history of sports fanfare at a recent Boston Bruins game. The only problem was that the sign was a photoshop from the folks at Masshole Sports and the real sign was much tamer. And as for the photoshops, I actually like this one a lot more. Thankfully...
NBA News

Delivered to your inbox

You'll also receive Yardbarker's daily Top 10, featuring the best sports stories from around the web. Customize your newsletter to get articles on your favorite sports and teams. And the best part? It's free!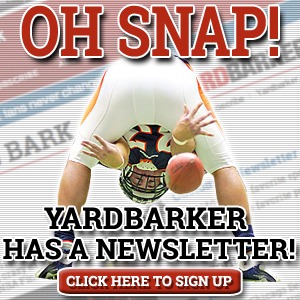 Latest Rumors
The Backyard

Today's Best Stuff

For Bloggers

Join the Yardbarker Network for more promotion, traffic, and money.

Company Info

Help

What is Yardbarker?

Yardbarker is the largest network of sports blogs and pro athlete blogs on the web. This site is the hub of the Yardbarker Network, where our editors and algorithms curate the best sports content from our network and beyond.