Found May 16, 2013 on Next Impulse Sports:
Jimmy Kimmel can pretty much make any situation into a good joke. On Wednesday night he hosted Jason Collins and Jarron Collins on his Late Night show and they had a blast. The highlight was definitely Kimmel handing Jarron a shirt which had the phrase ā€œIā€™m The Straight Oneā€ on the front of it. Gold. Article found on: Next Impulse Sports
Original Story:
http://nextimpulsesports.com/2013/05/...
THE BACKYARD
BEST OF MAXIM
RELATED ARTICLES
HE AIN'T HEAVY...
Jason Collins gained nationwide notoriety when he recently announced that he is gay. Collins went from being a relatively unknown professional basketball player to being pretty identifiable in a matter of weeks. Naturally, Collinsā€™ fame has created a lot of confusion for his twin brother, Jarron, who is straight. Late night television host Jimmy Kimmel decided to help solve that...
Jason Collins twin brother Jarron was spotted in Westwood, Los Angeles rocking a "I'm The Straight One" t-shirt.
It looks like Jimmy Kimmel found out a way to take care of a mistaken identity problem thatĀ Jarron CollinsĀ and his twin brother JasonĀ have been running into a lot lately. Jason, who publicly came out as a gay NBA player a few weeks ago, has been all over the news. But it is the split-image resemblance between the two men that has people mistaking the straight JarronĀ for his...
Iowa rep. Steve King believes it is worthwhile to ask the rest of our government why President Obama called Jason Collins and not Tim Tebow.
Itā€™s cool to see Jason and Jarron Collins take a sometimes serious topic and have fun with it. According to a story via Larry Brown Sports, the twins appeared on the ā€œJimmy Kimmel Showā€ recently to discuss Jasonā€™s announcement from a few weeks ago that he was gay, and what affect it had on his sibling. Jarron spoke about the fact that he sometimes gets mistaken for his older...
April 29, 2013. It's a day that will live forever in the LGBT community. That's when Jason Collins came out publicly in Sports Illustrated. It's also the same day that ESPN NBA insider Chris Broussard went on Outside the Lines to say that he was against homosexuality and called it a life in "open rebellion to God." Two weeks after that declaration, ESPN...
Last night, late night talk show host Jimmy Kimmel had Jason and Jarron Collins on to talk about the news of Jason coming out as a gay NBA player. Below is the full interview in two parts where Kimmel talks with the twins about the moment of Jason coming out to his brother and at one point, Jimmy lightens the mood by giving Jarron, a ā€œIā€™m The Straight Oneā€ t-shirt:
Jason Collins would always make excuses for why he wasn't interested in the women his twin brother and sister-in-law would set him up with on dates. Jarron Collins still never figured out that Jason was gay. Jarron joked Wednesday on ABC's ''Jimmy Kimmel Live'' that he missed ''red flags'' about Jason, who recently came out as the first active...
By now all of the sports world has long since been aware of Jason Collinsā€˜ announcement via Sports Illustrated that he is gay. On Wednesday, Collins made his first real public appearance since the revelation ā€" and did so sitting beside his twin brother, Jarron Collins. Collins actually mentions his brother in the Sports Illustrated article, saying Jarron had no clue that Jason...
Itā€™s been more than 2 weeks since WashingtonĀ Wizards centerĀ Jason Collins became the first openly gay maleĀ on US team sport, and since then both Jason and his twin brother Jarron have [...]
NBA News

Delivered to your inbox

You'll also receive Yardbarker's daily Top 10, featuring the best sports stories from around the web. Customize your newsletter to get articles on your favorite sports and teams. And the best part? It's free!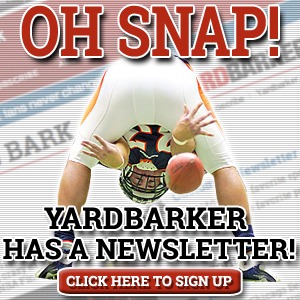 Latest Rumors
Best of Yardbarker

Today's Best Stuff

For Bloggers

Join the Yardbarker Network for more promotion, traffic, and money.

Company Info

Help

What is Yardbarker?

Yardbarker is the largest network of sports blogs and pro athlete blogs on the web. This site is the hub of the Yardbarker Network, where our editors and algorithms curate the best sports content from our network and beyond.