Found July 24, 2013 on Larry Brown Sports:
Early in his NBA career, JJ Redick was involved in a nasty legal situation with Orlando model Vanessa Lopez. Several years later, we're finally learning what the matter was all about — the two actually had an abortion contract. Media Takeout obtained legal documents from 2007 showing that Redick, who was entering his second NBA [...]
Original Story:
http://larrybrownsports.com/gossip/jj...
THE BACKYARD
BEST OF MAXIM
RELATED ARTICLES
JJ Redick has been in the NBA for seven years, so he knows his way around contract negotiations. Apparently off-the-court contracts involving his lady friends aren't out of bounds, either. Redick reportedly was involved in a nasty legal snarl with Orlando model Vanessa Lopez early in his career, and now documents are being leaked despite a previous confidentiality agreement...
I understand why Redick is upset. He is married now, so I am sure it probably upset his wife.  Also, being connected with one of the biggest NBA groupies around Vanessa Lopez isn't the greatest look. But, here is what is funny about Redick's reply.  No one ever said Lopez was pregnant by him or had a abortion, but that is what he seems that upset about. I am not really sure...
I don't mean to shock you, but these type of contracts aren't uncommon in the sports world. This one is pretty in detail, but contracts like this are signed all the time. I'll let you decide how you feel about it (you can read the documents above), but I will say this, the woman a then 22-year-old JJ Redick was dating Vanessa Lopez has went on to try to sue and expose many...
In 2013, blasting one's private interactions with athletes via social media has become practically the norm. But there were some athletes who already had a glimpse of what the future would hold and had chicks signing confidentiality agreements with abortion clauses way back in 2007. JJ Redick was a young second year player back then playing for the Orlando Magic in 07 dating a...
With the Los Angeles Clippers not playing anymore basketball for the next couple months, what is Los Angeles Clippers superfan Clipper Darrell to do? Well, it's clear that Clipper Darrell can still make public appearances. Check out the below photo of Darrell at a recent vehicle exchange:   *** Ever wonder what Clipper Darrell does in his free time [Menudo Bol]
Clippers Matt Barnes and his wife, reality star Gloria Govan opted for a secret, small, intimate wedding last September  in Las Vegas. Over the weekend, Gloria and her girls returned to Vegas for her bachelorette weekend. Glo along with her sister Laura, fellow Clipper wifeys and others turned up over the weekend with activities that included helicopter rides over the Grand Canyon...
The Los Angeles Clippers have signed free agent center Byron Mullens, who has played the last two seasons in Charlotte. The 7-foot Mullens averaged a career-high 10.6 points and 6.4 rebounds in 53 games last season with the Bobcats. Mullens was drafted with the 24th overall pick in 2009 by the Dallas Mavericks and traded on draft night to Oklahoma City. He played in 26 games for...
According to the Hartford Courant, former Los Angeles Clippers forward Ryan Gomes, who was participating in a game at the Greater Hartford Pro Am, says he wants to return to the NBA after spending last season in Germany and has already worked out for the San Antonio Spurs and Oklahoma City Thunder. He says he has worked out for the Oklahoma City Thunder and the San Antonio Spurs...
If this is not a sign of how slow things are with the Magic, I don't know what is. But here I am posting this (better than posting the latest J.J. Redick/TMZ story. . . honestly, I have made a news judgment not even to talk about it, this is probably the only mention you will see of it). Back to what we are really talking about. The Amway Center in-game experience will...
More from the Jordan overseas tour. Presumably in a city I can pronounce this time. For everyone who says Blake and Chris Paul don't get along on the Clippers…well, yeah it doesn't seem like CP3 is all that amused. But why do you want to read into everything so much? Go about your day! You clearly have work to do. Ah **** it, we both know you're procrastinating. Buy A Dwight...
Lamar Odom should talk to JJ Redick about getting one of those contracts together. His stripper mistress is just not going to let this go and the way she is talking she has no fear of any type of lawsuit or legal threat from Lamar. That leads me to believe she is telling the truth. One of these days the athletes will learn they have to be more careful about which women they decide...
Clippers News

Delivered to your inbox

You'll also receive Yardbarker's daily Top 10, featuring the best sports stories from around the web. Customize your newsletter to get articles on your favorite sports and teams. And the best part? It's free!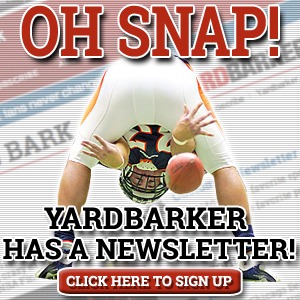 Latest Rumors
Best of Yardbarker

Today's Best Stuff

For Bloggers

Join the Yardbarker Network for more promotion, traffic, and money.

Company Info

Help

What is Yardbarker?

Yardbarker is the largest network of sports blogs and pro athlete blogs on the web. This site is the hub of the Yardbarker Network, where our editors and algorithms curate the best sports content from our network and beyond.