Found November 28, 2012 on Celtics Green ...a boston celtics blog.:
I've often heard that a good referee is invisible in a game and I've found that to be true. A very well officiated game is one in which you don't remember the calls or the refs afterwards. But that rarely describes a Joey Crawford officiated game. In the clip above, Joey is anything but invisible. To set the scene, there was 1:15 remaining in the fourth quarter of the game between the Pacers and the Lakers at the Staples Center. The game was tied at 74. Crawford called the Lakers' Chris Duhon for a block on a drive by David West of the Pacers. I watched the play several times and as much as I hate the Lakers and love that they lost, it looked like he got the call wrong. But that didn't stop Joey from making a spectacle of himself and galloping across the court as he made the call. And, when you consider that the Lakers lost this game by 2 points on a last second game winner by George Hill of the Pacers, this call is even bigger. I wonder if the league will do anything about Joey's showboating. Somehow I doubt it. [Discuss on CG Forums!]
Original Story:
http://celticsgreen.blogspot.com/2012...
THE BACKYARD
BEST OF MAXIM
RELATED ARTICLES
This dance-off features two of the finest dancers, one representing the referees and another representing a former team. Chris Duhon has been the reigning 2012 champion, but last night Joey Crawford took some time out of his busy schedule to drop the latest viral dance craze, gangnam style. The Cosby Sweaters crew has huddled and we are going to keep the belt with Duhon, even though...
Previously on That NBA Lottery Pick, we posted a video of NBA referee Joey Crawford making one of the greatest foul calls of all-time as he called Chris Duhon for blocking foul on Tuesday night.As you may figure, someone remembered that Duhon had an infamous travel dance in the playoffs last season and decided to compare the both of them in an epic dance-off:
BE-BOPPIN' AND SCATTIN'
THIS JUST IN: NBA referee Joey Crawford feels left out when he doesn't have the attention of 20,000 basketball fans. This is Crawford calling a blocking foul on Chris Duhon near the end of the Pacers-Lakers game Tuesday night.  After the 13 hops, skips and jumps, it appears he forgot who the foul was on. Propers to @bubbaprog
Man… Joey Crawford really loves the spotlight.  You never know when or where he's suddenly going to feel the need to be seen and heard in a game. Last night was a doozy.  With the Lakers and Pacers tied at 74, David West drove and ran straight into Chris Duhon.  Joey Crawford saw it as a blocking foul… and boy did he let everyone know about it.  He went from the baseline...
Hey, he loves his job, give the guy a break.  This is NBA referee Joey Crawford making a blocking call on Chris Duhon at the end of the LA Lakers vs. Indiana Pacers game last night.  The call came with 1:15 remaining in the fourth quarter and the game tied at 74-74.  The Pacers ended up winning the game on a last second layup by George Hill.  Who Let the Dogs Out, Joey Let the...
Back on Tuesday night, NBA referee Joey Crawford decided to call a blocking foul against Los Angeles Lakers guard Chris Duhon in the final minute of Pacers/Lakers.Normally, Joey doesn't go beyond the call of duty to show off a foul call but he decided that this call deserved specific attention. Watch as puts his back into it and breaks it down:
NBA referee Joey Crawford with the blocking foul on Chris Duhon. bubbaprog bwo TBL. Hey! It's Enrico Pallazzo! **Follow us on Twitter. Subscribe, or Return to BobsBlitz.com.Follow us on Twitter.... Full story at Bob's Blitz ~ http://www.bobsblitz.com
NBA veteran ref Joey Crawford was really feeling it Tuesday night. Crawford called a blocking foul on this play and even executed a little dance after.   What's even funnier than that? A dance off battle between Crawford and Lakers Chris Duhon… Some of you are seriously creative geniuses with too much time on your [...]
For those of you trying to track down the classic video of NBA referee Joey Crawford calling a blocking foul against Lakers guard Chris Duhon on Tuesday night, we have that for you.Watch as Joey gets his hips involved with the foul call and we promise that you won't be dissapointed:
Angry Lakers fan @ArtemBoyajyan was not happy how Joey Crawford called last nights Lakers-Pacers game: 'I hope Joey Crawford gets run over by a truck and then anally raped by a gorilla. F*CK YOU.' There was very little sentiment for Crawford…especially after his douchy dance after he called a blocking foul on Lakers guard Chris Duhon (GIF below). We all know how much of an...
Ok so this just happened. Lakers and Pacers tied at 74 with 1:15 left. Chris Duhon looks like he draws a charge on David West that will give possession back to LA. He had position. The home crowd wanted it. Jack Black wanted it. But one man decided that no - it was time to call a charge. And then it was time to dance. Joey Crawford once again proving that he is the show people....
NBA News

Delivered to your inbox

You'll also receive Yardbarker's daily Top 10, featuring the best sports stories from around the web. Customize your newsletter to get articles on your favorite sports and teams. And the best part? It's free!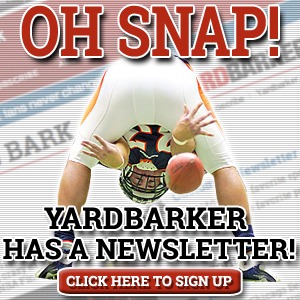 Latest Rumors
Best of Yardbarker

Today's Best Stuff

For Bloggers

Join the Yardbarker Network for more promotion, traffic, and money.

Company Info

Help

What is Yardbarker?

Yardbarker is the largest network of sports blogs and pro athlete blogs on the web. This site is the hub of the Yardbarker Network, where our editors and algorithms curate the best sports content from our network and beyond.