Found July 09, 2012 on The Windy Apple:
Amid reports that the Miami Heat are interested in him, John Lucas, called into ESPN Radios' Carmen, Jurko & Harry to talk about his summer as a free agent:
(Silvy of ESPN Radio's "Waddly & Silvy" conducted the interview)
You may sign with the Heat?
It's one of the teams that interested in me.  I'm just taking the time, looking at everything and what is going to be the best situation for me.
Would that feel weird for you at all, or is it just something where they have the best offer and the most playing time – that's what you got to do?
Yeah and that's how I'm really looking at it. I want to go somewhere where I can contribute and go in there and basically play and bring something to the team.
What about the Bulls – have they expressed interest?
Yeah they are one of the teams, but you know with everything that's going on now – I heard that they re-signed Kirk, which is a good move for them – but I'll sit down and talk with my team and see what happens.
Did Lebron reach out to you?
No not at all.  This is strictly just the teams reaching out to me showing interest – it's coming from management.  And they're not just the only team, there's a couple other teams, too.  I'll definitely meet with teams while I'm watching my little brother play for Houston in the summer league.
There you have it, it looks as though we have seen the last of John Lucas III in Chicago.
Original Story:
http://feedproxy.google.com/~r/TheWin...
THE BACKYARD
BEST OF MAXIM
RELATED ARTICLES
Top high school prospect Andrew Wiggins is impressing some big name people these days. Wiggins was so dominating at the LeBron James Skills Academy that he made the camp's namesake get out of his seat during a scrimmage. Watch at :30 as he drives from the three point line and tries an acrobatic dunk. When you excite the reigning NBA MVP, you've probably got a bright future...
WAIT...WHAT?
Dwyane Wade is not shy about the fact that he paints his toenails. He probably should be, but he's not. Last year, he talked about his weird fashion hobby and said it is something he enjoys and he doesn't care about fitting in. As you can see from the photo above, D-Wade shared a picture of his black toenails on Twitter Sunday night and bragged about it. "Matte black paint…"...
A year ago LeBron James and Kevin Durant pushed each other to get over their playoff pain after they were both cut at the knees by the Dallas Mavericks. This year they have zero in common as James was the victor in the NBA Finals beating Durant's squad in a definitive fashion. According to... Please click the link below to read this feature.
The 2012 LeBron James Skills Academy came to its conclusion on Monday, with a bracketed tournament based on previous results for the eight squads composed of the camp participants. The games started in the morning and wrapped up with a championship contest to end the event. Hoopniks.com was not able to observe the afternoon contests due [...]
The position skill sessions wrapped up on Sunday morning at the LeBron James Skills Academy in Las Vegas, Nevada, and the participants were divided into 8 teams for two sessions of games in the afternoon and evening. An impressive contingent of spectators that included the event's namesake, recent NBA champion LeBron James and his Team [...]
Miami Heat guard Dwyane Wade told ESPN's Rachel Nicholds that the arthroscopic surgery performed on his left knee Monday morning went well. Wade will miss the London Olympics as a result of the surgery, but he should be ready for the start of the next NBA season. Wade was the leading scorer for the American team that won the Olympic gold medal in 2008. Recovery times for...
Far be it for me to judge another man, or specifically a man with millions of dollars, a smoking hot model/actress girlfriend, and two NBA championships, but I couldn't help but at least slightly raise my eyebrow when Miami Heat star Dwyane Wade posted the above photo of what I believe is his foot on his Instagram account with the following message: "Matte black paint… RockStar...
Veteran free agent forward Rashard Lewis has reportedly agreed to a two-year deal with the Miami Heat, according to reports from Y! Sports Marc Spears: Heat have agreed to a two-year deal with forward Rashard Lewis, sources tell Yahoo! Sports. — Marc J. Spears (@SpearsNBAYahoo) July 10, 2012 Lewis played sparingly for the Wizards in [...]
LAS VEGAS - The first day of games at the LeBron James Skills Academy saw no shortage of high level players, and while Top 10 guys like Julius Randle and Cat Barber were impressive, others, such as JaJuan Johnson and Isaac Hamilton, definitely made big impacts as well.
LAS VEGAS -- Jordan Mickey sat down with Scout.com at LeBron James Skills Academy to discuss his recent recruiting trips and his overall recruitment.
LAS VEGAS - The final day of the LeBron James Skills Academy closed with some impressive performances including one from Stevie Clark.
Alonzo Mourning joined Rob and Amy to talk about the latest around the NBA including his Miami Heat
NBA News

Delivered to your inbox

You'll also receive Yardbarker's daily Top 10, featuring the best sports stories from around the web. Customize your newsletter to get articles on your favorite sports and teams. And the best part? It's free!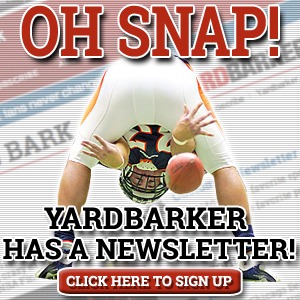 Latest Rumors
The Backyard

Today's Best Stuff

For Bloggers

Join the Yardbarker Network for more promotion, traffic, and money.

Company Info

Help

What is Yardbarker?

Yardbarker is the largest network of sports blogs and pro athlete blogs on the web. This site is the hub of the Yardbarker Network, where our editors and algorithms curate the best sports content from our network and beyond.