Found August 31, 2013 on Celtics Green ...a boston celtics blog.:
One of the more interesting side shows of the off season has been the war of words between the Knicks and the Nets. Paul Pierce started it by saying how he has always hated the Knicks but since joining the Nets, he hates them even more. "Everybody knows how much I disliked the Knicks when I was with the Celtics, but I think it's grown to another level," Pierce said on ESPN NewYork 98.7 FM's "The Michael Kay Show." "I think it's time for the Nets to start running this city." It doesn't stop there though. The owners have also been in the fracas. One July morning before the Nets first season in Brooklyn, the Knicks braintrust awoke to a 22 story, 21,375 square foot billboard of Prokhorov, the Nets owner, and then team advisor and minority share owner Jay-Z plastered on the side of a building near Madison Square Garden proclaiming a "Blueprint for Greatness." According to sources, Dolan was furious and called league officials to complain. Last year, Dolan again calle the league offices to complain after Prokhorov referred to him as "that little man" in a New York Magazine article. The shots between the teams has become so antagonistic that David Stern felt the need to call a meeting between Knicks owner James Dolan and Nets owner Mikhail Prokhorov to demand that they behave in a more civil manner toward each other and that the franchises cool off the rivalry stuff just a little. Obviously JR Smith didn't get that memo. "I just look at him as a bitter person just getting out of Boston. He doesn't really know what New York is all about. He's been playing in Boston his whole career. He just knows, just know that his words have consequences and he's going to have to pay for them." Well that's going to go over like a lead balloon with the Truth. I'm not so sure that Pierce is bitter over being traded. I know he was torn and in a way would have loved to finish his career in Boston but when the decision was made to rebuild, I think he wanted out. He went through a rebuild once and it wasn't fun and I don't see him wanting to do it again at this stage in his career. He now gets a chance to play for a ring this season on a contender and doesn't have to carry the team. All I can say is that Knicks-Nets games this season are going to be must watch TV. With the bad blood rising between them in this war of words, not even David Stern is going to stop this rivalry from becoming a war on the court. Of course, Celtics fans hate the Knicks as much as Pierce does and so rooting against them in this rivalry will be a fun addition to this rebuilding season for the Celtics. [Discuss on CG Forums!]
Original Story:
http://celticsgreen.blogspot.com/2013...
THE BACKYARD
BEST OF MAXIM
RELATED ARTICLES
J.R. Smith is making bold predictions for the Knicks upcoming season, telling reporters he guarantees his team will win the championship this upcoming season…he's "100 percent sure" of it. According to the New York Post: J.R. Smith guaranteed yesterday the Knicks will bring home a championship and claimed the Nets are "still not good." During a question-and-answer session...
New York Knicks shooting guard J.R. Smith's recent interview with ESPN New York focused on his disdain for former Boston Celtics and current Brooklyn Nets small forward Paul Pierce. While there were several interesting quotes involving Pierce to come from Smith, the biggest news involves the reigning Sixth Man of the Year's knee. According to Ian Begley of ESPN New York, Smith...
Paul Pierce has gone from an NBA star sad about leaving his longtime team, the Boston Celtics, to one upbeat about the chances of his new team, the Brooklyn Nets. But J.R. Smith isn't having none of that. The Knicks shooting guard wasn't pleased with Pierce's recent assessment that the Nets were going "to start running this city," and he unleashed some Smith-style comments...
Last month, Brooklyn Nets forward Paul Pierce decided to make a comment on ESPN Radio's "The Michael Kay Show" that the Brooklyn Nets would soon be the toast of New York City and in his words," I think it's time for the Nets to start running this city.". As you might figure, New York Knicks guard J.R. Smith didn't take kindly to the assumption that the Nets would be...
I never have a problem with confidence, but when it's J.R. Smith I'm always a little reluctant to take whatever is said seriously. Smith was at a PGA foundation event in New York recently and when asked about the Knicks chances to end their championship drought Smith was quick with his response. "I'm 100% sure." […]
What exactly is JR going to do? Have him date Rihanna? J.R. Smith on Paul Pierce saying the Nets will run NY: "Just know that his words have consequences & he's going to have to pay for them." — Ian Begley (@IanBegley) August 31, 2013
It's not possible for a picture to better sum up a story  Opening night is still nearly two months away — but the Nets and Knicks budding rivalry continues to heat up. Recently, new Net (still hurts to write that) Paul Pierce upped the ante a bit saying that it was "time for the Nets to run New York" following the mega-deal that sent Pierce, KG and Jason Terry...
 CelticsGreen   JR Smith Fans the Flames - Says Paul Pierce is BitterCelticsBlog   A brief look at two Boston Celtics training camp invites: DeShawn Sims and Kammron TaylorESPN   Camp invites in focusLex Nihil Novi  Mountain Man Leads Balanced Attack, as Blazers Hold off Buffalo Grampa Celtic Weighs InCLNS Radio  What to Expect From Jeff Green in 2013-14Red's Army ...
NBA News

Delivered to your inbox

You'll also receive Yardbarker's daily Top 10, featuring the best sports stories from around the web. Customize your newsletter to get articles on your favorite sports and teams. And the best part? It's free!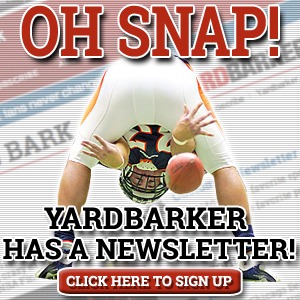 Latest Rumors
Best of Yardbarker

Today's Best Stuff

For Bloggers

Join the Yardbarker Network for more promotion, traffic, and money.

Company Info

Help

What is Yardbarker?

Yardbarker is the largest network of sports blogs and pro athlete blogs on the web. This site is the hub of the Yardbarker Network, where our editors and algorithms curate the best sports content from our network and beyond.