Found September 02, 2013 on Pass The Pill:
  image from nydailynews.com Over these past couple of weeks, J.R. Smith has been dousing the fire between the Knicks and Nets with gasoline in an attempt to make the rivalry between the two New York City teams even more heated than before. Marc Berman of the New York Post is reporting: During a question-and-answer session with kid golfers at Chelsea Piers, Smith was asked how sure he was of the Knicks ending their title drought this season. "I'm 100 percent sure," the swingman said. Smith was then asked why he joined the Knicks over the Nets when he came back from China in February 2012. "The Nets weren't good,'' Smith said. "Now they're still not good.'' On the court, J.R. Smith takes his share of wild shots and more often than not catches fire and in the process takes over the game. However, sometimes his aggressive shooting can get him into a funk and can end up hurting his team. Just like his shooting, Smith's words aren't spoken with any regard for what will happen in the future, and instead only are based off his immediate thoughts and feelings. Sometimes these words can be used to fuel and motivate his team, and other times they can be used to distract his team and end up hurting them.  As for this particular incident, I can say for sure that his words will  hurt his team by motivating his opponents. Especially the hometown rival Nets. Talking championship sounds good in September, but once the season starts, all this talk will do is just paint a larger target on the back of the Knicks, who quite honestly have no good reason to have a target on their backs in the first place. They are a completely overrated and overhyped team that isn't going to contend for a championship no matter how much J.R. Smith tries to build them up. The fact of the matter is that they are too disjointed and too clumsy of a team to come together and magically make a run to the NBA Finals, which makes his bold prediction come off as delusional and idiotic. As for his comments about the Nets, all I can say is the Nets have actually made some significant changes to their team which might result in a championship or at least a trip to the conference finals. As for the Knicks, the addition of Metta World Peace doesn't exactly make me like their chances of winning a title any more than last season. To sum this all up, both of Smith's comments are wrong. The Knicks aren't winning an NBA Championship and the Nets actually have a chance to contend this season. If Smith wants to do something to help his team, then he should shut his mouth and instead focus on rehabbing his knee so that he can be back to start the season. If he wants to continue to distract his team and attract the attention of the media, then he should continue to babble on and on about the aimless notions that spawn in his kooky brain. —Ben Parker: follow me on twitter @nba_lord  The post J.R. Smith Is "100 Percent" Confident The Knicks Will Win It All In 2014 appeared first on Pass The Pill - Kings of Hoops.
Original Story:
http://sports-kings.com/passthepill/j...
THE BACKYARD
BEST OF MAXIM
RELATED ARTICLES
J.R. Smith is making bold predictions for the Knicks upcoming season, telling reporters he guarantees his team will win the championship this upcoming season…he's "100 percent sure" of it. According to the New York Post: J.R. Smith guaranteed yesterday the Knicks will bring home a championship and claimed the Nets are "still not good." During a question-and-answer session...
New York Knicks shooting guard J.R. Smith's recent interview with ESPN New York focused on his disdain for former Boston Celtics and current Brooklyn Nets small forward Paul Pierce. While there were several interesting quotes involving Pierce to come from Smith, the biggest news involves the reigning Sixth Man of the Year's knee. According to Ian Begley of ESPN New York, Smith...
I never have a problem with confidence, but when it's J.R. Smith I'm always a little reluctant to take whatever is said seriously. Smith was at a PGA foundation event in New York recently and when asked about the Knicks chances to end their championship drought Smith was quick with his response. "I'm 100% sure." […]
Even though the big wigs at the NBA's main offices would prefer the Nets and Knicks simmer down their boiling feud, things only seem to get more intense by the day. Monday J.R. Smith fired a salvo when he guaranteed that the Knicks would win the NBA title next season. "I'm 100% sure." Nets forward Reggie Evans got wind of J.R. Smith's guarantee, and took to Twitter to...
Last month, Brooklyn Nets forward Paul Pierce decided to make a comment on ESPN Radio's "The Michael Kay Show" that the Brooklyn Nets would soon be the toast of New York City and in his words," I think it's time for the Nets to start running this city.". As you might figure, New York Knicks guard J.R. Smith didn't take kindly to the assumption that the Nets would be...
Paul Pierce has gone from an NBA star sad about leaving his longtime team, the Boston Celtics, to one upbeat about the chances of his new team, the Brooklyn Nets. But J.R. Smith isn't having none of that. The Knicks shooting guard wasn't pleased with Pierce's recent assessment that the Nets were going "to start running this city," and he unleashed some Smith-style comments...
 CelticsGreen   JR Smith Fans the Flames - Says Paul Pierce is BitterCelticsBlog   A brief look at two Boston Celtics training camp invites: DeShawn Sims and Kammron TaylorESPN   Camp invites in focusLex Nihil Novi  Mountain Man Leads Balanced Attack, as Blazers Hold off Buffalo Grampa Celtic Weighs InCLNS Radio  What to Expect From Jeff Green in 2013-14Red's Army ...
Knicks News

Delivered to your inbox

You'll also receive Yardbarker's daily Top 10, featuring the best sports stories from around the web. Customize your newsletter to get articles on your favorite sports and teams. And the best part? It's free!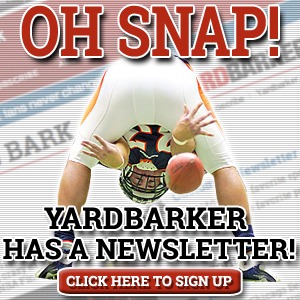 Latest Rumors
Best of Yardbarker

Today's Best Stuff

For Bloggers

Join the Yardbarker Network for more promotion, traffic, and money.

Company Info

Help

What is Yardbarker?

Yardbarker is the largest network of sports blogs and pro athlete blogs on the web. This site is the hub of the Yardbarker Network, where our editors and algorithms curate the best sports content from our network and beyond.