Posted April 27, 2012 on AP on Fox
PLAYERS:
Ricky Rubio
,
Kevin Love
,
Rick Adelman
,
David Kahn
,
Nikola Pekovic
,
Derrick Williams
,
Luke Ridnour
,
Michael Beasley
,
Anthony Randolph
,
Martell Webster
,
Darko Milicic
TEAMS:
Minnesota Timberwolves
It was a new day in Minnesota basketball, with Ricky Rubio throwing lob passes and Kevin Love stuffing the stat sheet in front of sellout crowd after sellout crowd. And just when it appeared the Timberwolves had finally turned the corner from one of the league's most woeful franchises to an exciting, up-and-coming group, Rubio's left knee buckled, and so did one of the most exciting seasons in the franchise's mostly nondescript history. A 21-19 start gave way to a 5-21 finish, and now the Timberwolves plunge headlong into a crucial summer with Love and coach Rick Adelman telling anybody who will listen that big changes have to be made. Team president David Kahn said Friday he plans to be aggressive this summer in trades and free agency to supplement a promising young core with veterans, and he made it clear that only Rubio and Love are untouchable as he tries to bring an end to a seven-year postseason hiatus. ''They're cornerstones of what we're doing here, and my fervent hope is that each of them retires here,'' Kahn said of Rubio and Love. ''But after those two, and not that anybody else needs to be on watch, and there are a lot of other players on the team that all of us, coaches, management, front office, everybody likes. We just have to be very aggressive this year to make this team all that it can be and satisfy ourselves that we've done everything possible to do that.'' That Kahn did not include center Nikola Pekovic or No. 2 overall pick Derrick Williams in that group of untouchables speaks to his openness to consider all options. Pekovic had a breakout season, averaging 13.9 points and 7.3 rebounds to emerge as one of the top offensive centers in the league. Williams showed some promise as a scorer, but wore down as the season dragged on and both players are on the books for an affordable $9.6 million combined next season. ''I think we have to be very aggressive in what we're doing,'' Adelman said earlier this week. ''You can't wait. You hope your young people get better. But that's not a given. Other people in free agency and trades are givens. We've got to be aggressive in all those areas.'' Rubio had surgery to repair torn ligaments in his left knee in March, and the team is hopeful that their precocious rookie point guard will be ready to go by the start of next season. In his first season after coming over from Spain, Rubio was everything the Timberwolves hoped for and more, setting the tone on both ends of the court, becoming a major box office draw and injecting the team with some much-needed charisma and energy. ''I think that's the one thing that I underestimated when he got hurt,'' Adelman said. ''You knew you were going to be missing something, but he had a huge impact on the way our team was and their personality and the way they played. Just the way he was, I did not realize how much we'd miss him and what a gap there was all of a sudden.'' Love missed the final seven games with a concussion, Pekovic missed 19 games primarily because of an ankle injury, Luke Ridnour missed the final 11 games with a sprained right ankle and JJ Barea only played in 41 games because of various leg injuries. All the injuries opened up more opportunities for Michael Beasley, Anthony Randolph, Martell Webster and Wes Johnson, but none of them were able to respond. Beasley missed time with a toe injury and the other three players were far too inconsistent for Adelman's liking. ''We have some young players that I think right now ... that need to demonstrate how serious they are about this endeavor,'' Kahn said. The Wolves will have some decisions to make and likely will decline making qualifying offers to Beasley ($8 million) and Randolph ($4 million). The Wolves could also decline the team option on Webster's $5.7 million deal and look to buyout or amnesty Darko Milicic to create even more cap room this summer. ''If we want to have room, we can have room,'' Kahn said. ''There's no question about it.'' That would be welcome for Love, the 23-year-old who finished the season fourth in the league in scoring and second in rebounding. He signed a contract extension in January that allows him to opt out in three years, so the heat is on to surround him with talent that is capable of winning now. ''I do hope that we are aggressive,'' Love said. ''I do hope when the time comes that we do pull the trigger on some moves. That's going to be up to David Kahn and our owner. That's really on them. If I could make decisions, I would, but I can't.'' The biggest needs are playmaking ball-handlers on the perimeter and a shot-blocking presence in the paint. ''I'm going to lobby for some key veteran guys. I know there's going to be a lot of good free agents that we can go for so hopefully we'll go out there and try to get them. Anything that is going to help this team, I think most of these guys want. We just want to continue to get better.'' Kahn said he expects this team to make the playoffs next season if everyone stays healthy, and Love didn't see any reason to disagree with him. ''I feel like people know we have the making of something special,'' Love said. ''We have the money to spend. We have valuable assets so this can happen.'' --- Follow Jon Krawczynski on Twitter: http://www.twitter.com/APkrawczynski .
Original Story:
http://msn.foxsports.com/nba/story/Ka...
THE BACKYARD
BEST OF MAXIM
RELATED ARTICLES
SOB STORY
All 17 people in attendance at the Minnesota Timberwolves vs. Denver Nuggets game on Thursday night gave Brad Miller a standing ovation as he checked out of his final NBA game in the 4th quarter. Miller was greated with pounds and bro hugs by his teammates and soon after that, Miller was reduced to tears on the Timberwolves bench. Miller will always be remembered for having Shaq...
Minneapolis is a fun place to live. You got the Mall of America a short drive away. It really is the Land of A Thousand Lakes. If you like city living with a lot of parks for outdoor play -- not to mention a cherry in a spoon -- Minneapolis is your place. Except for those pesky winters, Minneapolis is the place to be. That is certainly something the Timberwolves and especially Kevin...
MINNEAPOLIS With just more than six minutes remaining in Thursday's 131-102 Timberwolves loss, Michael Beasley tossed a pass to Brad Miller as the two ran down the court. The only problem? Miller wasn't looking, and Beasley didn't seem to notice. It was a fitting move in a game like Thursday's, the Timberwolves' final game of the season and their worst deficit...
MINNEAPOLIS Just 12 hours after the conclusion of the Timberwolves' final game, a 131-102 loss to Denver, perspectives had already shifted. As bad as that last night was, the fitting cap to a forgettable April, an element of calm had set in as David Kahn and Rick Adelman addressed the media Friday morning. Their game-night suits were gone, players' possessions and equipment...
MINNEAPOLIS The Timberwolves learned Friday that they will pick 18th overall in the 2012 NBA Draft. The three teams -- Utah, Dallas and New York -- that finished the season with 36 wins participated in a drawing to determine the selection order, and the Timberwolves have Utah's pick as a result of a past trade. The Knicks won the drawing, and their 16th pick goes to Houston...
MINNEAPOLIS Thursday night, the book closed on the Minnesota Timberwolves' 2011-12 season. The statistics are final, the record set. There's no longer a chance at redemption, no further opportunity for failure. But the resolution isn't there. It's over, but there are things left hanging, the questions of what could have happened, even what should have. It's a...
Like a lone voice crying out in the wilderness, ESPN Deportes Alfredo Berrios' role as the only person among ESPN's panel of NBA experts to select injured Minnesota Timberwolves point guard Ricky Rubio as the Rookie of the Year over otherwise unanimous favorite Kyrie Irving of the Cleveland Cavaliers is simply adorable. You know, because [...]
Today at about 10:30, David Kahn and Rick Adelman will address the media for the final time this season. Check out Timberwolves.com as it will likely be streamed live. A couple of bullets to ponder in the meantime: -Based on Adelman's comments last night after the game, I think it is safe to deduce a couple of things. 1. Kahn and Adelman are not on the same page in regards to...
Kevin Love and Ricky Rubio are the two franchise 'cornerstones', but the remainder of the roster doesn't appear to be untouchable.
Since the injury to Ricky Rubio, the Timberwolves hit a big bump in their road that they could not recover from. They found themselves without a play maker. As a hobbled JJ Berrea, and a tired and worn Luke Ridnour tried to pick up that slack; it was not enough to keep the Timberwolves in  the play-off  hunt.  They also suffered injuries to Kevin Love, (who missed the last few...
Timberwolves News

Delivered to your inbox

You'll also receive Yardbarker's daily Top 10, featuring the best sports stories from around the web. Customize your newsletter to get articles on your favorite sports and teams. And the best part? It's free!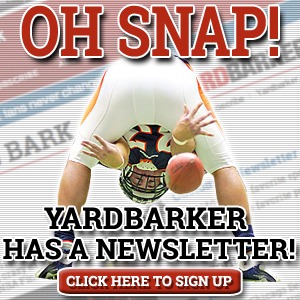 Latest Rumors
The Backyard

Today's Best Stuff

For Bloggers

Join the Yardbarker Network for more promotion, traffic, and money.

Company Info

Help

What is Yardbarker?

Yardbarker is the largest network of sports blogs and pro athlete blogs on the web. This site is the hub of the Yardbarker Network, where our editors and algorithms curate the best sports content from our network and beyond.