Found June 06, 2013 on Fox Sports North:
It was contrived. It was in front of a national radio audience. It was cheesy. But for a fan base yearning for any positive inkling to cling to, it sounded great. In case you missed it: Flip Saunders calls into ESPN Radio's "Mike & Mike," which Minnesota Timberwolves all-star forward Kevin Love co-hosted Thursday morning. Love, who at 24 appears to have his pick of media affiliates available when he retires from hoops, pops the first question. "There's been a lot of speculation out there, and just so we're clear: I am not getting traded." Saunders responds flatly, with that hint of dry sarcasm he tends to emit: "You are not getting traded." Love: "Thank you." Flip, the mock seriousness and concern out in full force now: "Does that make you feel better?" Love, Saunders, and show hosts Mike Golic and fill-in Ryan Ruocco, all bust out in laughter. This was no earth-shattering, news-breaking radio moment. Rumors of a Love trade to Cleveland for the NBA Draft's No. 1 overall pick or any other Love smatterings are nothing more than a ridiculous web of Internet gossip, Saunders has said repeatedly. But what the first of Love's three Thursday radio appearances did provide, albeit superficial, was a small window into a relationship that could make or break the franchise's future. Saunders and Love have communicated regularly since the former was hired to replace team president David Kahn, with whom Love allegedly had a broken go-between. Both sides maintain the new team foundation-personnel leader connection's in great shape. Each used a connotation of the word "energy" when describing his offseason."There's nothing holding me back right now," said Love, who missed 64 games last season with a hand injury, in an interview with KFAN 100.3 in Minneapolis. "The biggest thing is the energy I feel toward getting my body right, finally getting healthy. After last season a lot of things have been put in perspective on and off the court. I need to stay humble and do the right things." Saunders, too, said he feels refreshed following a year-and-a-half away from a team's office, most of it spent as one of Golic's colleagues at ESPN. "When you take time off, what happens a lot of times is your philosophies and your vision are reinforced," Saunders said on "Mike & Mike." "So when you come back into something, you have almost a clearer picture of what you need, what you want to do, how you want to accomplish it and how to go about it. So it's reenergizing maybe is part of that because when you have a clearer focus and a clearer vision, it's easier to go about what you need to do." A primary need is to solidify Love's future with the team. The two-time all-star and 2012 Olympian has three years left on his current contract, the last of which contains a player option. He didn't receive a maximum deal from Kahn before last season and addressed his feelings once again on the "Dan Patrick Show" on Thursday. His response revealed that while his short-term commitment is clear, he's not exactly making Timberwolves Captain for Life claims. "I know that there's a lot that goes into it, especially the new CBA," Love told Patrick. "I think it's just the way it goes sometimes and that I've got to really put it behind me. But it also really gives us more space to sign guys like (restricted free agent) Nikola Pekovic this summer, so I think it's gonna be good for us in that at the end of the day, I have a fourth-year player option myself, so I think I have a little bit of flexibility whatever I decide to do. "But I think as far as heading in the right direction and re-signing Pekovic and Ricky (Rubio) finally being healthy, Rick Adelman coming, Flip Saunders being on board now, I think it's gonna make for a great number of years." The most concrete takeaway from Love's Thursday radio mini-tour tells is a reinforcement that he's not afraid to remain in Minnesota's brightest spotlight. He introduced Twin Cities fandom to that fact when he represented the team at the NBA Draft Lottery last month.The ultra-competitive kid who once ran away from home because his father beat him in the finals of a neighborhood tennis match wants to win. And he wants to win in Minneapolis. Hence the radio and television appearances and get-togethers with players like point guard Rubio to train and Andrei Kirilenko and wife to gauge the restricted free agent's thoughts on returning. Love's trained diligently, too, to rehab his injured hand and knee that required surgery near the end of the season. For the time being, at least, Love's fully embraced the role fans hoped he would when Kahn traded for him in the 2008 draft. Today, June 6, during a hugely pivotal offseason, he's the foundation. It's up to Flip to build around him to keep it in place.And it's up to Love's own actions to keep the structure firm. "I think there's gonna be a lot more brighter moments than down moments," Love said on KFAN, "especially in the near future." Follow Phil Ervin on Twitter
Original Story:
http://www.foxsportsnorth.com/nba/min...
THE BACKYARD
BEST OF MAXIM
RELATED ARTICLES
A lot of NBA players will be making the rounds as the sports world turns its attention to the NBA Finals. It is always nice to be reminded of some of the players that did not make the Playoffs and remember that they do exist. That goes double for Kevin Love, who played in only 18 games this season and averaged 18.3 points and 14.0 rebounds per game. Whether it was a broken hand...
Minnesota Timberwolves' Kevin Love was lost for the season when he had to have knee surgery. That, along with a broken hand, limited Kevin Love to play in just 18 games, and the Timberwolves failed to reach the playoffs due to other injuries as well. Kevin Love appears confident in the team next season, if they can stay healthy, says ESPN.In a tweet made by the Timberwolves...
Kevin Love has three guaranteed years and a player option for a fourth season remaining on his contract with the Minnesota Timberwolves. Love did not receive the maximum five-year deal from former Timberwolves president David Kahn. "I know that there's a lot that goes into it, especially … the new CBA," Love said. "I think it's just the way it goes sometimes...
Injuries took their toll on the Minnesota Timberwolves this past season as star players Kevin Love and Ricky Rubio missed significant time.  With another disappointing finish, the T-Wolves finally fired general manager David Kahn this off-season and brought in Flip Saunders as President of Basketball Operations to try and right the ship. The health (and happiness) of Love and Rubio...
The Minnesota Timberwolves are interested in moving up in the June 27 draft to select Victor Oladipo. Oladipo has thus far declined to work out for the Timberwolves, because his representatives need reason to believe Minnesota can move up to Orlando's spot at No. 2, Washington's spot at No. 3 or Charlotte's spot at No. 4. Oladipo is projected as a top-six choice by various outlets.
You see, what had happened was… The NBA Draft is exactly three weeks away and with no sure-fire superstars this year, the top of the draft still remains a mystery. Washington currently owns the 3rd overall pick and most Wizards outlets have Grunfeld selecting Otto Porter or Anthony Bennett. Both players would fit a need for the Wiz Kids and I would be ecstatic with either pick...
Timberwolves News

Delivered to your inbox

You'll also receive Yardbarker's daily Top 10, featuring the best sports stories from around the web. Customize your newsletter to get articles on your favorite sports and teams. And the best part? It's free!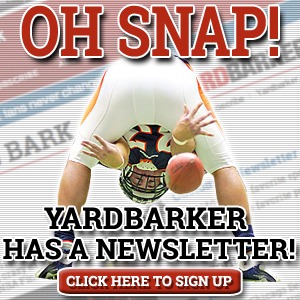 Latest Rumors
The Backyard

Today's Best Stuff

For Bloggers

Join the Yardbarker Network for more promotion, traffic, and money.

Company Info

Help

What is Yardbarker?

Yardbarker is the largest network of sports blogs and pro athlete blogs on the web. This site is the hub of the Yardbarker Network, where our editors and algorithms curate the best sports content from our network and beyond.