Found January 24, 2012 on Fox Sports West:
PLAYERS:
Chris Paul
,
Maurice Williams
,
Chauncey Billups
,
Eric Bledsoe
,
Blake Griffin
,
DeAndre Jordan
,
Andrew Bynum
,
Pau Gasol
,
Josh McRoberts
,
Derek Fisher
,
Matt Barnes
,
Jason Kapono
,
Phil Jackson
,
John Kuester
,
LeBron James
TEAMS:
Los Angeles Lakers
,
Los Angeles Clippers
,
Miami Heat
Ask the players and they'll tell you it's just another game. Don't believe them. The Lakers and Clippers share the same city. They share the same court in the same arena. They share some of the same fans. So Wednesday's game at Staples Center has to be more than just another game for these guys. No matter what they say, it really is a battle for LA. It's got to be about pride for the Lakers. They've owned this city for years, for decades. But there's no question things have changed since Chris Paul came to LA in the trade that wasn't (to the Lakers) followed by the trade that was (to the Clips). The teams have played three times since then and the Clippers have won every one. Sure, two of them were preseason games; they don't count. But a few weeks ago at Staples, Paul dominated the Lakers, scoring 33 points in a 102-94 win. He showed how great he is. The guy is a true superstar. Paul pulled his hamstring in that game and hasn't played since, though he's expected back for the rematch (Chris Paul a game-time decision vs. Lakers). But I think the Clippers showed a lot in the five games he missed. They won three of them and probably should have won four they gave one away to the Timberwolves. But some guys really stepped up in Paul's absence. Mo Williams could have sulked after the Clippers got Paul and Chauncey Billups. But even though he lost his starting spot, he's had a good attitude. And in the last week he's been nothing short of phenomenal. He's scored 26, 25 and 26 points in LA's last three games and made 64 percent of his shots. Really, I think he's ideal for coming off the bench. He can play either guard position very well and he's a great streak shooter. I think he's the NBA's best sixth man right now. Billups has shown he's still one of the league's better point guards when he has to play there. It's going to be interesting when Eric Bledsoe comes back from his injury and the Clippers will have Paul, Billups, Williams and Bledsoe, all of whom need playing time. Too many good point guards is a nice problem to have. I'm sure the Lakers would like to have that problem. Blake Griffin's been the team's best player with Paul out, but the guy I've been impressed with recently is DeAndre Jordan. He's been spectacular on both ends of the court. He had 16 points and 16 rebounds last time out. He's leading the league in blocks. He's just been so active, so energetic, every time he's been on the court. That's what I love about these Clippers. Blake plays ridiculously hard; you never see anyone play harder than he does. DeAndre plays ridiculously hard. Chris Paul is a workhorse and the most competitive guy you've ever seen. When your best players are like that, it makes it so easy for a coach because everyone follows their lead. Of course, there's still room for improvement. They're young and they need to continue to establish a defensive culture. But they've shown they can beat anyone. They're confident and feeling good about their progress. They're a team on the rise.The Lakers, on the other hand Well, wait. Let's start with the positives. On the defensive end they're a very good team. They're protecting the basket with their two 7-footers, Andrew Bynum and Pau Gasol, and there's not much of a defensive dropoff when Josh McRoberts comes in. That's why they're second in the league in field-goal percentage defense. Offensively, Kobe has been incredible. He's leading the league in scoring and at the age of 33 he's gotten better in some ways, which is amazing. His mind and his will take him where his body shouldn't be able to go. Problem is, when Kobe is doing his thing, other guys are just standing around watching him, so the offense becomes very stagnant at times. They're waiting for Kobe to create something for them. But when you stand and watch, it's very hard to shoot with rhythm, and basketball is such a rhythm game. That's one reason the Lakers are last in the league in 3-point shooting. Historically, they have guys on the team who have shot the 3 well, but they're not this year. Derek Fisher. Matt Barnes. Jason Kapono. Maybe it's age or rust. But I think they're doing too much watching and not enough moving. The triangle offense that the Lakers used under Phil Jackson is more of a movement offense. What Mike Brown and his assistant, John Kuester, brought is more like what they ran in Cleveland for LeBron James. It's much more of a traditional NBA offense. There are a lot more isolations for Kobe and not as many pick-and-rolls as they ran for LeBron. But it's not getting everyone involved. Kobe's scoring 30 a game but the Lakers have scored over 100 just once in 18 games. Since Gasol is such a good passer, I'd like to see him used as more of a facilitator. People point out that Pau's numbers are down, but he's still averaging 16.3 points and 9.4 rebounds. That's pretty good. He's been the third option this year with Bynum's emergence in the low post, so that's taking Gasol away from the basket and out on the perimeter. But he's so unselfish, I'd want him to touch the ball more often. Isolation basketball tends to slow down the flow of the game. The Lakers may add in some quick-hitting isos. You give the ball to Kobe and give him one or two seconds to take his man, but if not then get into some type of motion. Otherwise, I think the burden of carrying the offense is going to take its toll on Kobe. Right now he's playing 38.3 minutes per game, fifth most in the league. Gasol is 10th at 37.3 minutes. They're the two oldest players in the top 30. I think that's a huge concern, not for Wednesday's game but for the rest of the season. Kobe has a lot of miles on his legs, as does Gasol. I think they both got leg-weary last year. Kobe plays so hard, with a lot of contact, that he gets a lot of minor injuries. He always plays through them, but they add up. Kobe's always going to want to play, so it's up to Brown to limit his minutes. But the way the Lakers are playing, if Kobe doesn't score 30 or 40, they're going to lose. The second unit isn't providing quality minutes, especially Metta World Peace, so Kobe and the two big guys have to stay on the court way too much. Kobe scored 42 in the last game against the Clippers and it wasn't enough. That could happen again. I don't think the Clippers or anybody else can guard Kobe individually. But I'm not sure the Lakers can guard Chris Paul or Blake Griffin. It's an interesting matchup because the teams play very different styles. The Clippers want to play an up-tempo, athletic game and the Lakers play a more traditional, halfcourt game taking advantage of their size. I think it's going to be a great game because you have two very good teams and competitive players with a lot on the line. Right now, the Clippers look like the stronger team, but the Lakers are proud. They still have great players and they're taking time to learn a new system. There's no reason to push the panic button. But if the Clippers blow them out and win the season series there's only one more scheduled meeting, on April 4 then you get a little closer to pushing that button. It would definitely keep the Clippers on the upswing and leave the Lakers looking for answers.
Original Story:
http://www.foxsportswest.com/01/24/12...
THE BACKYARD
BEST OF MAXIM
RELATED ARTICLES
It seemed as if everything was set up for Chris Paul to make his return Sunday against Toronto at Staples Center. Paul had gone through multiple workouts at full speed, and he had come out of those workouts pain free. Still, with the Clippers not playing again until Wednesday, Vinny Del Negro and the Clippers' training staff decided a 100 percent Paul is worth the wait. &quot...
There is always going to be some rivalry when the Clippers and Lakers match up in a Los Angeles cross-town duel. And of course, there is always that thing that a lot of American players seem to have against Spaniards and other "Euro floppers". So, when things got heated at the end of this Lakers victory, it's no wonder that Chris Paul over-reacted to a good natured...
LOS ANGELES The Los Angeles Lakers may have won Round 2 in the Battle for LA, but the Clippers made it clear at the end of the game that they're not to be messed with. Their message to the Lakers: We're not your kids. We're not your little brothers. Most fans were already leaving Staples Center when Lakers forward Pau Gasol perhaps as a gesture of respect, perhaps...
Something big, something definitive, is supposed to happen in Los Angeles tonight. Not saying it will, but if you've been paying attention to those who promote and report on the NBA, that's the plan. The wheels were set in motion last season, when Blake Griffin turned his official rookie campaign into an Albino Shawn Kemp [...]
This has been the buzz of the internet Thursday morning so we might as well give my our take on it as well… Wednesday night the Lakers defeated the Clippers in the Hallway Series 96-91, avenging a loss to the Clippers the a couple weeks prior and snapping a three-game losing streak. In the final [...]
(source feed provided no summary content for this entry)
The point guard has been sidelined five consecutive games because of a strained left hamstring. It's possible Paul, who averages 18 points and 8.4 assists, could return Wednesday against the Lakers.The plan after the Clipper's game Sunday was for Coach Vinny Del Negro to work out point guard Chris Paul on Monday and test his strained left hamstring to determine when the...
Don't call Kyrie Irving another LeBron James just because he's also a Cleveland No. 1 pick. But if you want to call him another Chris Paul, that might be OK. In fact, James said he sees plenty of similarities between the Cavaliers rookie point guard and Paul, the Clippers star point. "He reminds me of CP early [...]
(source feed provided no summary content for this entry)
NBA News

Delivered to your inbox

You'll also receive Yardbarker's daily Top 10, featuring the best sports stories from around the web. Customize your newsletter to get articles on your favorite sports and teams. And the best part? It's free!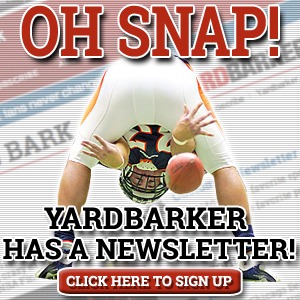 Latest Rumors
The Backyard

Today's Best Stuff

For Bloggers

Join the Yardbarker Network for more promotion, traffic, and money.

Company Info

Help

What is Yardbarker?

Yardbarker is the largest network of sports blogs and pro athlete blogs on the web. This site is the hub of the Yardbarker Network, where our editors and algorithms curate the best sports content from our network and beyond.