Found September 28, 2012 on Fox Sports North:
PLAYERS:
Andrei Kirilenko
,
David Kahn
,
Luke Ridnour
,
Ricky Rubio
,
Rick Adelman
,
Nikola Pekovic
,
Alexey Shved
,
Peja Stojakovic
,
Jerry Sloan
,
Kevin Love
TEAMS:
Minnesota Timberwolves
,
Utah Jazz
,
Portland Trail Blazers
,
Dallas Mavericks
,
Sacramento Kings
MINNEAPOLIS Age has afforded Andrei Kirilenko certain things. Upon arriving in Minneapolis on Thursday, the final Timberwolves player to join the team told president of basketball operations David Kahn that he was entitled to his tardiness. He might be five days younger than the Timberwolves' oldest player, Luke Ridnour, Kirilenko told Kahn, but he has one more year of NBA service. It was tongue-in-cheek, but true, the first sign of Kirilenko's easy humor. Just one day into his training regimen in Minnesota, the Russian forward is relaxed, and as he prepares to join just his second NBA team in 11 years, he seems well equipped to transition successfully. Kirilenko's comments about his right to be late were in jest, but there's no denying that talk of age and experience have colored his transition back to the NBA. For the 31-year-old forward, age has meant questions. How rested do you feel after an easier season in Russia? (Very.) How many years will you continue to play? (No idea.) How's the back? (Great.) Did the rest help with the Olympics, where you won a bronze medal in August? (Of course.) He has the answers down pat. He's been doing this for years. Age has also meant an assumption of duties and a certain role, as a kind of mentor to younger players. Kirilenko will take that on with pleasure, it seems, modeling himself after his idol and former Utah Jazz teammate John Stockton as the kind of leader who guides through example, not words. "I have been that kind of role in the Russian national team (and) my last couple years with the Jazz," Kirilenko said. "Right now, I feel very comfortable to be that position . . . Right now, I'm coming to the NBA with 10 years of luggage behind my back, knowing what to do in a tough situation." And, most interestingly, age also gives Kirilenko a dose of perspective that few, if any, of his teammates on this increasingly international Timberwolves squad possess. International has been the buzz word in Minnesota all summer, and in the weeks since players began trickling back to the Target Center, they've been asked time after time about the style of play they're expecting. Will it be different this year? Influenced by European ball? How will you all play together? The answers have been resoundingly vague. "Everybody can bring their experience from where they've been," point guard Ricky Rubio said. "Europe, Russia, Montenegro, me, can bring European experience and learn from American experience and have a great team together." But Rubio stressed one thing: "We're going to play Rick Adelman's style." With four players from abroad (those who did not attend college or high school in the United States), the Timberwolves are among the most international squads in the league. Yes, the Spurs and Trail Blazers have five international players each on their rosters, but the Timberwolves will likely have as big of an international contribution as any team in the league. Their players from overseas will have big roles; Kirilenko, Rubio and center Nikola Pekovic are all likely starters, and only guard Alexey Shved will be used in a reserve role. So while his younger teammates waver on the style of play, Kirilenko remembers things from a decade ago, all of which suggest that yes, this team will have an international flavor. While other players defer to the "we'll play in Coach Adelman's style" line, Kirilenko is old enough to know what that really means. He remembers the early 2000s, when Adelman made a name for himself coaching Vlade Divac and Peja Stojakovic with the Sacramento Kings. To Kirilenko, Adelman's style of play is inherently somewhat international, and with so many foreign players, it's hard to imagine this team won't have a different flavor from many of its opponents'. That's not to say it'll be that different, though, and Kirilenko knows firsthand how similar basketball is at its core around the world. He's a living example of seamless transitions; after spending 10 seasons and 726 games with the Jazz, he played last season in Russia for CKSA Moscow and is now returning to the NBA yet again. Basketball is basketball, and admitting the Timberwolves might have some element of European flavor next season is not to say that they'll be a radically different team than any other. "In Moscow, I've been playing with a team with two Lithuanians, two Serbians, two Americans and like six Russians," Kirilenko said. "It's not a big deal. Right now, basketball is so international." So just as he was in Russia -- and in Utah, and in Russia before that -- Kirilenko will be expected to play airtight defense and contribute at the other end of the court, as well. Kirilenko's defense might be what he's known for -- he was a first- or second-team All-Defensive selection for three straight years in the middle of last decade -- but Kahn said the forward appealed to him most of all for the larger, less quantifiable effect he has on teams. "He is the kind of person that kind of makes everything easy for others because of the way he plays," Kahn said. On a team that's still growing up -- seven players are 25 or younger -- Kirilenko's versatility and experience will be more important than they ever has been. He's not the kind of player who needs specific plays run for him in order to score, Kahn said, and his defense shouldn't negate mention of the offense he'll add to the team. Fifteen years after Kirilenko made his professional debut with Spartak St. Petersburg in Russia, this move to the Timberwolves might be the biggest beginning he's had since moving to Utah in 2001. Of course, things are unfamiliar for the man who played all but 17 games of his NBA career for one coach, Jerry Sloan. But this is a close to perfect environment in which to start anew, a place where Kirilenko should be able to have an immediate impact without dealing with expectations that were more fitting a decade ago. It's a new building, yes, and a new staff, but Kirilenko was in the league for 10 years. He knows the routine. He's watched All-Star power forward Kevin Love turn into the player he is, and he's familiar with Adelman. He's watched Rubio both in Europe and in the United States, and Alexey Shved was his teammate in Russia. There was no one reason Kirilenko chose Minnesota but rather a combination of the team's interest and everything he knew about what Kahn and the Timberwolves have done and are looking to achieve. "All the little pieces (were) on the Timberwolves side," Kirilenko said. So no matter his disclaimer that all he knows is that Jazz, the Russian star is poised to fit in just fine with the Timberwolves and their new style, whatever it might be. Follow Joan Niesen on Twitter.
Original Story:
http://www.foxsportsnorth.com/09/28/1...
THE BACKYARD
BEST OF MAXIM
RELATED ARTICLES
MINNEAPOLIS Ricky Rubio is grabbing The Knee unconsciously, stretching the edge of his black Timberwolves shorts down over the joint and letting go. Over and over, stretch, release, stretch, release, and the long brown scar stares back.Only so many words can be exchanged before Rubio, in his first Minneapolis media appearance in months, is asked the question. Only so many words...
Minnesota Timberwolves star Kevin Love has established himself as one of the must-follow NBA players on Twitter and one of the more entertaining, irreverent stars in the league. From his often humorous ramblings to tweeting photos of himself modeling the US Olympic athletes', uh, interesting outfits to uploading a pic of the US men's basketball [...]
Kevin Love laid down the gauntlet for David Kahn and the Timberwolves earlier this summer. He let it get out to the public that he would consider heading elsewhere if Minnesota did not make a move that would get it to the Playoffs. As he met with the media earlier this week, Love said he has faith that the Timberwolves will perform to his expectations and get to the Playoffs for...
Ricky Rubio says he hopes to return to the Minnesota Timberwolves sometime in December but insists he's ''not going to rush it'' to be sure he's ready. Rubio's rehabilitation from reconstructive left knee surgery is on schedule. He spoke to reporters Thursday about his progress. Rubio was hurt at the end of Minnesota's game against the Los Angeles...
Last season was the first step in the journey back to respectability for the Minnesota Timberwolves, as they escaped the Association's basement, although the progress was not good enough for All-Star forward Kevin Love, as the team finished the campaign with a 26-40 mark. The T-Wolves big man has joined the ranks of the NBA elite, with back to back stellar seasons and according...
NBA News

Delivered to your inbox

You'll also receive Yardbarker's daily Top 10, featuring the best sports stories from around the web. Customize your newsletter to get articles on your favorite sports and teams. And the best part? It's free!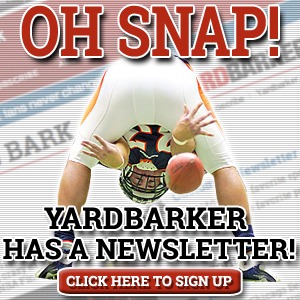 Latest Rumors
The Backyard

Today's Best Stuff

For Bloggers

Join the Yardbarker Network for more promotion, traffic, and money.

Company Info

Help

What is Yardbarker?

Yardbarker is the largest network of sports blogs and pro athlete blogs on the web. This site is the hub of the Yardbarker Network, where our editors and algorithms curate the best sports content from our network and beyond.