Found August 03, 2012 on CJ Sports NFL Talk:
Last year it was the over hyping of a one, Jeremy Lin, just after a few games.  Most of us were scratching our heads to why the New York Knicks fans were blowing this "Linsanity" thing way out of proportion.  Especially when we watched their counter-parts, Jets and Giants fans, scratching their heads over the "Tebow Mania" fiasco.  I am still not understanding why fans make such fools of themselves.  If more fans could be more non-bias and see the facts, they would see the light.  Both the Denver Broncos fans and the New York Knicks fans would have realized that Jeremy Lin and Tim Tebow where really just over hyped average players, AT BEST! Jeremy Lin played in a whole 35 games, wooooah, hold the press.  Then out of those games he only started 25 of them.  Why is this phenom, "Linsanity", not starting?  Because, he soon showed the world that he kind of, what's the word I am looking for, oh yea, SUCKED. Shooting a whole 44.6% from the field, averaging 3.2 turnovers a game, and scoring only 14.6 points.  The New York Knicks fans sure beat it into the ground though.  By the time it was over and he was traded, most of us disliked the guy or was just tired of hearing his name. On Thursday, Carmelo Anthony decided to show up, be a team player, and even looked like he knew a little something about the game of basketball.  Melo went from looking like that little pudgy guy that everyone picked last and that always missed the "Big Shot" to an actual professional basketball player.  Melo went 13/16 from the field, 10/12 from 3-pt land, and scored an U.S. Olmpic high 37 pts against Nigeria.  And WOW, the New York Knicks have gone off and ran with this like it was the second coming of Jesus Christ.  Come on man, slow down. Remember, Melo was only a 43.0% shooter from the field, a whole 33.5% from down town, and scored a whopping 22.6 pts per game last season.  So let's not all run and start printing off some ridiculous Melo sloganed shirt.  Oops, I already know, it is too late. Some desperate fan looking to turn a buck has already came up with a not-so-clever slogan somewhere in New York and it will be a hit by the weekend.  Sad thing, it is already Friday. But who am I to judge, I mean if I could come up with nifty little slogans like, "Linsanity" and "Tebow Mania", to turn a buck, I would have.  Just remember, behind every little fad (mohawks, skinny jeans, bedazzled anything, Linsanity, Tebow Mania, and etc…..) , there is the ugly truth and the reality of how stupid they were. New York Knicks fans don't want to focus on the fact they played Nigeria.  This would be like Team USA playing the Charlotte Bobcats, yes the 7-59, we can't beat the local community college, Charlotte Bobcats.  We will also ignore the fact that Team USA broke an Olympic record by scoring 78 pts in the first half or the fact they broke the Olmpic record by scoring 156 pts total.  Never mind that this team set US records for 3-pointers (26), field goals (59), and field-goal percentage (71). Instead, New York Knicks fans are going to focus on Carmelo Anthony and only Carmelo Anthony.  Here is a wake-up call, when you have four future Hall of Famers on the court, the All-Star player is going to get less attention and guarded by their worst player.  They could have stuck "Linsanity" out there against the Nigeria team and Jeremy Lin would have looked like God himself out there. How about we do this, when and if the New York Knicks make the playoffs next year and he is playing the best of the best, let's see if he finally steps up or let's see if he chokes, as ALWAYS!  If he finally steps up and can take the New York Knicks to the promise land, I will personally buy and take a pic of myself in one of those ridiculous sloganed shirts of Carmelo Anthony.  The catch is, if he chokes, no more over hyping of Carmelo Anthony or any other New York Knicks player.  And NO MORE STUPID SLOGANS!!!! Related articles
Are The New York Knicks Linsane In The Brain? (110sportztalk.com)
Knicks' Carmelo Anthony the Barkley of his generation? (110sportztalk.com)
The New York Knicks didn't get any better this off-season (110sportztalk.com)
Original Story:
http://110sportztalk.com/here-we-go-w...
THE BACKYARD
BEST OF MAXIM
RELATED ARTICLES
On Thursday, 15 minutes before Misty May-Treanor and Kerri Walsh Jennings hit the court, three members of the U.S. basketball team arrived and joined the ladies in a quick, impromptu game, according to NBC. Carmelo Anthony, Kevin Durant and James Harden showed up just to watch the women play, but ended up on the warm-up courts outside the main volleyball arena learning just how tough...
'GETTING BUCKETS'
When he's not busy filming public service announcements for New York City's Department of Transportation, he apparently spends his idle time coming up with pretty neat-looking video games. Davis, currently rehabbing an injury he suffered in a game playing for the New York Knicks in May that saw the point guard tear both his ACL and MCL as well as [...]
Knicks point guard Baron Davis has made the jump into the mobile gaming business. Davis has connected with a former EA Sports exec Sean O'Brien to form "5 Balloons Interactive". The company will produce a new mobile games for the iPhone, iPad, and iPod Touch. The first game is already available in the app store [...]
Well, that was quite the game yesterday, wasn't it? Team USA put on a shooting display that I, personally, have never seen been before and I have watched a lot of basketball. Starting with Carmelo Anthony and stopping with Anthony Davis, Team USA showed the world why they are the best. Old records were broken and new ones were set in Team USA's 156-73 trouncing of Nigeria...
Carmelo Anthony addressed the widespread notion that he's a selfish player.
NBA News

Delivered to your inbox

You'll also receive Yardbarker's daily Top 10, featuring the best sports stories from around the web. Customize your newsletter to get articles on your favorite sports and teams. And the best part? It's free!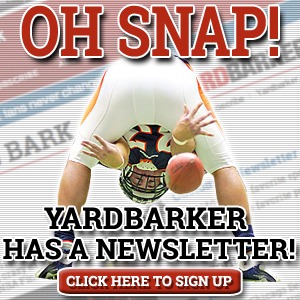 Latest Rumors
Best of Yardbarker

Today's Best Stuff

For Bloggers

Join the Yardbarker Network for more promotion, traffic, and money.

Company Info

Help

What is Yardbarker?

Yardbarker is the largest network of sports blogs and pro athlete blogs on the web. This site is the hub of the Yardbarker Network, where our editors and algorithms curate the best sports content from our network and beyond.