Found January 27, 2013 on Knickswag:
Post Game Recap Final Score:  Knicks: 80  76ers: 97   The Knicks did not have it tonight against the 76ers as they came out flat and with no effort leading to a blowout loss in Philly.  The 76ers pounced on the Knicks from the get go and never let off the gas as they led the game from the opening tip through the final buzzer.  The Knicks will be able to get passed this one quickly as they have a quick turnaround with playing the Atlanta Hawks Sunday at 6:30 at Madison Square Garden.  With the loss the Knicks dropped to 26-15 on the season. -Positives The only real bright spot for the Knicks tonight was Amar'e Stoudemire, who turned out to be the only Knick to show up for the game tonight.  From the moment he checked into the game Stoudemire got it going for the Knicks on offense, drawing a foul and knocking down two free throws on his first possession.  Stoudemire is continuing to look more and more confident on the offensive side of the ball as every game passes, showing an improved post up game that was virtually non-existent before.  Tonight Stoudemire scored a season high 20 points on eight of 13 shooting, pulling down four rebounds in addition to one assist, steal and block. Of all the players who got regular minutes tonight Stoudemire was definitely the most effective.   Free throw shooting should never be a problem for a NBA team most people assume but there are teams that do struggle mightily from the line.  During this downward swing the Knicks were struggling but have started to turn it around recently as one of their most frequent visitors to the line in Stoudemire is getting back into the groove.  Tonight the Knicks were solid from the line, knocking down 20 of 23 attempts for 87.0 percent.   Raymond Felton got through the game with no problems reported.  Much like when Stoudemire and Shumpert returned before him, his stats are not as important in the early going as him just getting through the games healthy.  Felton will need some time to get back into the swing of things and jell with his teammates as there are a lot of parts that have yet to play with each other on the court at all this season. -Negatives J.R. Smith did not make the All-Star team, something that disappointed him highly; tonight he continued to show why he was not worthy of that selection.  Smith tonight went 0-8 from the field, giving him 21 misses in his last 24 attempts.  It looks as if getting snubbed from the All-Star team has really soured on Smith who does not look like the same player since being passed over.  Tonight he was especially off, as he turned the ball over four times in addition to his "goose egg" in the shots made column.  The Knicks will need Smith to shake off this shooting slump as he is a big part of their game plan.  It will be interesting to see going forward how Smith's minutes and role are handled with the Knicks having their full complement of backcourt players for the first time all season.   Carmelo Anthony hds a rough game tonight defensively, as well on the offensive end.  Anthony struggled from the field, going nine of 28 for 25 points, extending his streak of 20+ point games to 28.  The slow start doomed the Knicks though as they rely on Anthony so heavily that if he does not get it going on the offensive end they usually struggle to score the basketball.  Anthony was able to pull down nine rebounds and get four assists, but it ultimately was not enough.  He also went 0-6 from the three point line.   The perimeter defense was unbelievably bad tonight for the Knicks.  Even without Jason Richardson, the 76ers perimeter offense feasted on the Knicks, scoring at will from all over the court led by All-Star Jrue Holiday.  Holiday dominated the Knicks much like he did earlier in the season, scoring a career high 35 points and finishing the night with a +35 +/-.  He also added six assists, five rebounds, one steal and only one turnover in 38 minutes played.  His running mates Evan Turner and Nick Young had their way with the Knicks as well, scoring 20 points apiece and combining for 10 rebounds, seven assists and three steals.   Turnovers killed the Knicks tonight as they were unable to build any type of flow or momentum on offense because of the lack of passing and high number of turnovers.  Tonight the Knicks turned the ball over 16 times, led by four from Smith and three from Tyson Chandler.  Ball security needs to be at a premium for the Knicks and turning the ball over that frequently is unacceptable. Tonight was an ugly game all around for the Knicks, which will happen during a very long NBA season.  They will have to put this one behind them and get back at it tomorrow night against the Hawks.   Kenneth Teape @teapester725 – Knickswag Contributor The post Knicks Get Smoked Wire-to-Wire by 76ers appeared first on Knickswag - A New York Knicks Blog - News, Rumors, and more!.
Original Story:
http://knickswag.com/knicks-get-smoke...
THE BACKYARD
BEST OF MAXIM
RELATED ARTICLES
The bad blood between Carmelo Anthony and Kevin Garnett didn't last long. Last night the New York Knicks beat the Boston Celtics 89-86. After a verbal spat and a bus showdown with 20 something security guards on standby, desperate measures were put into place to ensure another Honey Nut Cheerio saga wouldn't transpire. However last night was the polar opposite. Maybe they're...
Tweet Simply put, Carmelo Anthony was in the zone Sunday night against the Atlanta Hawks. Anthony scored 42 points on 15-28 from the field, including a Knicks-record nine three-pointers. Here's a highlight reel of 'Melo's big night: The Knicks came away with the 106-104 win, and the 42-point explosion now has Melo ranking second in [...]
You might recall a few weeks back Carmelo Anthony got into a heated exchange with Kevin Garnett during a game between the Knicks and Celtics.  After the game, video footage [...]
Knicks 106 Hawks 104 Boxscore Tonight the New York Knicks held off an Atlanta team that was on their heels and hungry for a win. Carmelo Anthony had 42 points and carried the Knicks to a gut check win 106-104 to move their win total to 27-15. This win was just that, a WIN, however New York struggled defensively all night, as Jeff Teague torched them most of the game. Things That...
From a young age, Allonzo Trier has enjoyed national spotlight.  In elementary school, he shot a PowerAde commercial with Carmelo Anthony, and that same year, had a feature story on him in the New York Times.  He had become a nationally known name in basketball circles, because of the potential for the player that he might become.  Years later, that potential is coming to fruition...
Carmelo Anthony tied a franchise record with nine 3-pointers, then converted a go-ahead, three-point play with 12.5 seconds left to cap a 42-point night and lead the New York Knicks to a 106-104 victory over the Atlanta Hawks on Sunday. The Hawks shot a season-high 60 percent from the field but had their three-game winning streak snapped when Josh Smith, burned on Anthony's...
For the first time since 2006, the Knicks came away victorious in Boston on Thursday night.While such a win puts an end to such a frustrating and traumatizing losing streak, perhaps it also symbolizes why this a season is one more different than any other in recent years for the Knicks.Clearly an NBA powerhouse over the past few seasons, the Celtics have always seemed to have New...
Post Game Recap Final Score: Hawks: 104  Knicks: 106   The Knicks looked like a totally different team from the one that got blown out in Philadelphia last night in beating the Hawks tonight.  There was a lot more effort and better effectiveness from the players, but there was still some glaring deficiencies that will need to be worked on as the Knicks continue their path to the...
NBA News

Delivered to your inbox

You'll also receive Yardbarker's daily Top 10, featuring the best sports stories from around the web. Customize your newsletter to get articles on your favorite sports and teams. And the best part? It's free!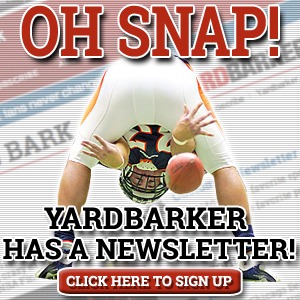 Latest Rumors
Best of Yardbarker

Today's Best Stuff

For Bloggers

Join the Yardbarker Network for more promotion, traffic, and money.

Company Info

Help

What is Yardbarker?

Yardbarker is the largest network of sports blogs and pro athlete blogs on the web. This site is the hub of the Yardbarker Network, where our editors and algorithms curate the best sports content from our network and beyond.