Found April 15, 2013 on Knickswag:
PLAYERS:
J.R. Smith
,
Jamal Crawford
,
J.J. Redick
,
Kyle Korver
,
Carmelo Anthony
,
Raymond Felton
,
Kenyon Martin
,
Mike Woodson
TEAMS:
New York Knicks
,
Los Angeles Clippers
,
Milwaukee Bucks
,
Atlanta Hawks
,
Phoenix Suns
By Tommy Rothman "No, JR. Stop! Don't take that shot! What are you doi— YES JR! YES!" If you are a Knicks fan, you probably say this out loud at least four times a game. New York's sixth man, J.R Smith, is an enigma. He is extremely talented and is one of the league's best athletes, but he often has trouble harnessing his abilities and providing solid, consistent production. However, J.R changed something about his game after the All-Star break: he started attacking. Instead of settling for jump shots every time down the floor, Smith began using his quickness and ball-handling skills to get to the rim, resulting in easy baskets and trips to the free-throw line. Smith's stats took a big jump, and he is now the leading candidate for the NBA's Sixth Man of the Year. Perhaps not so coincidentally, this is Smith's contract year. Can the Knicks keep their star sixth man? Let's look at some of the facts to analyze Smith's future. Reasons Smith Could Leave: Smith is an unrestricted free agent. This means that if he signs a deal with another team, the Knicks have no way to prevent him from going to that team. Smith is being paid 2.8 million dollars this season. The other leading candidates for the Sixth Man award, Jamal Crawford and Kevin Martin, are making 5.2 and 11.6 million dollars, respectively. Shooting guards of similar-to-lesser ability, such as JJ Redick and Kyle Korver,  are being paid in the 5-to-7 million dollar range. The Knicks do not have Smith's full "Bird Rights", due to the fact that he has only been with the team for two seasons. This means that the amount of money they can give Smith will be partially restricted by the NBA salary cap, which the Knicks have exceeded by a healthy margin. Despite his acceptance of the sixth man role, Smith wishes to start, and this is more likely to happen on another team. Reasons Smith Could Stay: Smith has a healthy relationship with the Knicks. Before coming to New York, he had already played alongside fellow former Nuggets Carmelo Anthony, Raymond Felton, and Kenyon Martin. Smith has a very good relationship with Anthony (New York's best player), and he seems to have a very good connection with Coach Mike Woodson, who is the first coach to be able to tame and control J.R. The Knicks have Smith's "Early Bird Rights", Meaning they can offer him a deal for between 2 and 4 years with a starting salary of 175% of his previous salary or the NBA's average salary (whichever is greater). This deal would give Smith a starting salary of around 5.5 million dollars with small but notable annual raises. He has taken less money to play with Anthony and the Knicks on two occasions in the past. In February of 2012, he declined the Clippers' offer and instead took a smaller deal from the Knicks. He re-signed with New York in the summer of 2012, again taking a salary below his market value. This time, the pay cut would not be too significant. The most Smith could make from another team is probably somewhere around 8 million dollars, and even that is uncertain, for reasons I am about to explain. As I said before, Smith is an enigma. He lives "the fast life", going to clubs and parties every night, roaming the streets, and making rash decisions. He has tweeted several unfortunate photos that have gotten him in trouble in the past. He has also been arrested multiple times and has spent a small amount of time in prison.  His behavioral issues are well documented, and that may give a team unfamiliar with Smith some serious hesitation about making a large financial commitment to the shooting guard. Smith is also very unpredictable on the court; meaning teams may view his recent hot stretch as unsustainable. This would scare potential suitors off, making it easier for New York to keep him. The Knicks have less to lose by committing to Smith than most other teams do. The Knicks will be over the salary cap for the next few years regardless of what happens with Smith, so it would be advantageous for them to sign him using money that the NBA Salary Cap prohibits them from spending on other teams' players. There is mutual love between Smith and the Knicks fans. Smith has grown comfortable in New York, and he may not be too eager to leave. Smith has a chance to win in New York. Many of the teams that might offer Smith more money only have money because their team is currently devoid of expensive (read: good) players. If Miami had cap space for Smith, it would be another story. But Smith leaving to play for the lowly Phoenix Suns might not be so likely. Smith has promised to get a Knicks tattoo if New York wins the championship. In my mind, this means that Smith will give zero consideration to leaving if he is popping champagne in late June. This may seem like a silly point to make, but let me ask you this: would you get a team's logo permanently branded onto your body if you planned on leaving that team 25 days later? I didn't think so. Butexpecting the Knicks to win the championship this year would be unfair, so for once, let's leave JR's tattoos out of the discussion.   So there you have it. I think Smith will stay, because I believe the reasons for him doing so (outlined above) outweigh the reasons he might leave. Smith turned down the chance to follow the money last year, and his relationships with the Knicks and their fans have grown stronger since then. I don't think his improvement, as a basketball player will change the outcome this time around.   DISCLAIMER: PREDICTING THE ACTIONS OF J.R SMITH IS ONE OF THE HARDEST THINGS IN THE WORLD OF BASKETBALL. TOMMY ROTHMAN AND NEW YORK KNICKS MEMES ARE IN NO WAY RESPONSIBLE FOR THE FUTURE ACTIONS OF J.R SMITH. NIETHER TOMMY ROTHMAN NOR NEW YORK KNICKS MEMES CAN BE HELD ACCOUNTABLE FOR ANY FINANCIAL DAMAGE CAUSED BY MISLEADING INFORMATION IN THIS ARTICLE.  The post Knicks Guard J.R. Smith is having a career year. Is he playing himself out of New York? appeared first on Knickswag - A New York Knicks Blog - News, Rumors, and more!.
Original Story:
http://knickswag.com/knicks-guard-j-r...
THE BACKYARD
BEST OF MAXIM
RELATED ARTICLES
Last week, the Knicks cut Kurt Thomas and made a point of saying the team only went ahead with the move because of their dire need for an extra healthy body, most notably, a big man.But after waiving Solomon Jones following just two games, such a quick release by the Knicks was alarming to plenty of their fans, given the type of fan-favorite and valuable locker room presence that...
The Big Leagues How New York Knicks forward Chris Copeland achieved his NBA dreams.
Many thought Rasheed's career would be over after stress fracture in his left foot in December sideline him, but Sheed is back and just in time to help the Knicks, as they get ready for the playoffs. Knicks coach Mike Woodson told reporters in Charlotte that Wallace will play approximately 12 minutes Monday night against the Bobcats.
The Knicks defeated the Pacers, clinching the No. 2 seed.
Sheed's bald spot is one of life's great mysteries If you forgot about Rasheed Wallace, I wouldn't blame you. There's the fact that he retired following Game 7 of the 2010 NBA Finals, and didn't play basketball for 28 months. There's also the fact that a stress fracture in his foot seemed destined to end his return bid for the Knicks, appearing to end...
Gerald Henderson scored 27 points, Kemba Walker had 23 points and a career-high 13 assists and the Charlotte Bobcats defeated a New York Knicks team playing without Carmelo Anthony and a few others 106-95 on Monday night. The victory was the second straight for the Bobcats, who pulled into a tie with Orlando for the worst record in the league. The Knicks played only seven players...
Melo's hot streak continued.
NBA News

Delivered to your inbox

You'll also receive Yardbarker's daily Top 10, featuring the best sports stories from around the web. Customize your newsletter to get articles on your favorite sports and teams. And the best part? It's free!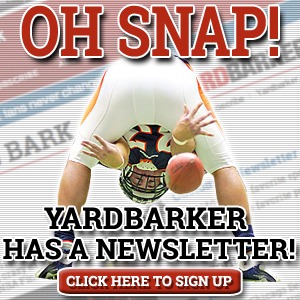 Latest Rumors
Best of Yardbarker

Today's Best Stuff

For Bloggers

Join the Yardbarker Network for more promotion, traffic, and money.

Company Info

Help

What is Yardbarker?

Yardbarker is the largest network of sports blogs and pro athlete blogs on the web. This site is the hub of the Yardbarker Network, where our editors and algorithms curate the best sports content from our network and beyond.