Found July 15, 2013 on Knickswag:
Now that free agency has been active for the last 2 weeks, many teams' financials are drying up. With a few options left on the board, teams are trying to get a great bargain out of the remaining players in the free agency pool. My eye has been on two this entire time, and now that the cash flow for many teams has dissipated, now is the time for the Knicks to strike for either Nate Robinson or Aaron Brooks. Nate Robinson: With the 1.75 million the Knicks have left from the their mini mid level, New York should try to swoop in and grab "Little Nate" for practically a song and a dance. It is very interesting that after Nate's spectacular post season he has not received any offers that we are aware of, unless he is demanding a ridiculous amount of money. New York could offer the energetic sweet shooter with a 3-year deal starting at 1.75 million. The 3-year deal will give Nate some security; furthermore NY could also give him a player option after the 1st and 2nd year. This would give him stability and security, but also giving him the opportunity to opt out if he has a productive year after his 1st or 2nd year. This offers him a win-win situation. Via Frank Isola New York Daily News Knicks GM Glen Grunwald wants to add another point guard and the club recently reached out to former Knick Nate Robinson, according to a league source. Robinson is not expected to return to the Chicago Bulls because Derrick Rose is now healthy. Robinson would consider a return to New York but only if he doesn't receive a more lucrative offer elsewhere. The Knicks can only give him a minimum contract or the mini-mid-level, assuming it is still available. Bringing Nate on board would give the Knicks a 2/3 punch in J.R. Smith and Nate, while helping Melo in the offensive production of the team. New York is in the market for a 3rd string point guard, especially with the probability of coach Mike Woodson using Pablo and Raymond in the backcourt together. This signing would give the Knicks the backup they need, as well as the scoring burst they are lacking.  This could be the best of both worlds for New York. Aaron Brooks: I am also surprised that Aaron is still available. After some productive seasons in the past, last year Brooks was buried on the bench in Sacramento and Houston. When free agency began I was sure that he would have been signed immediately as a change of pace, push the ball, point guard. Many teams need this type of player. However, all is quiet on the Brooks front. Is money the issue for Brooks? Is he willing, or is he going to be forced to accept the veteran's minimum? In most cases money is the underlying factor. However, if New York can sell him on the idea that he will get the proper playing time as the 3rd string PG, then I believe this could be a great fit for both the team and Brooks. The post Knicks News: PG's: Nate and Aaron appeared first on Knickswag.com.
Original Story:
http://knickswag.com/knicks-news-poin...
THE BACKYARD
BEST OF MAXIM
RELATED ARTICLES
Less than a week after his four-year, $24.7 million dollar extension became official, the Knicks announced J.R. Smith would miss up to four months due to surgery to repair the meniscus and patellar tendon in his right knee. The Knicks said Smith's injuries, which were treated at the Hospital for Special Surgery in New York City by team orthopedist Dr. Answorth Allen, were...
Add the New York Knicks to the list of teams courting free agent Metta World Peace. According to Yahoo! Sports, World Peace is expected to meet with Knicks' executive in the next couple of days. The report, crediting sources, adds that the Knicks are offering a contract worth "almost $1.6 million for the 2013-14 season." The offer could also include a second year....
NY STATE OF MIND
Metta World Peace and the Knicks reportedly have mutual interest in one another. There's a good chance he could sign with New York.
Knicks guard J.R. Smith has had patella tendon surgery and arthroscopy on his left knee that likely will keep him from joining the Knicks when they open training camp in late September. The team said Smith will need 12-16 weeks to recover from the operation performed Tuesday by Dr. Answorth Allen at the Hospital for Special Surgery. The team said the injuries were chronic, with...
Carmelo Anthony and his wife Lala recently celebrated their 3rd wedding anniversary. Sunday night, season four of her VH1 reality show, "Lala's Fullcourt Life" launched. And now comes word that the title of author is being added to Lala's many titles. Lala has co-authored a relationship advice book set for launch in January 2014. The Love Playbook: Rules for Love, Sex, and...
J.R. Smith will miss 3-4 months of basketball after undergoing knee surgery on his left knee, the team announced Monday.  The given timetable suggests he may miss anywhere between the start of training camp and the first few weeks of next season. According to the NY Knicks: J.R. Smith had patella tendon surgery & arthroscopy for a tear in the lateral meniscus, of his left knee...
He'll Fit In 10) On a team with Amar'e Stoud- amire, Andrea Bargnani, JR Smith and Carmelo Anthony, his chances of looking like the Defensive Player of the Year are going to skyrocket 9) He's from the area, and it's always a good idea for crazy people to have more day to day contact with their relatives 8) He's only 23 more teams away from having a jersey from...
JR Smith will need 3-4 months to recover from knee surgery, and he may not be ready at the start of training camp, the New York Knicks announced on Monday. Smith re-signed with the Knicks on a four-year, $24.7 million deal earlier this month. He had patella tendon surgery and an arthroscopic procedure for a [...]
New York, NY (Sports Network) - The New York Knicks and forward Metta World Peace have agreed on a two-year contract.Financial terms were not...
UPDATE: ESPN confirmed yesterday that World Peace did in fact sign a deal with the Knicks. Let the zoo in New York begin? THIS JUST IN: Metta World Peace has agreed to a two-year deal with the New York Knicks. (via ESPN & media reports) — SportsCenter (@SportsCenter) July 15, 2013 After clearing waivers late [...]
Metta World Peace cleared waivers on Sunday to become an unrestricted free agent. World Peace wants to sign with the New York Knicks, according to a source close to the situation. The Knicks have already reached out to World Peace and can offer their taxpayer mid-level exception at approximately $1.7 million. World Peace is also considering the Los Angeles Clippers and the Shanghai...
POPULAR POINT MAN
The Denver Nuggets are reportedly one of several teams who are interested in Nate Robinson. See who the other teams are.
NBA News

Delivered to your inbox

You'll also receive Yardbarker's daily Top 10, featuring the best sports stories from around the web. Customize your newsletter to get articles on your favorite sports and teams. And the best part? It's free!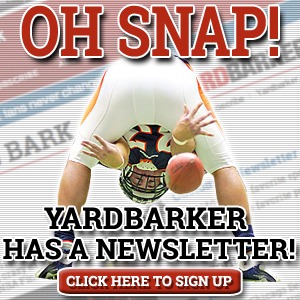 Latest Rumors
The Backyard

Today's Best Stuff

For Bloggers

Join the Yardbarker Network for more promotion, traffic, and money.

Company Info

Help

What is Yardbarker?

Yardbarker is the largest network of sports blogs and pro athlete blogs on the web. This site is the hub of the Yardbarker Network, where our editors and algorithms curate the best sports content from our network and beyond.