Found July 14, 2013 on Knickswag:
Via Jared Zwerling ESPNNewYork.com LAS VEGAS — The Knicks are interested in one of the best centers still available in free agency,Samuel Dalembert, according to a player source. On Friday, the first day of the NBA summer league at UNLV's Cox Pavilion, Knicks GM Glen Grunwald and Dalembert's agent, Marc Cornstein, were spotted chatting. The Knicks currently have no real backup behind Tyson Chandler, as Marcus Camby, Kurt Thomas and Rasheed Wallace are all gone, and Kenyon Martin and Earl Barron are still free agents. At this point, however, the Mavericks are the front-runners to land Dalembert, who averaged 6.7 points, 5.9 rebounds and 1.1 blocks in 16 minutes per game last season for the Bucks. Sources indicated to ESPNDallas.com that the Mavs are optimistic they will reach an agreement with Dalembert soon. Dallas can offer him a salary of a little more than $3 million next season without further cap tinkering. New York, on the other hand, can only sign Dalembert for about $1.7 million — the remaining amount of their mini mid-level exception — or the veteran's minimum. The 32-year-old center made $6.7 million in 2012-13. While he only played in 47 games, he was constantly shuffled in and out of the rotation, and he eventually made it no secret he wanted to leave Milwaukee. Knickswag Notes: Once again the Knicks are on the outside looking in. With their financial restrictions they most likely will miss out on a significant signing. At this point it looks like the only way they can pick up a solid signing is if that desired player decides that money is not important and wants to play for the Knicks. This scenario is unlikely. Money is almost everything in sports unfortunately. This is why I think making your cap situation more flexible for the future should be equally as important as winning now at all costs. New York must accept that and look at ways to do this. You might have to make tough choices and maybe tome tough trades to get this team headed in the right direction cap wise. However, I think we all know that I am speaking on deaf ears. The post Knicks News: Sammy Dalembert a Player of Interest appeared first on Knickswag.com.
Original Story:
http://knickswag.com/knicks-news-samm...
THE BACKYARD
BEST OF MAXIM
RELATED ARTICLES
Now that free agency has been active for the last 2 weeks, many teams' financials are drying up. With a few options left on the board, teams are trying to get a great bargain out of the remaining players in the free agency pool. My eye has been on two this entire time, and now that the cash flow for many teams has dissipated, now is the time for the Knicks to strike for either...
Outside of the convenient use of the "Metta World Peace" name for this headline (we just had to do it once), Turn On The Knicks will be referring to Ron Artest as Ron Artest. Moving on, it is starting to sound imminent that the Knicks will pull the trigger on signing Artest, who is meeting with team officials in Las Vegas this week. There is some chatter about him considering...
Add the New York Knicks to the list of teams courting free agent Metta World Peace. According to Yahoo! Sports, World Peace is expected to meet with Knicks' executive in the next couple of days. The report, crediting sources, adds that the Knicks are offering a contract worth "almost $1.6 million for the 2013-14 season." The offer could also include a second year....
NY STATE OF MIND
Metta World Peace and the Knicks reportedly have mutual interest in one another. There's a good chance he could sign with New York.
Apparently, Baron Davis had himself a bit of an extraterrestrial experience recently. During an interview on WestCoastRydaz.com's "The Champs" podcast, Davis casually mentioned that he had been abducted by aliens a few weeks earlier. The hosts originally took this as a joke, but when pressed for details, the former NBA All-Star confirmed that he was, in fact, serious. As his...
Carmelo Anthony and his wife Lala recently celebrated their 3rd wedding anniversary. Sunday night, season four of her VH1 reality show, "Lala's Fullcourt Life" launched. And now comes word that the title of author is being added to Lala's many titles. Lala has co-authored a relationship advice book set for launch in January 2014. The Love Playbook: Rules for Love, Sex, and...
JR is no fool, he made sure he got paid first. JR Smith had knee surgery, Knicks just announced. Recovery is 12-16 weeks. — Howard Beck (@HowardBeckNYT) July 15, 2013 Smith had patella tendon surgery and arthroscopy for tear in lateral meniscus. Knicks say injuries were "chronic and gradually worsened" — Howard Beck (@HowardBeckNYT) July 15, 2013
Metta World Peace says he will be signing with the New York Knicks. Team officials at the NBA summer league in Las Vegas would not confirm the move, but World Peace says he is excited to join Carmelo Anthony and the Knicks. ''The team is amazing, the players; I'm excited to play and hustle,'' he said Monday while attending NBA summer league games in Las Vegas...
J.R. Smith will miss 3-4 months of basketball after undergoing knee surgery on his left knee, the team announced Monday.  The given timetable suggests he may miss anywhere between the start of training camp and the first few weeks of next season. According to the NY Knicks: J.R. Smith had patella tendon surgery & arthroscopy for a tear in the lateral meniscus, of his left knee...
JR Smith will need 3-4 months to recover from knee surgery, and he may not be ready at the start of training camp, the New York Knicks announced on Monday. Smith re-signed with the Knicks on a four-year, $24.7 million deal earlier this month. He had patella tendon surgery and an arthroscopic procedure for a [...]
Andrei Kirilenko's least favorite basketball player ever Baron Davis was recently a guest on "The Champs" podcast, and it was… interesting. It was just your typical podcast, nothing out of the ordinary. The topic shifted to the extraterrestrial, and then B.D. just casually admitted to hosts/comedians Neal Brennan and Moshe Kasher that he was abducted by aliens two weeks ago...
Metta World Peace cleared waivers on Sunday to become an unrestricted free agent. World Peace wants to sign with the New York Knicks, according to a source close to the situation. The Knicks have already reached out to World Peace and can offer their taxpayer mid-level exception at approximately $1.7 million. World Peace is also considering the Los Angeles Clippers and the Shanghai...
NBA News

Delivered to your inbox

You'll also receive Yardbarker's daily Top 10, featuring the best sports stories from around the web. Customize your newsletter to get articles on your favorite sports and teams. And the best part? It's free!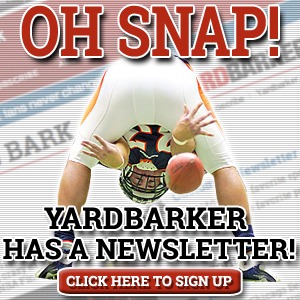 Latest Rumors
Best of Yardbarker

Today's Best Stuff

For Bloggers

Join the Yardbarker Network for more promotion, traffic, and money.

Company Info

Help

What is Yardbarker?

Yardbarker is the largest network of sports blogs and pro athlete blogs on the web. This site is the hub of the Yardbarker Network, where our editors and algorithms curate the best sports content from our network and beyond.