Found March 03, 2013 on Fox Sports:
With his team trailing by double figures late in the third quarter of Sunday's matinee against the New York Knicks, Miami Heat forward LeBron James sniffed out a careless J.R. Smith pass intended for Jason Kidd. Stepping in front of the cursory toss for a steal, LeBron was wrapped up in a Kidd bear hug before he could get to the rim for what would have been a thunderous dunk. Fast forward to the waning seconds of the fourth quarter, and LeBron was at it again, making yet another deft play on an equally careless Smith pass -- this one intended for Carmelo Anthony, who could only slouch to the floor as James put an exclamation point on the Heat's 99-93 win with a slam that might make Magic Johnson consider upping his dunk contest ante to $2 million. What happened in between those two steals helped explain a lot of things. For starters, it helped bring even more legitimacy to the Heat's current winning streak, which is now at a franchise-record-tying 14 heading into Monday's game in Minnesota. Miami had already topped Houston, the Clippers, the Lakers, Oklahoma City, Chicago and Memphis during its run, which dates back to Feb. 3. But some thought the Heat needed one more marquee road win to really prove that they're as good as their record implies. They got it Sunday. The Heat's rally under the Madison Square Garden lights from what was once a 16-point deficit also illuminated the enormous chasm that now divides these two supposed contenders, both in the standings and in the chase for a title. Ostensibly, both the Knicks and Heat have a shot at the conference crown, but in reality, it's no contest. Seven and a half games separate the two in the standings, where the Heat have a stranglehold on the East's top spot and New York is still comfortably in third. But regardless of what the standings say, and regardless of what the Knicks did earlier this year in two routs of the Heat, these teams are not in the same league, and a postseason series between them would be a joke. And Sunday's rally also said something about the ever-improving James, who keeps finding new ways to raise a ceiling that seemingly can't go any higher. James has been virtually unstoppable of late -- that's no exaggeration; he's shot 62 percent from the floor over the last 14 games -- and is playing the best ball of his career, in large part because he's playing like a man possessed, cashing in on his immense raw talent at every turn. Against New York, he scored 29 points and added 11 boards and seven assists, and in the second half, he locked down the league's top scorer, Carmelo Anthony, doing it all like it was no big deal. There are a lot of reasons for all of this -- for the win streak, for the Heat's emergence as the East's only viable contender, and for LeBron's crusade toward an inevitable fourth MVP -- but at its core, it all comes back to one thing, and that's the Heat's recently terrifying level of defensive acumen, and an effort level that, if maintained, is going to lead James and the Heat to a second consecutive title. Early in the year, even when they were winning, Miami was not a good defensive club, and its vulnerabilities on that end made them appear susceptible to a letdown against other playoff-bound teams -- to the point where we actually thought a team like New York, Brooklyn or Indiana might stand a chance in a series. But of late, Heat coach Erik Spoelstra has hammered home the importance of defense, and LeBron has bought in, with the rest of the team following his lead. "Our identity is to defend, be instructive and to commit to that side of the floor first," Spoelstra said outside the Miami locker room before Sunday's game. "Until that changed, we weren't able to win tough games on the road. Now you're seeing a better commitment. We're creeping into the top 10, but in the last six weeks, we've probably been closer to a top-five defensive team, and we don't see it as a coincidence that our record has changed as well." Early on Sunday, the defensive effort that has come to define Miami was reminiscent of the first half of the year, and the Knicks took advantage. New York shot 57.1 percent from the floor in the first half and went gangbusters from 3 -- as they did in both of their wins over Miami earlier in the year -- with five triples in the second quarter, to take a 14-point lead into the break. Carmelo Anthony, who finished with 32 points, scored 17 in the first quarter alone. "We did a great job of coming out with a great defensive mindset as well as offensively swinging the ball," said J.R. Smith, who had 13 points and 12 rebounds. "We played the way we wanted to play." But in the second half, Spoelstra switched LeBron to 'Melo, daring him to take on the immense challenge, and that was that. James locked down Anthony, holding him to eight second-half points on 3-of-11 shooting, and his comrades followed his lead, limiting the Knicks to just 34 points on 30.8 percent from the floor. James' energy and effort -- even after an apparent knee injury midway through the third -- was helping turn defense into offense, and the rest of the team had no choice but to follow suit. "I don't want to just assume that he can play 40-plus minutes, but he had to do it on both ends," Spoelstra said. "I couldn't get him out in the fourth quarter. If I would have tried, he probably would have strangled me. He had to take the challenge in the fourth quarter against the toughest cover in the league and create a lot of plays for us on the other end. Either scoring or facilitating for us, he was strong, and was the strongest after 40 minutes of basketball." In short, the Heat were incredible again on Sunday, just like they have been for an entire month now. And barring an unforeseen injury to LeBron or an epic, collective, and completely unfathomable collapse, they'll be standing tall at season's end. They've got the league's best player playing like he's got a point to prove, and they've got a defense that just won't quit. They're the best team in the East by far -- Sunday's win showed us that much -- and when they play like they did in the second half Sunday, there's not a team in the league that stands a chance. You can follow Sam Gardner on Twitter or e-mail him at samgardnerfox@gmail.com .
Original Story:
http://msn.foxsports.com/nba/story/Mi...
THE BACKYARD
BEST OF MAXIM
RELATED ARTICLES
He didn't look like he was hurting, but LeBron James reportedly played through knee pain to help the Miami Heat win last night.  The superstar has been performing on a whole new level this season (which didn't seem possible), and he has the Heat poised to repeat as NBA champions.Despite the knee injury that Brian Windhorst of ESPN says occurred after James fell awkwardly...
That gasping sound you here, is Miami Heat fans holding their collective breath. During the third quarter of the Heat's 99-93 victory over the New York Knicks, James went up for an alley-oop dunk and came down awkwardly after being hit by a defender, he managed to finish the game after some initial discomfort, he's worried but doesn't expect to miss any time. "I was concerned...
LeBron James is an incredbile athlete. He has arguably the best skill set of any basketball player, ever. He has Magic Johnson's court vision, with Michael Jordan's athleticism, and Karl Malone's body. There is nothing he cannot do on a basketball court. Fans know this, and they have been clamoring to see him participate in the NBA Slam Dunk Contest for his entire carer. After...
And we're still discussing the NBA Dunk Contest. Can we please stop? Several days after the actual dunk contest, people still want LeBron James to take part in the festivities but there is one man in particular who would pay to see it—Magic Johnson. According to ESPN, James is considering the offer. Here is what [...] [[ This is a content summary only. Visit my website for full...
LeBron James had 29 points, 11 rebounds and seven assists, and the Miami Heat tied a franchise record with their 14th straight victory, rallying to beat the New York Knicks 99-93 on Sunday. Dwyane Wade added 20 points for the Heat, who had to overcome a 16-point deficit to beat the Knicks for the first time in three tries this season. Chris Bosh bounced back from a dismal first...
Although considering partaking every year, Miami Heat superstar LeBron James is mulling Magic Johnson's $1-million offer to compete in next winter's NBA's Slam Dunk Contest. "Tell him I'll get back to him," said James, 28, who Berkshire Hathaway Chairman Warren Buffett recently predicted would become the first athlete to top the billion-dollar mark since male ***** Tiger...
  The official Twitter page of ESPN (@ESPN) tweeted out this image of Lebron James 'vs the rest of the NBA' just moments after the Miami Heat's victory over the Memphis Grizzlies for their 13th straight victory. @ESPN:13 straight wins. Lebron,and the @MiamiHeat , have a pretty good handle on the rest of the league They attached the above cartoon with a larger than life Lebron...
Friday I pleaded to stop the madness and obsession over the made up controversy swirling around LeBron James and his dunking.  No less than 24 hours later, Magic Johnson put up $1 million dollars on national television to try to entice LeBron James to participate in next year's dunk contest. I kid you not.  One.  Million.  Dollars.  Here's the video evidence from...
MVP candidate Tony Parker went down with an ankle injury last night, and if we have learned anything about Spurs' coach Greg Popovich, we probably won't see Parker again until the playoffs.The Spurs will be fine, as they have already stacked up a nice record for themselves (best in the NBA to be exact) and are generally excellent at plugging in pieces to combat the wear and...
First of all, Magic Johnson isn't stupid. The guy actually turned out to be a quality businessman. You don't think he'll get a serious return on this million somehow? Secondly, I'm tired of this story. I think Lebron is the best player in the world by far. I think he's a cheesedick for not participating in the Dunk Contest. I don't go to bed worrying about it. Newsflash...
Tweet   On Friday Magic Johnson made a pretty bold statement when he offered to put up $1 million if LeBron James enters the NBA's Slam Dunk Contest. It's probably a safe bet that won't happen so we will have to settle for the dunks worthy of a dunk contest that James has been doing [...]
NBA News

Delivered to your inbox

You'll also receive Yardbarker's daily Top 10, featuring the best sports stories from around the web. Customize your newsletter to get articles on your favorite sports and teams. And the best part? It's free!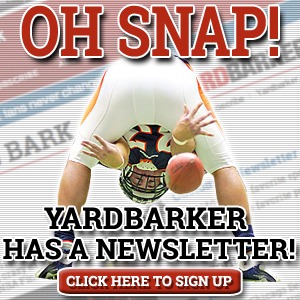 Latest Rumors
The Backyard

Today's Best Stuff

For Bloggers

Join the Yardbarker Network for more promotion, traffic, and money.

Company Info

Help

What is Yardbarker?

Yardbarker is the largest network of sports blogs and pro athlete blogs on the web. This site is the hub of the Yardbarker Network, where our editors and algorithms curate the best sports content from our network and beyond.