Found September 13, 2013 on Knickswag:
2013/14 is a big year for the pit-bull style point guard of the New York Knicks. Since signing with the Knicks in 2010, getting traded away, then coming back for some unfinished business, Raymond Felton has the chance to lead the Knicks. However, his inconsistent play put the Knicks on their heels in the 2nd round and ultimately out of the playoffs. The blame will be given to J.R. Smith, but if you really look into it, Ray's inconsistency played a large role into their 2nd round exit. The adage of "the Knicks will go as far as Felton takes them" definitely has credence here. Knicks First Stint: In 2010 Mr. Felton was a signing that many were not sure of. When he stepped on the court with Amar'e their chemistry started off very slowly. The pick and roll took some time, but once it clicked the Knicks and Amar'e took flight. Raymond's ability to penetrate the defense and find Stat was uncanny. However, mid-season that changed, as Stat was worn down and the emergence of the Melo changed the chemistry on the team, as Ray was traded away in the Melo deal that started his downward spiral until his return in the 13/14 season. In 2010 Ray had a great stint in NY averaging 17 points and 9 assists in 54 games with NY. After returning from a dismal two seasons in Denver and Portland, Felton had some unfinished business here in NY. He signs with the Knicks on a 3-year deal to finish what he started in 2010. His expectations were high, as he was replacing Jeremy "Linsanity" Lin, who took his talents to Houston. Knicks Second Stint: In 12/13, Raymond showed off a solid jumper early in the season, while showing the ability to penetrate to the rim for easy lay-ups, putting the defense on its heels. After an injury sidelined him for a long stretch, Raymond's return did not come with consistent play. His playoff contributions were uninspiring, as the Indiana Pacers bounced the Knicks in the 2nd round. Was this all Ray's fault? Of course not, but his lack of leadership and his inconsistent penetration, coupled with his inability with the pass, contributed to the Knicks demise. He had admirable season, averaging 13.9 points, 5.5 assists in 68 games. Not bad for any player, but the Knicks need more from Ray to be a championship contender. In 13/14 Raymond's job is on the line. New York needs consistent play from his position, especially from Ray himself. With Beno Udrih behind him, Ray must have a solid consistent jumper all year, and he must drive to the hole consistently in order for NY to have a balanced attack, and most importantly for Ray to keep his job. PG's are what drive teams deep into the playoffs. Yes, Melo is our leader, but the Knicks are looking for a number two and three option. We all know that J.R. wants to be that option, however J.R.'s performance in the playoffs last year made me realize that the Knicks can't solely rely on Smith in 13/14. Ray needs to step up, be that leader and either the 2 or 3 option for the Knicks to top what they did last year. Raymond Felton needs to be a leader on and off the court, in the locker room, and in huddles. Furthermore, he must be vocal during timeout's, and with the ball in his hands; he needs to be the voice. MOST IMPORTANTLY, make sure the ball MOVES. A flowing offense is the only way the Knicks will win their division again and get out of the 2nd round this year. Raymond's first stint in NY he averaged 17 points and 9 assists. This is the kind of play the Knicks need for them to advance and be a legitimate contender. With many option on this team, there is none better to take that next step than Raymond Felton. It is time for Ray to step up and be a leader. The post Knicks Player Preview: Raymond Felton appeared first on Knickswag.com.
Original Story:
http://knickswag.com/knicks-player-pr...
THE BACKYARD
BEST OF MAXIM
RELATED ARTICLES
Carmelo Anthony can become a free agent after the upcoming season, and has made it clear he doesn't want to talk about it. But he gave the strongest indication yet that his plans include re-signing with the Knicks when the season is through. "I'm not going nowhere," Anthony said during an interview Tuesday with Bloomberg Television's "Market Markers.&quot...
The NBA's star-studded free-agent class next summer might be losing one of its leading men. Knicks forward Carmelo Anthony, who can opt out of his current deal after this season, said he's "not going nowhere" during an interview with Bloomberg Television's "Market Makers" on Tuesday. "That is one of the reasons why I wanted to come here to New...
The Knicks need a big — not another point guard — but made official the training-camp contracts for PGs Toure' Murry and Chris Smith J.R. Smith's brother. Murry is a 6-5 point guard who excelled at the Las Vegas Summer League after which Knicks GM Glen Grunwald said he expected him at training camp. But the need for a point guard ended when they signed veteran Beno Udrih...
image from: nba.com There has been a lot of talk this summer about next summer (as there always is in the NBA), and the future destinations of Knicks SF Carmelo Anthony and Heat SF LeBron James have been the center of this chatter. Carmelo Anthony and LeBron James have both stayed pretty quiet about this topic, but Carmelo Anthony has come out and made things a bit more clear about...
Carmelo Anthony can become a free agent after the upcoming season but he gave the strongest indication yet that his plan is to re-sign with the Knicks. "I'm not going nowhere" Anthony said during an interview Tuesday with Bloomberg Television's "Market Markers." Anthony is due to make $23.3 million in the 2014-15 season. If he were to opt out the Lakers...
          Tonights Guest:  Keith Schlosser from KnicksJournal.com and Paul Suellentrop from the Wichita Eagle/Kansas.com. Click Here The post Knicks @ Nite Podcast: Live 9/13 – 10PM Est appeared first on Knickswag.com.
Fall is supposed to be the start to cuffing season, not the end of it. But, Knicks guard Iman Shumpert is back in the game for Team single. His now ex-girlfriend, singer Elle Varner, announced on Twitter that she's single. I'm single….please don't ask me a million questions I won't answer any of them
Carmelo Anthony can become a free agent next offseason, but he gave a strong indication that his plan is to re-sign with the New York Knicks. "I'm not going nowhere," Anthony said during an interview Tuesday with Bloomberg Television's "Market Markers." "That is one of the reasons why I wanted to come here to New York, just so I could take on those...
With the relatively unsuccessful season the Knicks went through last year, Melo has been rumored to want to leave New York and head for greener pastures elsewhere, maybe linking up with another superstar to create a team in the Heat's mold Only two a half years after the Denver Nuggets traded him to the New York Knicks, superstar small forward Carmelo Anthony has...
Last Thursday, two wives of the biggest names in the NBA game got dinner together in West LA as Vanessa Bryant (Kobe Bryant's wife) and La La Anthony (Carmelo Anthony's wife) grabbed some grub at trendy Madeo restaurant. Below is an Instagram image of the two smiling together that Kobe's wife posted to her account: *** Vanessa Bryant and La La Anthony have dinner together [Lakers Nation]
2014 free agency potentially looks to be almost enticing as that all-time 2010 class that led to the Big 3 joining forces in Miami. Carmelo Anthony could have his choice of teams as his current deal expires after this season. For the most part Anthony hasn't seemed to want to talk about his future that […]
Charlotte Bobcats: Bobcats' All Time Starting 5 By Mike Elworth: Owner and Publisher/Hoopstuff…… * This isn't a very impressive list, but after only 8 years in the NBA, they don't have much to work with sadly, but this is the best they have ever had. PG: Kemba Walker- 2 seasons - Raymond Felton was originally the choice, but after some thought, Walker's 2013 season was...
NBA News

Delivered to your inbox

You'll also receive Yardbarker's daily Top 10, featuring the best sports stories from around the web. Customize your newsletter to get articles on your favorite sports and teams. And the best part? It's free!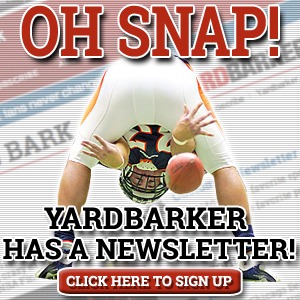 Latest Rumors
The Backyard

Today's Best Stuff

For Bloggers

Join the Yardbarker Network for more promotion, traffic, and money.

Company Info

Help

What is Yardbarker?

Yardbarker is the largest network of sports blogs and pro athlete blogs on the web. This site is the hub of the Yardbarker Network, where our editors and algorithms curate the best sports content from our network and beyond.