Found July 23, 2012 on Comedic Prose:
Kobe Bryant of the Los Angeles Lakers recently came out in support of Pau Gasol for some inexplicable reason. He said, "As long as I'm there, he's going to be there." Now I didn't know Gasol needed support. Perhaps I'm wrong, but I don't think real basketball games are being played. Sure there's this Olympic allusion, but those can't be considered real games when the USA have all the best players. So it is the offseason. Pau needs Bryant's support in December when Mitch Kupchak is trying to trade him. So why does Kobe Bryant come out with this statement, because he's exercising his old man filter.
Eventually everyone gets to the age where they don't care about public perception anymore. Usually you start unknowingly offending people and limit your wardrobe to 2 pair of shoes (They also wear those tube socks with the stripes at the top). This is what's going on with Kobe Bryant, save the 2 pair of shoes.
Kobe knows Pau Gasol is a great player, and that will help him win another championship. He also knows that Gasol is more sensitive than a newborn albino baby with a peanut allergy. So it only makes sense that Kobe would come out and support Pau. All of those things make logical sense. The weird thing is the timing. However that can be chalked up to Kobe's old man filter.
So Kobe Bryant is fine there's no need to go to his house and debate this on ESPN: First Take. This is just an old man embracing his swagger. And if this is any sign of what's to come in the future. I'm going to love the last few years of Kobe's playing career.
Editor-in-Chief of Comedic Prose
Follow Kortney Williams on Twitter @kortneyshane

Original Story:
http://comedicprose.com/2012/07/23/ko...
THE BACKYARD
BEST OF MAXIM
RELATED ARTICLES
Kobe Bryant is no longer a young man. He may be only 33 years old, but Kobe has been in the NBA for what feels like forever. He can't just roll out of bed, show up at the arena, take a few jump shots and be ready to go. Since he is also competing in the Olympics this year, Bryant has had to go the extra mile to make sure his body can handle the additional work load without compromising...
You think Kobe Bryant has backed off his widely discussed and controversial belief that the current U.S. Olympic hoops team would beat the 1992 Dream Team? Think again. After all, this is Kobe Bryant we're talking about. The debate that seemingly doesn't want to go away was revived again on Saturday in Spain when Kobe was asked if he's reconsidered his stance. Nope. "People...
Kobe Bryant shed 16 pounds to prepare his body for the Olympics.
They carry cameras and microphones, sprinting toward Kobe Bryant like Christmas shoppers who just spotted the "it" gift sitting on shelves. Their questions come quickly, some in English, many in Spanish, and Bryant gives the perfect answer every time. Yes, Spain is an incredible team that can pose problems for the U.S. No, Pau Gasol isn't getting traded from the Lakers...
While preparing for the 2012 Olympic games and answering questions from a Spanish reporter, Kobe Bryant endorses Pau Gasol… Finally. Photo: LA CANVAS/Flickr Kobe Bryant said "As long as I'm there (with the Lakers), he's (Pau Gasol) going to be there." Pau Gasol saw the news and went out of his way to Tweet about his all-star teammate, thanking him for the kind words...
Could the 2012 Team USA beat the 1992 Dream Team? Kobe Bryant thinks so, but Michael Jordan laughs at the idea. First things first, this year's...
Team USA will be dressing a little old school for Sunday night's game against Argentina. Aside from all the chatter about the 1992 Dream Team versus the 2012 team, LeBron James, Kobe Bryant and the rest of the current U.S. squad will sport throwback 1992 uniforms for their 9:30 p.m. tip-off in Barcelona. Members of the 1992 Dream Team and Bryant have taken turns sharing their...
If you have been watching any sport shows lately you have probably seen that Kobe Bryant and Kyrie Irving have agreed to play 1-on-one, with the proceeds going to their favorite charity organization.  Many people think this is a joke, but I have never seen these two players on same level.  We only have one year of statistics referring to Irving's success, whereas Kobe has played...
LeBron James, Kobe Bryant and Kevin Durant show off for Nike and Team USA with their new Olympics-inspired kicks and gold medal aspirations.The post Starting Lineups: LeBron, Kobe And KD Show Off Nike's Olympic Hyperdunk+ iD, Kobe VII System And KDIV iD appeared first on The Sports Fan Journal.
It's the greatest internet fantasy geek tournament ever created, and it starts now.  Plus it's a hell of a way to pass the off season rumor mill and FA period by. That's right we have brought to The Sports Headquarters for the first time the All Time NBA Mock Draft. The basis of the competition is simple, we took every NBA player that has ever laced them up and made them...
No NBA franchise has filled more holes and managed to make more sound basketball decisions than the Los Angeles Clippers. The Clips most recent signing of oft-injured, but renowned NBA good guy Grant Hill, was the final jack move in a string of free agent robberies that have snatched the city of Los Angeles from the Lakers and handed it to the Clippers. Yes, Los Angeles...
  While Pau Gasol may be enamored with Kobe Bryant and typically follows Bryant's train of thought,  Pau's little brother, Marc Gasol, does not. In the recent media-inspired Dream Team vs. 2012 Team debate, Gasol kind of laughs off the foolishness of it all via HoopsHype. Even former Denver Nugget, Rudy Fernandez, believes the Dream [...]
Lakers News

Delivered to your inbox

You'll also receive Yardbarker's daily Top 10, featuring the best sports stories from around the web. Customize your newsletter to get articles on your favorite sports and teams. And the best part? It's free!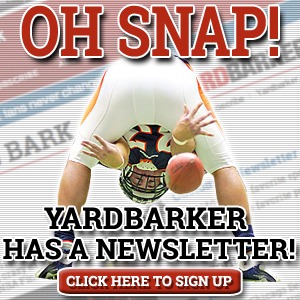 Latest Rumors
The Backyard

Today's Best Stuff

For Bloggers

Join the Yardbarker Network for more promotion, traffic, and money.

Company Info

Help

What is Yardbarker?

Yardbarker is the largest network of sports blogs and pro athlete blogs on the web. This site is the hub of the Yardbarker Network, where our editors and algorithms curate the best sports content from our network and beyond.