Found May 19, 2012 on Fox Sports:
After 16 seasons, you accept the proposition as a postulate: as Kobe Bryant goes, so do the Lakers. So there were moments that felt like a seismic shift, not just in Game 3 of the Western Conference semifinals between the Lakers and the Thunder, but in The Game itself. The transition is inevitable. Even the most possessed of souls, even Kobe Bryant, must bow to time. Toward the end of the first half, Thabo Sefolosha pinned his shot on the backboard. And in the final minute of the second half, there was a sequence that saw Bryant miss twice - at 53 and 47 seconds - with the Lakers down a point. Bryant himself was undiscouraged and undeterred. "I could finish running a marathon and I'm still thinking shoot first," he said. But you couldn't help but think that as a witness to the beginning of an end, a succession. Kobe Bryant's time, like that of his team, has an expiration date. The Thunder, on the other hand, have a Big Three as good, or better, than any in the sport. Kevin Durant and Russell Westbrook are each 23. James Harden is 22. Their time has just begun. So when Bryant missed again with 47 seconds, you figured the Lakers would go down 3-0. You don't come back from 3-0. But more than that, it would be years before they could close the gap with Oklahoma City. By then, the Lakers would be in their post-Bryant era. Bryant, of course, had other ideas. If he couldn't win the game from the field, he'd win it from the line. As it happened, he hit four free throws in the final 33.8 seconds of a 99-96 win. Those signs of his age? Perhaps they were a bit too subtle. Or, perhaps, they weren't really there. Either way, he finished with 36 points, 7 rebounds, 6 assists. It's worth mentioning that a couple of those baskets came at the expense of his great friend and former teammate, Derek Fisher. "It was the same result all those times we played one-on-one in the gym," said Bryant. "I love him, but he's a midget." If not for Fisher, Bryant's shooting percentage would be even more dismal than it was at 9 of 25. Still, the story of the game was Bryant going 18 for 18 from the line. Again, as Bryant goes so does his team. The Lakers shot 41 of 42 from the line. That's the second best percentage (minimum, 30 attempts) in NBA post-season history (the other being the Mavs at San Antonio, May, 2003, 49 of 50 attempts). "We put him on the line too many times," said Thunder coach Scott Brooks. "We fouled too many times. That's the bottom line. Forty-two is a high number...a lot more than they average. We were using our hands and fouling too much." Another thing about the foul line: it dictates the game's tempo. Frequent trips to the line afford the older, slower team a chance to catch its breath. That's what this series is really about, tempo as a metaphor for time. "If it's an up and down game, we don't have a shot," said Bryant, noting the Thunder's propensity to strike like lightning, unleashing 7 and 8-point runs in a minute or less. "We have to just slow the game down and play our pace, play our tempo. If we control the pace we'll give ourselves a great opportunity." "If we can make them play half-court basketball, we'll have a better chance," said Lakers coach Mike Brown. And how do you make it a half-court game? You make it physical, very physical. You play rugged defense (as Andrew Bynum and Metta World Peace did), and you hit your free throws (Bynum, by the way, had the Lakers only missed free throw and went 11 for 12 from the line). "Our guys did what they were supposed to do," Brown continued. "It's a grind-out a game and you're not going to get any better look than you will at the free throw line...The team that's most physical is going to win. That's all there is to it." Oklahoma City seemed to take great pride in its own physicality and toughness. "We're not afraid to mix it up and play defensive basketball," said Brooks. "People think all we want to do is run." "We could play any type of basketball," insisted Durant. Perhaps, but you couldn't help but think that the Thunder just might be getting suckered. They may be good enough to beat the Lakers in a half-court game. But why try? Pride is nice. Fresh, young legs are better. By this time tomorrow, these teams will have played again. By then, you'll know whose tempo they played, and whose time it is.
Original Story:
http://msn.foxsports.com/nba/story/Ko...
THE BACKYARD
BEST OF MAXIM
RELATED ARTICLES
That is snot egg on Kobe's face! (lame joke alert) Kobe Bryant let it all hang out on Friday night during the Los Angeles Lakers 99-96 victory, including this huge booger. The cameras caught this unflattering image of snot falling out of Bryant's nose and settling right above his mouth. When you put up 36 points, 7 rebounds, & 6 assists, it doesn't matter if you have...
Kobe Bryant went 18-for-18 from the free throw line in the Lakers' gritty Game 3 win over Oklahoma City.
Running out of ideas and time, Kobe Bryant has reached out to fellow superstar LeBron James to solicit James' opinion on other ways Bryant can get Lakers coach Mike Brown fired. Bryant has already been benched, pouted, played selfishly, openly questioned teammates and choke in the waning moments of big games, all of which are techniques James used to successfully get Mike Brown...
Sacrificing your body to take a charge is one of the great momentum builders in basketball. Absorbing the hit from an opposing player coming at you like a freight train takes its toll on the body, but for a lot of players the turnover is worth the sacrifice. Not for Los Angeles Laker Kobe Bryant. To paraphrase Meatloaf, Kobe would do anything for his team, but he won't do that...
Kobe Bryant criticized Pau Gasol for throwing away a pass with 33.9 seconds remaining in the Lakers' 103-100 loss to Oklahoma City on Saturday.
1.The Lakers were up 3-1 on the Nuggets but it took than 7 games to finish the Nuggets. The Lakers won this series because of one player Kobe Bryant. Bryant even battled the flu at the end of the series. For the series Bryant averaged 29.1 points per game, 5 assists and 4.6 rebounds. 2.LeBron James, the league MVP picked off right where he left off in the regular season...
Kobe Bryant has done some great things throughout his NBA career. He's won five NBA titles, and is a 14-time All-Star and a two-time league scoring champion. Those are all great achievements, but does that make Kobe the "The Great One?" Wayne Gretzky is the only athlete fit for that nickname, and a quick look at the hockey great's impressive resume is sufficient...
For my money Kobe Bryant and LeBron James are the two best players in the NBA, with Kevin Durant right are there trail. However in there last playoff games both Bryant and James came up small when it mattered the most. In game two between the Miami Heat and the Indiana Pacers LeBron James was the best player on the court for 46 minutes but at the end of the game he...
By Payton Wales The Lakers are playing from a hole, a very deep hole. Marred by second guesses, lapsed concentrations and some old legs, it's not that the Lakers don't have the tools to dig out of the hole, but, as the old saying goes, the spirit is willing the body (and mind). Well, that's another thing. To make things worse, the Lakers will have to dig on back-to...
LOS ANGELES -- The Los Angeles Lakers had the fight to the finish Friday night in Game 3 of their NBA playoff series against Oklahoma City that they lacked in Game 2. The Lakers rallied from a five-point deficit in the final minutes and earned a 99-96 victory over the Thunder, avoiding the deadly 3-0 series deficit. Kobe Bryant scored 36 points, hitting all 18 of his free throw...
By now, you've heard the story of Greg Oden's derailed NBA career several times. The center is now turing to the "Kobe system" to help get his knees back in NBA shape. Oden has received the same surgery that Lakers Kobe Bryant and Yankees slugger Alex Rodriguez utilized last year. After four knee surgies, including [...]
NBA News

Delivered to your inbox

You'll also receive Yardbarker's daily Top 10, featuring the best sports stories from around the web. Customize your newsletter to get articles on your favorite sports and teams. And the best part? It's free!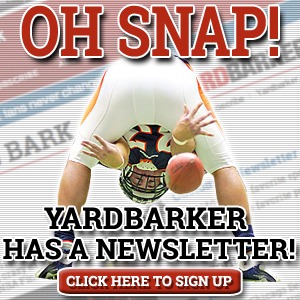 Latest Rumors
The Backyard

Today's Best Stuff

For Bloggers

Join the Yardbarker Network for more promotion, traffic, and money.

Company Info

Help

What is Yardbarker?

Yardbarker is the largest network of sports blogs and pro athlete blogs on the web. This site is the hub of the Yardbarker Network, where our editors and algorithms curate the best sports content from our network and beyond.