Found May 18, 2013 on BlackSportsOnline:
As we've been reporting, Phil Jackson has a new memoir coming out, and in it, he gets in-depth with his Michael Jordan and Kobe Bryant comparison.  Jordan was also more naturally inclined to let the game come to him and not overplay his hand, whereas Kobe tends to force the action, especially when the game isn't going his way. When his shot is off, Kobe will pound away relentlessly until his luck turns. Michael, on the other hand, would shift his attention to defense or passing or setting screens to help the team win the game." "Michael was more charismatic and gregarious than Kobe. He loved hanging out with his teammates and security guards, playing cards, smoking cigars, and joking around," Jackson said in the book, which was obtained in advance by The Times. "Kobe is different. He was reserved as a teenager, in part because he was younger than the other players and hadn't developed strong social skills in college. When Kobe first joined the Lakers, he avoided fraternizing with his teammates. But his inclination to keep to himself shifted as he grew older. Increasingly, Kobe put more energy into getting to know the other players, especially when the team was on the road." Bryant of course is the Black Mamba, and definitely wasn't going to sit by and let Jackson or anyone else take shot at him.  Kobe responded as only he can. Calling the comparison Apples2Oranges, and then took his own shot at Jordan and others by asking how they would react to playing with Shaquille O'Neal. The comparisons are #apples2oranges Wonder what the perception would be if M played wit @shaq instead #differentroles #differentcareerpaths — Kobe Bryant (@kobebryant) May 17, 2013 Jackson's comparison downgrade the talent of Scottie Pippen, and is probably the reason Pippen reacts with such disdain for Jordan now at times.
Original Story:
http://blacksportsonline.com/home/201...
THE BACKYARD
BEST OF MAXIM
RELATED ARTICLES
Looks like Phil Jackson won't be back to coach the Los Angeles Lakers any time too soon. In his new memoir "Eleven Rings: The Soul of Success" that will be out next Tuesday, Jackson finally compares Michael Jordan and Kobe Bryant as players. Jackson clearly favors MJ over Kobe. Jackson has won 11 championship rings as a coach — six with the Chicago Bulls and five with the...
BUNGLED SITUATION
Phil Jackson talked about the Lakers choosing to hire Mike D'Antoni as head coach despite interviewing him for the job.
In a new book, Phil Jackson writes that charges of a sexual assault committed by Kobe Bryant in 2003 impacted their relationship. Jackson's daughter, Brooke, had been sexually assaulted by an athlete while she was in college, so Bryant's situation "cracked open an old wound." Jackson left the Lakers following the 03-04 season. "The Kobe incident triggered all...
By now we all know the story. The Los Angeles Lakers came into the 2012-2013 with championship aspirations for a team with potentially 4 future Hall of Famers. They struggled out of the gate and decided to fire their then head coach Mike Brown. Speculation runs rampant that the team could bring back legendary coach [...]
In his upcoming book, "Eleven Rings: The Soul of Success", legendary coach Phil Jackson compared the careers of Michael Jordan and Kobe Bryant. "Michael was more charismatic and gregarious than Kobe," Jackson writes. "He loved hanging out with his teammates and security guards, playing cards, smoking cigars, and joking around. "Kobe is different....
There have been many instances where Phil Jackson was asked who he thought was better, Michael Jordan or Kobe Bryant. Since Jackson coached both superstars he would know better than others who try and weigh in on this issue. When he coached MJ they won six NBA titles together and just one less when Phil was in L.A. with Kobe. Countless times he was asked and as per usual Phil would...
The Lakers soap opera doesn't end just because the season does. As Phil Jackson begins press for his new book, "Eleven Rings: The Soul of Success." excerpts are being released to the public. Phil Jackson weighs in on the age old debate about Kobe Bryant vs. Michael Jordan. Phil compares them as teammates and said that Jordan had the edge in the locker room, in part because...
What is former legendary Chicago Bulls and L.A. Lakers coach Phil Jackson up to now? Well, he didn't reach agreement with the Brooklyn Nets to be their coach. And his first Tweet was…he got off to kind of a "rough start." However, the second tweet from Phil Jackson is in fact a much better story. He showed that he has quite a sense of humor about himself, and came back strong...
Phil Jackson made some of the media rounds to promote his new book Eleven Rings: The Soul of Success, yet another memoir where Jackson tries to impart his wisdom and tell the stories of his coaching successes. The book has gotten some notice for Jackson's first-ever public comparions between Kobe Bryant and Michael Jordan -- a fan boy's dream coming from the one guy...
Phil Jackson is coming out with another book, and I for one can't wait to read it. Phil's insight and approach to the hardwood translate well to hardcover, as few players or coaches can convey their ideology as well with the written word. The new book, aptly titled 11 Rings: The Soul of Success, supposedly focuses a good deal on Kobe Bryant, and it even finds Phil discussing...
Lakers News

Delivered to your inbox

You'll also receive Yardbarker's daily Top 10, featuring the best sports stories from around the web. Customize your newsletter to get articles on your favorite sports and teams. And the best part? It's free!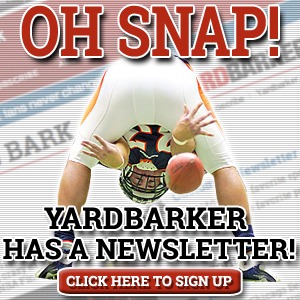 Latest Rumors
Best of Yardbarker

Today's Best Stuff

For Bloggers

Join the Yardbarker Network for more promotion, traffic, and money.

Company Info

Help

What is Yardbarker?

Yardbarker is the largest network of sports blogs and pro athlete blogs on the web. This site is the hub of the Yardbarker Network, where our editors and algorithms curate the best sports content from our network and beyond.