Found July 28, 2012 on Eye On Sports with Eric Williams:
Kobe Bryant believes the current
Olympic team could beat the 1992 Dream team.
Would somebody…anybody…please tell me what the hell is wrong with aging Los Angeles Lakers superstar shooting guard Kobe Bryant?
Just about two weeks ago, Bryant made the foolish suggestion that the current 2012 Olympic basketball team would beat the ballyhooed, beloved and now, legendary, Dream Team that featured 11 NBA Hall of Famers back in 1992 when they took the world by storm as the first NBA players eligible to compete in the Olympics.
My thoughts?
Bryant is taking some sort hallucinogenic because there is absolutely no way today's group of players, particularly in the frontcourt – and it's easy to see that the '92 Dream Team would likely blow out their counterparts of today – and guess what, m man Charles Barkley – among others – agrees.
"Well, just from a basketball standpoint, they obviously have a lot more size than we do -- you know, with (David) Robinson and (Patrick) Ewing and (Karl) Malone and those guys," Bryant told Yahoo! Sports a couple of weeks back.
Hall of Fame forward Charles Barkley basically laughed at Bryant's suggestion in an interview on The Mike Missanelli Show on 97.5 The Fanatic
Philadelphia
.
"Oh yeah, that's no disrespect," Barkley said. "I ain't got to badmouth them. But like I said, their point guards weren't going to beat us. That's a no-brainer."
I have to agree with Barkley, there's no way today's Olympic hoops team would have been able to stop – or even slow down – the 1992 Dream Team's frontcourt.
After opening mouth and promptly inserting foot, Bryant then made an even more foolish comment and one that showed he may need a little bit of help with his math homework too, providing me, Barkley and every other sensible hoops fan with a load of laughter.
"But they were also -- some of those wing players -- were also a lot older, at kind of the end of their careers. We have just a bunch of young racehorses, guys that are eager to compete. So I don't know. It'd be a tough one, but I think we'd pull it out."
"I just started laughing," Barkley said. "How old is Kobe Bryant? He's 34? And he's calling us old? At the time, we were only like 28, 29. Michael Jordan and me were the same age. We were both 29. Other than
Kobe
, LeBron and Kevin Durant, I don't think anybody else on that team makes our team."
I have to agree with Barkley that, outside of the aforementioned trio, no player on today's Olympic team even makes the 1992 Dream Team, though I will admit that Chris Paul could easily replace John Stockton in my opinion, but then again, Isaiah Thomas should have been a member of the 1992 Dream Team and he wasn't so, in that case, Paul wouldn't have made the '92 squad.
Original Story:
http://eye-onsports.blogspot.com/2012...
THE BACKYARD
BEST OF MAXIM
RELATED ARTICLES
Kobe Bryant sparked a massive debate when he said earlier this month that the current Team USA basketball squad would beat the Dream Team. After reiterating his stance to reporters, Bryant has finally backtracked and admitted that the Dream Team was better. "I didn't say we were a better team," Bryant said Friday at an introductory Olympic news conference, according to the...
Barcelona Girls: "Lo siento, Mr. Kobe, for spilling a drink on thee." Kobe Bryant: "No problema chicas. (*Takes shirt off.) I'm on vacation. You ladies down for some forced penetration?" [Follow me @TravisHouser]
The U.S. men's basketball team has won its Olympic opener, beating France 98-71 behind 22 points from Kevin Durant. Kevin Love added 14 and Kobe Bryant had 10 for the Americans, who led by a point after one quarter Sunday but made six 3-pointers in the second on their way to a 52-36 halftime lead. Durant and Bryant opened the third with 3s, and the reigning gold medalists cruised...
Not that there's any pressure for the rock stars of the United States delegation to roll through the Olympic field and win a basketball gold medal, but as Kobe Bryant wryly noted: "We probably won't be allowed back in the country if we don't win." That drew chuckles from the few dozen reporters who had crowded around Bryant on Friday when the men's basketball...
LONDON (AP) -- The U.S. men's basketball team has won its Olympic opener, beating France 98-71 behind 22 points from Kevin Durant. Kevin Love added 14 and Kobe Bryant had 10 for the Americans, who led by a point after one quarter Sunday but made six 3-pointers in the second on their way to a 52-36 halftime lead. Durant and Bryant opened the third with 3s, and the reigning gold...
The folks over at Fooducate (a website that promotes better eating habits) recently posted this faux advertisement featuring a picture of some Team USA hoop stars with an interesting tag line.Below is the advertisement itself which features a photo of Kobe Bryant, LeBron James, and Carmelo Anthony in Team USA jerseys with the tagline, "Just Gotta Have Another Big Mac And Coke...
LeBron James has become the latest member of Team USA to declare that this year's Olympic basketball squad would defeat the 1992 Dream Team if the teams met in a game. The NBA's regular season and Finals MVP joined teammate Kobe Bryant in saying that the 2012 squad would pull it out over the gold medal-winning team from 20 years ago. "The '92 Dream Team paved the...
Kobe Bryant sparked a huge debate a few weeks ago when he said that the 2012 Men's Olympic Basketball team could beat the 1992 "Dream Team". Michael Jordan laughed, Scottie Pippen said the 'Dream Team' would win by 25, and Charles Barkley called people "knuckleheads". In all reality, the 2012 team is more athletic, explosive and has more 'pure' scorers than...
While the Dream Team of 1992 has been getting most of the fanfare heading into this year's Summer Olympics, the U.S. Men's Basketball team of 1996 was also pretty good. That team, which included Charles Barkley, Grant Hill, David Robinson, Scottie Pippen, Shaquille O'Neal, Karl Malone and Grant Hill, never won by less than 30 points on the way to the gold medal. With...
While the Olympics are home to the best athletes in the world, there are some competitors that stand out above all the rest. The U.S. has been fortunate to have many of the best Olympic athletes represent them at the Games. Michael Phelps has been a dominant force in the pool over the last decade, taking home 16 Olympic medals in the last two Games. Teammate Ryan Lochte is his biggest...
2012-2013 Rip City Opponents The 2012 NBA offseason is underway. The NBA draft has been completed, the NBA summer league in Las Vegas is over, all there is to do now is sit back and watch some USA basketball from the Olympics. Onto present matters. The 2012/13 National Basketball League schedule came out today. The Rip City roster has six new names on it since June's NBA draft...
A few weeks ago Lakers star and 2012 Olympian Kobe Bryant made waves when he boldly suggested the current Olympic Men's Basketball team could defeat the original 1992 "Dream Team," a team which consisted of no less than 11 players now in the NBA Hall of Fame.  The 1992 team easily won the gold medal in Barcelona in what was the first year that NBA players were...
NBA News

Delivered to your inbox

You'll also receive Yardbarker's daily Top 10, featuring the best sports stories from around the web. Customize your newsletter to get articles on your favorite sports and teams. And the best part? It's free!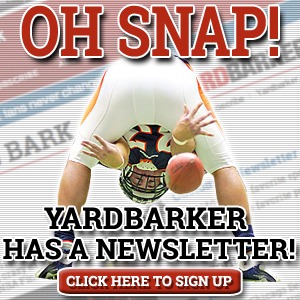 Latest Rumors
Best of Yardbarker

Today's Best Stuff

For Bloggers

Join the Yardbarker Network for more promotion, traffic, and money.

Company Info

Help

What is Yardbarker?

Yardbarker is the largest network of sports blogs and pro athlete blogs on the web. This site is the hub of the Yardbarker Network, where our editors and algorithms curate the best sports content from our network and beyond.