Posted June 07, 2013 on AP on Fox
PLAYERS:
George Karl
,
Danilo Gallinari
,
Joe Sakic
,
Carmelo Anthony
,
Andre Iguodala
,
Lionel Hollins
,
Brian Shaw
TEAMS:
Denver Nuggets
,
Toronto Raptors
,
Colorado Avalanche
,
New York Knicks
,
Golden State Warriors
,
Brooklyn Nets
,
Memphis Grizzlies
,
Indiana Pacers
,
Los Angeles Clippers
Denver Nuggets President Josh Kroenke said Friday that it was hard to let both the NBA's executive of the year and its coach of the year get away following a franchise record 57-win season, ''but I'm not here to win awards, I'm here to win banners.'' Kroenke said he wasn't going to stand in the way of Masai Ujiri leaving for his dream job as GM of the Toronto Raptors last week and he couldn't stomach watching George Karl serve as a lame duck next season, so he fired him Thursday. Ujiri and Kroenke had a handshake agreement on a new deal earlier this year, but Kroenke said the one team he would allow to step in and break up their partnership was the Raptors, the team that had given Ujiri his first shot at a front office job. He said Ujiri told him not to try to match the reported five-year, $15 million offer from Toronto because he'd already made up his mind he wanted to return to Toronto. Karl had one year left on his contract with a three-year team option and he sought to parlay his Coach of the Year award and the best regular season in franchise history into a long-term extension, something Kroenke wasn't prepared to do. So, Kroenke cut ties with the man who finished first or second in the division during each of his nine seasons in Denver. ''It was just a situation where I thought it was best for us to take a step back now than take a giant leap forward,'' Kroenke said. With leading scorer Danilo Gallinari expected to be sidelined at least until February - he has yet to get the ACL he tore late in the season surgically repaired - Kroenke said he foresees perhaps a slow start next season, which would have put Karl in a difficult position. At any rate, Kroenke said he wasn't sure Karl was the man he'd want on his bench a year from now. So, he gave the pink slip to the man he so deeply respects that he mentioned him two dozen times during a 40-minute news conference on how ''tough'' it was to fire him. Karl isn't expected to be out of work long, and at one point Kroenke even said, ''any NBA team that doesn't take a look at George Karl right now is foolish.'' Kroenke said he has no deadline for hiring their replacements and won't necessarily hire a general manager before selecting his next coach to guide a young team that's reached the playoffs 10 straight seasons but advanced out of the first round just once, in 2009. Last month, Kroenke added president of the NHL's Colorado Avalanche to his plate, then overhauled the hockey team's front office, promoting former team captain Joe Sakic to executive vice president and bringing former superstar Patrick Roy back as coach. But his background is in basketball, where he'll continue to be hands-on after he overhauls the Nuggets front office. After all, he had final say on all matters when Ujiri was rebuilding the Nuggets, beginning with the Carmelo Anthony trade in 2011. ''I don't think I'll be going up to Joe and telling him how we need to improve our blue line,'' Kroenke said. ''But I also think I have a pretty good opinion on how we can construct a basketball roster. I've been a basketball sponge my whole life.'' Ujiri and Karl did a masterful job with the Nuggets last season, taking the NBA's third-youngest team to the third-best record in the Western Conference and using a deep roster to go an NBA-best 38-3 at home. But their regular season proved once again to be fool's gold as their up-tempo style didn't work as well in the postseason and they sorely missed Gallinari as they were bounced from the first round of the playoffs yet again, this time by the Stephen Curry-led Golden State Warriors in six games. The Nuggets might also lose their best defender, Andre Iguodala, who can opt out of his contract and become a free agent this summer. Kroenke said he doesn't expect wholesale changes to his roster but wouldn't rule anything out. ''My main message is no matter who is in the front office or on the coaching staff or on the court, our mission is the same and that's to bring an NBA championship to Denver,'' Kroenke said. While fans were excited about the changes in the Avalanche after years of mediocrity, the reaction to Kroenke's shake-up of the basketball side was more mixed. ''And I understand that there could be some unease out there just based on the awards that were recently won,'' Kroenke said. ''It was a very successful regular season, 57 wins, coach of the year, executive of the year, but at the end of the day, I'm not here to win awards, I'm here to win banners.'' Still, he said Karl's playoff failures weren't the reason he decided to fire him, saying it's just that he didn't want to commit long-term to him right now. Kroenke said he foresaw Ujiri's departure, not this summer but a couple of seasons ago when they were in Toronto for Karl's 1,000th win. He also began to realize earlier this spring that Karl might also exit. ''My worst-case scenario that I kept coming back to was we're obviously going to start next season without Gallinari and for me, it would be a tough situation to put George in knowing that he might want to restructure his contract already,'' Kroenke said, ''and if he's on the final year of his contract, and we start off slow, that would be an impossible situation to put a coach of that stature in. ''I have the utmost respect for George Karl as a coach and as a person and I did not want to put him in that situation. And I felt that while it was a tough decision, I felt that it was the right one to make at this point in time and for all of us to get a fresh start moving forward because I think George might want to coach for a few more years and there are a lot of wonderful opportunities that are currently out there.'' The Los Angeles Clippers, Brooklyn Nets and Philadelphia 76ers also have head coaching vacancies and the Memphis Grizzlies have given coach Lionel Hollins permission to speak with other teams. Hollins and Indiana Pacers assistant Brian Shaw have been mentioned as possibilities in Denver, but Kroenke declined to discuss potential candidates. Kroenke said he's open to the next coach coming in and changing the Nuggets' style of play. Going back to their days in the ABA, they've played a run-and-gun style to capitalize on the altitude, but when teams slow things down in the playoffs and are in Denver for extended stays, that benefit dissipates. Although Kroenke appreciates the advantages of altitude, saying you can feel it whether you're on the treadmill at a hotel in downtown Denver or on the court at the Pepsi Center, his new coach will have the option of going with a halfcourt, grind-it-out style if he sees fit. ''I'm going to look at a lot of different people and a lot of different styles,'' he said.
Original Story:
http://msn.foxsports.com/nba/story/Kr...
THE BACKYARD
BEST OF MAXIM
RELATED ARTICLES
Quite a few people were surprised by the Denver Nuggets' decision to fire George Karl on Thursday morning. Among those surprised by the decision to let go the same man who was named 2013's Coach of the Year just 29 days ago were several NBA players. Here is a look at some of the shocked tweets that were posted around the league after news came down about Denver's surprising...
Denver Nuggets management disagreed with George Karl's playoff adjustments and minute distribution decisions, according to sources with knowledge of the dynamic. Nuggets management believed Karl panicked by trying to match up with the Golden State Warriors' small-ball approach after Game 1 of the Western Conference quarterfinals. JaVale McGee's playing time was also a source...
After leading the Nuggets to a 57-25 record and the 3rd seed in the Western Conference Playoffs, George Karl was named this season's NBA Coach of the Year.  Today Denver decided to let go of Karl, despite one year remaining on his contract.  From Yahoo! Sports Adrian Wojnarowski: Denver has parted ways with coach George Karl, league source tells Yahoo! Sports. — Adrian Wojnarowski...
I'm not a Karl fan, but this move was surprising.
When a team from the Association's bench boss, becomes "NBA Coach Of The Year," one would think that head coach would be rewarded by his franchise, perhaps with a bonus. To the surprise of many NBA observers, things did not work out that way in Denver, as the "Denver Post" reported the Nuggets announced on Friday, that they have fired veteran bench boss George Karl, weeks...
Coaching at the pro level is never easy. Just ask George Karl. He won this year's NBA Coach of the Year award, but now he will be looking for a new gig. Today the Denver Nuggets announced that they fired Karl. The Nuggets team president Josh Kroenke talked about why Karl was let go. He released a statement saying, "George has been an instrumental part of our success over the...
George Karl will not return as coach of the Denver Nuggets next season. The team chose to part ways with Karl, who had one year left on his contract, on Wednesday. FOXSports.com's Bill Reiter confirmed the news through an NBA source. Karl was reportedly pushing for a contract extension, but Nuggets ownership wasn't ready to give him one. Karl lost one of his biggest supporters...
A source close to George Karl tells FOX Sports that the former Denver Nuggets head coach has yet to talk to anyone associated with the Los Angeles Clippers, Memphis Grizzlies or New Jersey Nets but speculated that the Clippers might be the most likely fit. The source, who stressed it's too early in the process to make any hard proclamations about Karl's next job, also described...
According to Adrian Wojnarowski of Yahoo! Sports, the Denver Nuggets have fired the NBA's Coach of the Year, George Karl. The team already plans to reach out to Memphis' Lionel Hollins and Pacers assistant, Brian Shaw, to fill their vacancy, however, those candidates are also being pursued by the Brooklyn Nets and Los Angeles Clippers. The Nuggets, who are now without the Executive...
Maybe Carmelo Anthony was right. It has been a lot of fun to disparage Anthony over the last 2 1/3 years. While the gifted scorer has been mired somewhere just outside of real championship contention in a thin Eastern Conference, his former team, the Nuggets, has become a cause celebre among traditionalists for continuing to make playoff appearances without a bona fide superstar...
The Clippers appear to be moving forward in their search to find a new coach and are focusing on Lionel Hollins, Brian Shaw and George Karl, said NBA executives who were not authorized to speak publicly on the matter. Hollins, whose contract with the Memphis Grizzlies expires June 30, had a lengthy telephone conversation Thursday with Gary Sacks, the Clippers' vice president...
NBA News

Delivered to your inbox

You'll also receive Yardbarker's daily Top 10, featuring the best sports stories from around the web. Customize your newsletter to get articles on your favorite sports and teams. And the best part? It's free!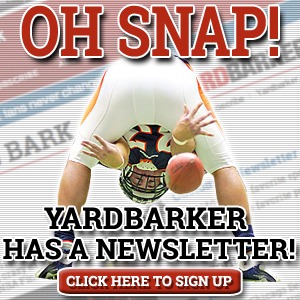 Latest Rumors
The Backyard

Today's Best Stuff

For Bloggers

Join the Yardbarker Network for more promotion, traffic, and money.

Company Info

Help

What is Yardbarker?

Yardbarker is the largest network of sports blogs and pro athlete blogs on the web. This site is the hub of the Yardbarker Network, where our editors and algorithms curate the best sports content from our network and beyond.