Found December 19, 2011 on Waiting For Next Year:
It's only been seven quarters of high-level pick-up basketball, but rookie point guard Kyrie Irving is already giving Cleveland a reason to be excited about the upcoming compressed NBA season.
During Friday night's preseason bout in front of approximately 27 Pistons fans in Auburn Hills, Michigan, Irving came off of the bench for the Wine and Gold, but finished the contest with a team-high 21 points. While his shot selection and handful of turnovers were that of a 19-year-old getting his first taste of NBA action, his willingness to be aggressive attack the rim led to 15 visits to the charity stripe in just 26 minutes of play. The kid also added two steals, one of which ocurred less than two minutes after he had checked in and led to foul in transition and two of his 15 free throw attempts.
As an encore, in front of a home crowd during the team's three-quarter scrimmage on Sunday afternoon, the first-overall pick in the 2011 NBA Draft finished with 14 points, nine assists and six rebounds in 31 minutes of play. Irving also had the key to Lob City, tossing three alley-oop passes which were appropriately slammed home by his teammates and adding in a gentle dunk of his own.
"Great team win for us," Irving tweeted followig the 91-87 win over the Pistons. "[A] learning process everyting single game for my team and me."
A learning process, indeed.  While many had expected the Cavaliers to retain point guard Baron Davis to help mentor the rookie point guard, the team felt that head coach Byron Scott would ultimately be the best mentor.  Coming off of the bench behind Ramon Sessions – also an aggressive, quick player – early on will only help the transition between a collegiate career which was hampered by a foot injury to the NBA where he will be asked to carry teammates on his back for the foreseeable future.
"I really don't have this attitude where I need to start or feel like I should start," Irving told the media on Thursday afternoon. "I feel like my play will dictate that and as we continue to grow through training camp, hopefully I'll be a starter. If not, I'll come off of the bench and give my teammates my energy off of the bench."
Even if Irving continues to come off of the bench, something that would not be anticipated to last long into the season, he is providing the Cavaliers and their fans with the most versatile point guard since the days of Terrell Brandon. Some already consider him to have the best mid-range game on the team, bettered in distance by only Daniel Gibson and Omri Casspi.  Criticized for his speed, especially when compared to last season's first-round selection John Wall, Irving was quick to show fellow rookie Brandon Knight that quickness isn't just measured in timed a 40-yard dash. And while he may not be anywhere near the All-NBA skill level of a Derrick Rose, Irving's willingness to take contact and get to the free throw line to help his team on a night where the jump shot merely wasn't falling speaks volumes. Though it may not be represented in the box score, the composure and confidence is already present.
Irving is bound to have his ups and downs.  For all of the praise the aforementioned Wall received early in his rookie season, he also missed a handful of games due to injury and provided 22 contests where he amassed at least five turnovers, frequently venturing into the sevens and eights.  He's bound to miss a game-winner; the inevitable 3-for-15 night will leave some fans scratching their heads.  But in the end, Irving will be the main piece of the puzzle which Byron Scott and Chris Grant have been tasked with putting back together.  His high-level of play, especially when considering that he is merely 19 years of age, coupled with his all-around pleasant personality and never-fading smile will finally give Cavalier fans a reason to hope.
We are talking about a kid growing up in a landscape of egos, fellow NBA players looking to build their own Mount Rushmores merely replicating their own face four times over, who passed up the opporunity to receive considerable endorsements via the channels of LRMR and Creative Artists Agency and chose his agent due to his beliefs surrounding philanthropy and community service; his agent Jeff Wechsler's pitch involved the Best Buddies program and the power of giving back.  Never getting tangled in the web of agents providing funds at a collegiate level, not willing to be bought by slideshows signifying Hollywood glam; a stark contrast compared to what the Cavaliers front office endured with it's last first-overall pick.
No one knows what the 2011-12 season holds in terms of a win-loss record for the Cavaliers.  But with a season of transition long in the rear view and Irving officially in tow, it's safe to say that the Wine and Gold is finally taking steps in the right direction.
–
(AP Photo/Carlos Osorio)
Original Story:
http://www.waitingfornextyear.com/201...
THE BACKYARD
BEST OF MAXIM
RELATED ARTICLES
Kyrie Irving made a strong impression on Cleveland fans during the Cavaliers' free scrimmage at Quicken Loans Arena on Sunday. Irving received the loudest ovation during player introductions and the No. 1 overall draft pick from Duke quickly provided a couple of highlights. Less than a minute into the game, he threw an alley-oop pass to Omri Casspi that resulted in a dunk....
CLEVELAND -- Im back, which means you can plan on reading me gush about rookie point guard Kyrie Irving in my latest batch of Cavaliers observations: Irving probably wasnt as impressive in Tuesdays 90-89 loss to visiting Detroit as he was in the first preseason game (or Wine & Gold Scrimmage, for that matter). But one thing I've noticed about the kid is when hes on the...
Kyrie Irving was impressive in his Cavaliers debut, scoring a game-high 21 points in Cleveland's 91-87 win over the Philadelphia 76ers during preseason play on Friday night. Irving was taken with the No. 1 overall pick out of Duke in this year's draft. Irving started the game on the bench before logging 27 minutes. He shot 4 of 14 overall but made 13 of 15 attempts from...
The Detroit Pistons are not a good team. In addition to the obvious qualifiers like Friday's Cavs / Pistons match-up was a preseason game following a four month lockout featuring two Rookie PG's essentially matched-up against each other, we can't gloss over the fact that Detroit will be awful this season.  This first performance from Kyrie Irving in particular wasn&...
I can watch Kyrie Irving play basketball for ten straight hours and not be bored.  That was my biggest takeaway after last night's Cavs / Pistons Preseason rematch to end the preseason.  Irving is the type of good player that the casual fan, or maybe somebody who doesn't even watch basketball all that much, just knows is good from watching him for a few minutes. He'...
Byron Scott chooses his public comments about Kyrie Irving with great care. Cleveland's coach doesn't want to say what he really thinks about his talented rookie, the kid who may make the Cavaliers relevant again. Scott's eyes give his feelings away. There's an understanding look, an I've-seen-this-before manner from Scott, who knows a thing or two about point...
Kyrie Irving made a strong impression on Cleveland fans during the Cavaliers' free scrimmage at Quicken Loans Arena on Sunday.
How does one evade all the hype, expectations, and pressures of being the number one overall pick in the NBA draft?  This day in age I didn't think it was possible to do so, but Kyrie Irving has managed just that, and it's not his own doing.  For better or worse, all of the domino's fell into place for it to happen. In 2003, the Cavs used the number one overall pick to take...
Kyrie Irving made a strong impression on Cleveland fans during the Cavaliers' free scrimmage at Quicken Loans Arena on Sunday.
While We're Waiting serves as the early morning gathering of WFNY-esque information for your viewing pleasure. Have something you think we should see? Send it to our tips email at tips@waitingfornextyear.com. You hate to see players get injured, but it's not the worst thing for this team to have to win games without Sullinger. "Thad Matta's 200th win at Ohio State was anything...
Irving is showing an ability to create a shot when covered and the shot-clock ticking down, a critical need for the Cavaliers.
Some observations on Kyrie Irving and Tristan Thompson's NBA preseason debut. - Your Cavalier starting five? Ramon Sessions, Anthony Parker, Alonzo Gee, Antawn Jamison and Anderson Varejao. Sounds about right. I fully expect Byron Scott to go with his veterans, at least early in the season. - Unsurprisingly, I was much more interested in Cleveland's second unit. When Irving...
NBA News

Delivered to your inbox

You'll also receive Yardbarker's daily Top 10, featuring the best sports stories from around the web. Customize your newsletter to get articles on your favorite sports and teams. And the best part? It's free!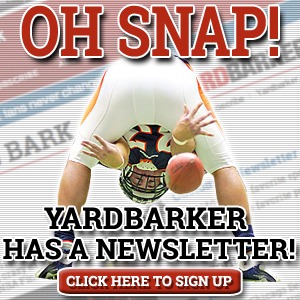 Latest Rumors
Best of Yardbarker

Today's Best Stuff

For Bloggers

Join the Yardbarker Network for more promotion, traffic, and money.

Company Info

Help

What is Yardbarker?

Yardbarker is the largest network of sports blogs and pro athlete blogs on the web. This site is the hub of the Yardbarker Network, where our editors and algorithms curate the best sports content from our network and beyond.