Found November 29, 2012 on Fox Sports:
PLAYERS:
Phil Jackson
,
Donald Sterling
,
Jerry Buss
,
Brian Shaw
,
Dwight Howard
,
Chris Paul
,
Blake Griffin
,
Scottie Pippen
,
Kobe Bryant
,
Vinny Del Negro
TEAMS:
Los Angeles Clippers
,
Los Angeles Lakers
For all the reasons this could never happen -- and there are many -- there's at least one factor that makes the idea of Phil Jackson leaving retirement to lead Los Angeles' other NBA team worth pondering. Vengeance. Yes, Vinny Del Negro still has the job, having coached the Clippers to a respectable 9-6 record after snapping a four-game losing streak against Minnesota on Wednesday night. And even if the Clippers start freefalling again, Donald Sterling could be a roadblock in enticing Jackson. And even if Jackson didn't object to working for Sterling, the frugal owner might balk at bumping up his coach's salary to the $12 million range. It's entirely possible that Jackson's hot-and-heavy flirting with the Lakers after Mike Brown was fired was, in large part, about Jackson needing to feel loved, having power once again over Jim and Jerry Buss and dishing out some post-retirement humiliation to an ownership group he's not exactly tight with. Those are all reasonable reasons to think Jackson would not -- and should not -- leave retirement to coach the Clippers, making this more of a thought experiment than a reasonable option. Here's why it might just be the best crazy idea of the week: Because it turned out the Busses were the ones who humiliated Jackson. The Lakers' owners waited until word spread, probably by Jackson, that he wanted the job before calling him at midnight and telling him they thought Mike D'Antoni was the better fit and they had, in fact, already hired him. They played it just so that they could let the world watch the best soap opera in sports culminate in leaving Jackson embarrassed, empty-handed and forced to let surrogates like Brian Shaw criticize the Lakers for how they handled the whole thing. Which is to say, if humiliation and power is the goal, the Lakers handled it masterly and at Jackson's expense. But winning at that game can have consequences. Revenge makes for strange bedfellows and improbably perfect alliances. Publicly besting Phil Jackson might have felt great, but he's a dangerous target to motivate against you. The Clippers, if they stumble onto any more four-game losing streaks and revert to last year's late-season form, theoretically could end up in the market for a head coach. Del Negro is in many ways like Mike Brown: Hard-working, likable, able, but burdened as much as blessed with a klieg-lights-worthy team in which limping along won't be nearly good enough. He could stay, no doubt, and win. He also could be gone by February. If Mike Brown showed us anything, it's that in this new NBA, huge expectations unfulfilled can lead to the blame falling to head coaches with little or no notice. If that happened, hiring Jackson might be a reminder that your enemy's enemy could be your friend. For the Clippers, in particular, the move would be a boon. Until Dwight Howard blossoms into one of the best players in basketball and turns the Lakers into a dominating force, the biggest star in Los Angeles will remain (an unretired) Phil Jackson. Sterling would get a headliner, a guy who would sell tickets and create buzz, a loss leader (even at millions of dollars for a single season) who legitimizes Sterling's place and provides a counterweight to the idea LA remains unquestionably the Lakers town. The Clippers also would get a head coach capable of taking their promising parts and turning them into the best team in the West. Jackson would get a lot from this pairing as well. He'd have probably the best point guard in the game in Chris Paul -- who, yes, he'd need to fit into his triangle offense by tweaking the system -- a rising star in Blake Griffin and a cast of assorted characters around them begging to be led to a higher place. The master of mind games could do a lot worse for teams to step into and turn into champions than the Clippers. Jackson also would be littered with glory even by his historical standards if he won his 12th championship with the Clippers. This wouldn't be taking Michael Jordan and Scottie Pippen or Kobe Bryant and Shaquille O'Neal all the way. Paul is the real deal, but Griffin, stuck somewhere between superstar and very good player, is hardly a sure hall of famer. That's the good stuff that comes with the Clippers. The joy of sticking it to the Lakers might be just as sweet. By setting up shop in the other locker room, Jackson would be a weekly reminder to the fans, the media, the league -- and guys like Kobe -- what the Buss family passed on. He'd have an eye-to-eye view of a rivalry with D'Antoni that he'd almost surely dominate. He'd get to extend his mind games to two locker rooms, his and the Lakers. And he'd remind the world that the idea that the biggest star in the NBA these past two decades has been Phil Jackson all along - despite going up against teams like these Lakers and their full-loaded roster - isn't so crazy after all. Revenge, ego, success, money, glory and praise and more revenge -- that's the mix the Clippers offer. Did I say it was farfetched? Perhaps. But it's also a combination that sounds made for Phil Jackson. You can follow Bill Reiter on Twitter or email him at foxsportsreiter@gmail.com
Original Story:
http://msn.foxsports.com/nba/story/nb...
THE BACKYARD
BEST OF MAXIM
RELATED ARTICLES
The Los Angeles Clippers today announced that five-time NBA All-Star guard Chauncey Billups will return to action on Wednesday, Nov. 28 against the Minnesota Timberwolves. Billups appeared in 20 games for the Clippers last season before suffering a torn left Achilles tendon on Feb. 6 in Orlando. We are all excited to have Chauncey back, Clippers head coach Vinny Del Negro said...
LOS ANGELES Our record is 7-8 right now, said Laker forward Metta World Peace. That means right now were a 7-8 team. Leave it to MWP to say what most of us are thinking. Fact is, they are a game under .500, and most of the time this season they have absolutely played down to their record. Sometimes, even lower, like the rancid offensive performance against Indiana last Tuesday...
The Los Angeles Lakers have assigned rookie center Robert Sacre to the D-League's Los Angeles D-Fenders. The Lakers made the move Wednesday, shortly before the D-Fenders' season opener. Sacre appeared in eight games for the Lakers, recording two points and two rebounds in 19 minutes of play. He also has gained popularity among Lakers fans for his vociferous cheerleading...
LOB CITY
The biggest news from the NBA Wednesday night was the Boston Celtics-Brooklyn Nets cat fight, and while this isn't an ejection highlight, it still should get you off of your keister and to your feet this morning. Just watch Matt Barnes of the Los Angeles Clippers tossing up this gem for Blake Griffin to throw [...]The post Blake Griffin Powers Home Another Dunk (Video) appeared...
Angry Lakers fan @ArtemBoyajyan was not happy how Joey Crawford called last nights Lakers-Pacers game: 'I hope Joey Crawford gets run over by a truck and then anally raped by a gorilla. F*CK YOU.' There was very little sentiment for Crawford…especially after his douchy dance after he called a blocking foul on Lakers guard Chris Duhon (GIF below). We all know how much of an...
LOS ANGELES - Chris Paul had 23 points and 11 assists, and the Los Angeles Clippers welcomed Chauncey Billups back to the lineup for the first time this season with a 101-95 victory over the Minnesota Timberwolves on Wednesday night. Billups had eight points and three assists in 20 minutes as the Clippers ended a four-game losing streak. The five-time All-Star, beginning his 16th...
The Lakers are thin at point guard with Steve Nash and Steve Blake injured.
We have already seen images of Kobe Bryant's latest shoe the Nike Zoom Kobe VIII "Electric". But today, a photograph was leaked that showed the Kobe VIII's in new a black/red colorway. The Kobe 8 has a very sleek design that feature a hyperfuse/mesh upper and a low-cut profile around the ankle. No release date has been announced for the Kobe VIII  "Bred", so make sure...
GQ recently released a list titled "The Least Influential People of 2012″.  One particular NBA player made that list.  That player, you may ask?  Dwight Howard of the Los Angeles Lakers.  GQ did include an important note that states, Please note that these folks are ranked in no particular order, because all zeros are created equal. With that said, Dwight Howard is listed...
The Los Angeles Lakers lost to the Indiana Pacers Tuesday night, falling back below .500 and they did it in large part to their inability to sink free throws (23-43 from the line), problems shooting in general (31.6 percent from the field), trouble protecting the ball (19 turnovers) and former Spurs guard George Hill. The Pacers were up one with 35 seconds to go when Hill hit...
NBA veteran ref Joey Crawford was really feeling it Tuesday night. Crawford called a blocking foul on this play and even executed a little dance after.   What's even funnier than that? A dance off battle between Crawford and Lakers Chris Duhon… Some of you are seriously creative geniuses with too much time on your [...]
NBA referee Joey Crawford with the blocking foul on Chris Duhon. bubbaprog bwo TBL. Hey! It's Enrico Pallazzo! **Follow us on Twitter. Subscribe, or Return to BobsBlitz.com.Follow us on Twitter.... Full story at Bob's Blitz ~ http://www.bobsblitz.com
NBA News

Delivered to your inbox

You'll also receive Yardbarker's daily Top 10, featuring the best sports stories from around the web. Customize your newsletter to get articles on your favorite sports and teams. And the best part? It's free!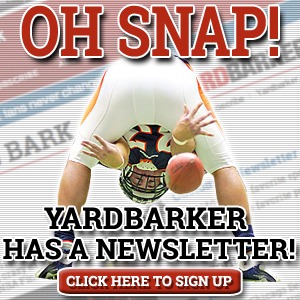 Latest Rumors
The Backyard

Today's Best Stuff

For Bloggers

Join the Yardbarker Network for more promotion, traffic, and money.

Company Info

Help

What is Yardbarker?

Yardbarker is the largest network of sports blogs and pro athlete blogs on the web. This site is the hub of the Yardbarker Network, where our editors and algorithms curate the best sports content from our network and beyond.