Found May 12, 2012 on Fox Sports West:
PLAYERS:
Kobe Bryant
,
Andrew Bynum
,
JaVale McGee
,
Pau Gasol
,
Wilt Chamberlain
,
Bill Russell
,
Hakeem Olajuwon
,
Moses Malone
,
Bill Walton
,
Devin Ebanks
,
Matt Barnes
,
Jim Buss
TEAMS:
Denver Nuggets
,
Los Angeles Lakers
EL SEGUNDO, CA-- The last time the Lakers took a three-games-to-one lead in the NBA Playoffs and then lost it and had to play a seventh game, it didn't turn out so well for them. After losing the first game of the opening round series to Phoenix in 2006, the Lakers worked hard to win the next three by a total of just 14 points. Then the Suns regrouped for the final three games, crushing L.A. by a total margin of 55 points to take the series 4-3, becoming just the eighth team in league playoff history to accomplish the feat. The two teams had met in a similar situation in the 1970 Western Conference Finals, with the Lakers overcoming the odds to win that series and advance to the Finals. Now, the team with the most appearances in playoff history60--is facing the possibility of becoming the ninth team to cough up a 3-1 lead in the post season. The Denver Nuggets are looking to be the history-makers, and Kobe Bryant said he's not totally surprised it's come down to this, especially a team that's grabbed the momentum like Denver has. "I've seen a lot throughout my years," Bryant said, also reporting that he's recovered from his stomach ailment. "I'm not very surprised. You have teams that you (play in) a seven-game series, they play very well, get into a good rhythm and you wind up finding yourself in a dog fight. "(But) they're fun games; every possession counts even more so and there's a lot of energy in the building. There's a sense of desperation on every single possession. It's a fun game to be a part of." Exactly the words you'd expect to hear from one of sport's all-time competitors. But do his teammates feel the same way? The answer to that question will determine the outcome of Saturday's finale. The enigmatic center, Andrew Bynum, looked brilliant defensively in Game One, blocking 10 shots and promising to take control of the series. Since then he's slipped back into a familiar patternexcellent moments followed by long periods of mediocrity. He's seemingly quite comfortable with letting JaVale McGee and the other Denver bigs outplay him, and when Mike Brown takes him out of the game, he won't join his teammates in the huddle. He prefers to put and stare blankly into space. The Lakers will probably be vacationing on Sunday if he plays like that. Pau Gasol, who is probably the Lakers' best all-around talent, has been awful in the last two losses, especially Thursday when he went 1-10 for three points and grabbing just three rebounds. He also felt the wrath of Kobe in the post-game interviews when the Laker star was asked if Gasol and Bynum matched his intensity. "No, of course they didn't." Ouch. Gasol is a prideful player who truly wants to win, so he'll probably take Bryant's ripping to heart. "We've got to be angry at the way we played (Thursday) night, and we have to put everything behind us now," Gasol said. "Now it's just a one-game series, and we have to do whatever it takes to win." The words of a champion who will likely back them up. Bynum is a totally different story. Whether the 24-year old All Star shows up and gives a full effort is likely a game-time decisionby Bynum, himself. Kobe tried to shake the big men from their slumber, speaking with each of them at practice Friday afternoon. "We talked about (their) energy and effort, particularly at the start of the games," he said. "(They need) to get back in transition and stop their bigs from getting easy points. "What happens (against Denver), especially early on, is that their big men run the floor so well that either they're getting points or they're forcing us guards to sink in and provide help. That gives open threes to (Danilo) Gallinari, (Ty) Lawson and (Aaron) Afflalo. "(Bynum and Gasol) really have to hustle and get back in transition." If you judge Bynum's reaction by his post-practice remarks, it's amazing he still can't comprehend that for the Lakers to reach their goalthe Finalshe has to control both ends of the floor. Something he's certainly physically capable of doing, but mentally unaware of it. "Gotta do better on the glassthat's something I can definitely do," he said, "and on the transition defense. Or maybe just bail out on the offensive glass and get back (in transition)." So, according to those statements, Bynum could control the offensive rebounds, yet he's thinking of just taking off following any Laker shot attempt so he can get back on defense. Someone needs to explain to him that he's allowed to do both. Just ask Wilt Chamberlain, Bill Russell, Hakeem Olajuwon, Moses Malone, Nate Thurmond, Bill Walton or about a hundred other big men who've played the game on both ends consistently. It's a wonder Brown hasn't lost his mind yet, trying to get through to someone who is supremely talented, yet just doesn't get it. Perhaps the most bizarre aspect of this Game Seven is that the player who can make the biggest differenceother than Kobeis coming off a seven game suspension. Metta World Peace's unwanted vacation came as he was apparently auditioning for a role in the "300" sequel, throwing a full-force elbow into the head of Oklahoma City's James Harden that left the Sixth Man of the Year with a concussion. The Lakers definitely missed his presence on defense, and his ultra-competitive nature, as replacement starter Devin Ebanks and injured backup Matt Barnes had little impact on the first six games. World Peace is expected to start, and Bryant, for one, is ecstatic to have his running mate back. "He'll be ready; I don't think he'll have any rust (from the layoff) defensively," said the Laker co-captain. Not one bit. Maybe on his shot a little bit, but he's been working hard, so maybe not any rust on that. But I don't expect any rust defensively. He's always here early, doing the work. He did all the right things to prepare himself during this time. "Like I said the other day, Metta's the only other guy out there who matches my competitiveness on the court. He won't back down from anybody. "My type of competitiveness and energy level isn't something I expect every guy to have, but Metta's intensity is similar to my own. Simple as that." And Brown is hoping Kobe is right about World Peace's return. His job as Lakers' coach may be on the line. ESPN NBA analyst Magic Johnsonthe former Laker great and current co-owner of the Dodgers and still VP of the Lakerssaid Friday that if the Lakers lose to Denver "They're going to run Mike Brown first out of town. Then second will be (Andrew) Bynum. Then third will be (Pau) Gasol. "(Brown's) job will go," Magic said. "The Lakers are about championships. If they lose this game, Mike Brown, I bet you, will not be sitting there. "There would be so much pressure on Jim Buss and the Laker organization to get rid of him." Poor Mike Brown. Magic calls you out and your job security may depend on the psyches of Bynum and World Peace. Yikes!
Original Story:
http://www.foxsportswest.com/05/12/12...
THE BACKYARD
BEST OF MAXIM
RELATED ARTICLES
LOS ANGELES Close-out games in the NBA Playoffs despite Andrew Bynum's misguided opinion are not easy to win. But if you look at Lakers' recent playoff performances, you can almost begin to understand where Bynum came up with his proclamation. Prior to Tuesday night's Game Five loss to Denver, the Lakers had won eight consecutive close-out games. Their last loss in...
Much was made of Andrew Bynum's comment about close out games being "easy". Especially after he & most of the Lakers failed to show up for the game 5 loss at home. The Lakers will look to close out the Nuggets again in Denver, but Kobe Bryant is now reportedly questionable. Bryant is reportedly suffering [...]
Maybe we didn't notice JaVale McGee's defensive prowess because he toiled away on a horrible Washington Wizards team for the first three and a half years of his career but now that he is with the Denver Nuggets, Denver's interior defense has been much improved. McGee has taken his athletic, high-energy game and caused fits for the Los Angeles Lakers' All-Star center Andrew...
The Lakers are one game away from the unthinkable. Elimination. Maybe Andrew Bynum shouldn't have opened his mouth. But this is Andrew Bynum we're talking about, and really, who knows what the hell is going on his cranium the last two years. Either way, his comments definitely struck a chord in the Denver locker room. They have been playing inspired ball ever since those presumptuous...
If the Denver Nuggets win game seven of their first round Playoff match-up Saturday night as they take on the Los Angeles Lakers at the Staples Center; Lakers center Andrew Bynum will be haunted by the words "easy closing out" until next October. The All-Star center uttered the infamous phrase to reporters before his team took on the Nuggets in game five of the series with Los...
To chuck, or not to chuck, that is the question.  At least that is the ongoing debate among the pro- and con-Kobe Bryant groups (especially in the comments section of our All-NBA Teams article).  The argument (at least for the anti-Kobe people) is that the Lakers would be a more successful team if Kobe shared the rock more often, especially with Andrew Bynum and Pau Gasol, two...
The Los Angeles Lakers had title hopes this season. They still do actually, but they find themselves in a rather tenuous situation having allowed the Denver Nuggets to come back from a 3-1 deficit to tie the series at 3-3 on Thursday night.   Sure they will play Game 7 in Los Angeles but that may not be much of a consolation after the way they just got thumped in Denver last night...
The Denver Nuggets on the brink of elimination for the second game ran the Los Angeles Lakers up and down the court to a 113-96 Game 6 win to force a Game 7 back in LA. Game 7 will be Saturday night at the Staples Center.  Denver hasn't played in a Game 7 since losing to Utah in the 1994 Western Conference semifinals. "There's no way I thought what happened tonight would...
The Lakers are moving on to the second round of the NBA playoffs, although they don't have much time to prepare for it. The 96-87 victory Saturday night over the Denver Nuggets in Game 7 of their first-round series allowed the Lakers to advance. But the Lakers face a quick turnaround before Game 1 against Oklahoma City at Chesapeake Energy Arena on Monday night. "We...
We've got a bit of a Good News / Bad News situation. The Bad News is that the NBA regular season is finished, and with it, your fantasy team – rendering all your strategery as useless as a neck full of Mardi Gras beads in March. The Good News is that it's never too early to plan for next season. Is that news really all that good? Your girlfriend doesn't think so. Then again...
NBA News

Delivered to your inbox

You'll also receive Yardbarker's daily Top 10, featuring the best sports stories from around the web. Customize your newsletter to get articles on your favorite sports and teams. And the best part? It's free!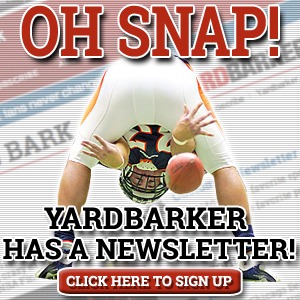 Latest Rumors
The Backyard

Today's Best Stuff

For Bloggers

Join the Yardbarker Network for more promotion, traffic, and money.

Company Info

Help

What is Yardbarker?

Yardbarker is the largest network of sports blogs and pro athlete blogs on the web. This site is the hub of the Yardbarker Network, where our editors and algorithms curate the best sports content from our network and beyond.