Found March 11, 2013 on Fox Sports:
The number 12 is no longer sacred in Orlando. The man who used to wear it, Los Angeles Lakers' center Dwight Howard, also once shouldered the Magic's hopes of attaining an elusive first NBA championship. But after eight years of chasing it, and taking Orlando through one of the most turbulent seasons in its history last year, the man who called himself Superman is now the city's biggest villain. He returns for the first time Tuesday since his offseason trade to the Lakers to face the jilted fans, front office members and handful of teammates that he left behind. ''I'm not sure,'' Magic point guard Jameer Nelson said when asked about his expectations for Tuesday. ''Obviously the atmosphere is gonna be probably a little turned up, a littler crazier than we've had so far this year.'' Nelson, Hedo Turkoglu and Glen Davis are the only players on the Magic's roster that have previously played with Howard. With Davis out with a broken foot and Turkoglu serving a suspension for violating the NBA's drug policy, only Nelson will play in the rematch. There will be a No. 12 on the Magic's sideline, though. Only it will be worn by one of the Magic's most recent acquisitions, second-year forward Tobias Harris. He's been wearing it since his senior year in high school. Fans once called Howard ''D-12,'' they now refer to Harris as ''T-12,'' a subtle dig to the star whose luster has faded in central Florida. If his contentious departure from Orlando didn't add enough heat to Tuesday, Howard tweaked many in Orlando last week when he referred to his former Magic team as ''full of people that nobody wanted'' during a television interview. He clarified later saying he only meant they were underrated. He went further Monday when he apologized for his part in last year's drama during an interview with USA Today, saying in part that he ''handled a lot of stuff the wrong way'' and got caught up in trying to please everyone. Howard acknowledges, though, that his reception will be icy. ''My dad said I might as well get earplugs,'' Howard said. ''I think it'll be tough for everybody...I heard they have chants ready, so it should be interesting.'' The Magic stunned the Lakers on the road back in December, 113-103, in easily their biggest win of the season. The Lakers were able to shake it off as early-season chemistry issues, but this time around can't afford any slippage as they try to hang on to a West playoff spot. ''We gotta get this win,'' Howard said. ''That's what's on our mind. We don't know if it's going to be a hostile environment or a good environment, but it really doesn't matter. I know these guys are gonna be there for me.'' Magic CEO Alex Martins said this week that he hasn't spoken to Howard since he left, and is focused entirely on a Magic rebuilding process that includes first-year coach, first-time general manager and major roster turnover. ''The way I look at it, basketball is such a fast-paced game that you gotta be focused on the present and future,'' Martins told The Associated Press. ''And if I'm focused on anything from the past then I'm not doing my job in getting our team and our organization ready to compete again. ''So, that's all we're focused on, is looking ahead and our rebuild and making sure we're doing all the right things systematically to get ready to compete again in the short-term.'' For a fan base that has previously trudged through similar sagas and departures of All-Stars like Shaquille O'Neal , Tracy McGrady and Grant Hill, this latest bitter homecoming is one that no one in Orlando ever expected to have endure again. Now that it's here, though, the city and its fans are preparing to make Howard's return the most unwelcoming to date. Along with chatter on social media planning signs to taunt Howard with, a local radio station put up electronic billboards in three Florida counties mocking Howard's visit. They feature a running countdown clock to Tuesday's game time with the tagline '''Til Dwight Leaves Us Again.'' And boos are almost certainly expected to echo inside the Amway Center which Howard once helped draw sellout crowds in. ''I certainly will,'' said longtime Magic fan Dennis Salvagio when asked if he planned to boo on Tuesday. ''I think because of the way he did it. There's lots of guys who left the team, but left because of other things, and they don't get booed and get a nice hand when they come back. But the way he did it was wrong and kind of spit in the face of the fans. Why shouldn't we boo him? It's why we pay our money, right?'' Salvagio has been a season-ticket holder since before the Magic even played their first game. The 65-year-old Orlando lawyer purchased the tickets he's held for the past 24 seasons in a special offering three years prior to their inaugural 1989-90 season. He called the daily soap opera that Howard was the centerpiece of last season ''messy,'' but was loyal throughout. But he said watching the affect the season-long ordeal took on the team changed his mind. As raucous as the night may be, Nelson said he'll try to just focus on basketball. ''What's said is said and what's happened is over and done with,'' he said. ''I'm just here trying to look forward and not dwell on the past. A decision was made and things happened. So it's not like anybody can take it back or anything like that. Me personally, I'm not mad at him for doing what he did. ''Could things have been done differently? Yeah, but they weren't. So me as a person I just have to move on and try to continue to be successful.'' --- AP Sports Writer Beth Harris in Los Angeles contributed to this report. --- Follow Kyle Hightower on Twitter at http://www.twitter.com/khightower.
Original Story:
http://msn.foxsports.com/nba/story/La...
THE BACKYARD
BEST OF MAXIM
RELATED ARTICLES
Much has been made about Los Angeles Lakers big man Dwight Howard and his return to his former homecourt in Orlando. On Tuesday, Howard lived up to his Superman persona scoring 39 points and 16 rebounds in the Lakers victory over a a Magic team that is currently the worst in the NBA. Please click here to read this story and watch video from Howard's evening The post Dwight...
Since the All-Star break, the Lakers are 7-2. A resurgent Dwight Howard has been a major part of the Lakers' run. Something clicked for Howard in Houston during All-Star weekend. "I stayed in the hotel and just thought about the first half of the season and what I could do better. How I could be better for our team." said the Lakers center. "I just told myself...
Something about the Los Angeles Lakers brings out the worst free throw shooters. It started with Hack-a-Shaq and now it's become Hack-a-Dwight. Hack-a-Dwight is when a player may be intentionally fouled the moment he gains possession of the ball, but he may also be fouled when he is off-the-ball. However, the NBA has a rule discouraging the defense from intentionally fouling a...
Dwight Howard was swarmed by media at Tuesday's shootaround in Orlando prior to his first game back since being sent to Los Angeles in a blockbuster trade. The 8-year Magic center says there is no nervousness or anxiousness about returning to play in the Amway Center, "..I'm just ready to go play. We need another win." He does, however, hope his and the teams accomplishments...
ORLANDO Perhaps it's time to retire the talk that the Orlando Magic need to retire Dwight Howard's old jersey number. While the booing and fouling of Howard in his return to town as a member of the Los Angeles Lakers was predictable, here's something that wasn't: Tobias Harris, making his third start since being acquired three weeks ago in the trade which sent J...
ORLANDO, Fla. (AP) -- Dwight Howard scored a season-high 39 points, had 16 rebounds and was sent to the free throw line 39 times by his former team as the Los Angeles Lakers beat the Orlando Magic, 106-97 on Tuesday night. The victory came in Howard's first return to Orlando since his drama-filled offseason trade to the Lakers. He endured a chorus of boos throughout, and tied...
Much has been made of Dwight Howard's return to Orlando, the place he made his home in the NBA prior to being dealt to the Los Angeles Lakers. The return is tonight, and the Orlando fans have been making their emotions knows, with plenty of booing aimed at their former franchise center. Many of the Orlando faithful hate the way that Howard handled his situation with the Magic,...
I'll preface this rant/whiny hissy fit by saying that I know that people have complained in the past that I write about the Orlando Magic too much, and a lot of people don't really give a crap about my favorite NBA team. So to make up for that, I've included a bunch of GIFs of my favorite ladies, so you can just skip ahead to that if you don't give a sh*t about my butthurt...
Orlando Magic fans want Dwight Howard to know he is a Coward with these jerseys. Yes, they are still butt hurt.
I would hope that Dwight Howard is starting to figure things out, but because he talks so much and contradict himself so often, you have to wonder. Dwight spoke to the media again and said that it took him half the season, but he understands now what Kobe was saying about keeping the clown act in Orlando. "It's going to make me a better man and a better player from watching Kobe...
Surprisingly, there may not be a person more supportive of Dwight Howard this year than his former coach Stan Van Gundy. As Dwight Howard prepares to return to Orlando for the first time since his trade in August and his unofficial departure in April following the whole Stan Van Gundy press conference where Van Gundy aired dirty laundry and so on and so forth. We know that story...
After scoring 14 points and grabbing down 17 rebounds Orlando's, big man Nikola Vucevic spoke about Jameer Nelson leadership, the fans support despite struggling as a team all season, and the upcoming showdown against the Lakers. sr_adspace_id = 1000001551307; sr_adspace_width = 728; [...]
NBA News

Delivered to your inbox

You'll also receive Yardbarker's daily Top 10, featuring the best sports stories from around the web. Customize your newsletter to get articles on your favorite sports and teams. And the best part? It's free!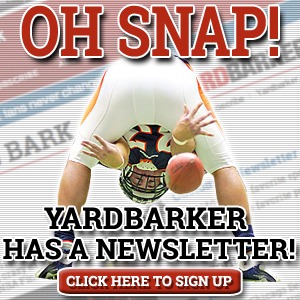 Latest Rumors
The Backyard

Today's Best Stuff

For Bloggers

Join the Yardbarker Network for more promotion, traffic, and money.

Company Info

Help

What is Yardbarker?

Yardbarker is the largest network of sports blogs and pro athlete blogs on the web. This site is the hub of the Yardbarker Network, where our editors and algorithms curate the best sports content from our network and beyond.