Found April 19, 2012 on Fox Sports West:
SAN ANTONIO Kobe Bryant was in a playful mood Wednesday night, telling reporters he didn't miss them at all during his seven-game injury absence. He also didn't hesitate when asked whether he could play all 48 minutes Friday against San Antonio. "If I have to," he said. Yep. He's back. It will have been two weeks since Bryant was sidelined because of a sore left shin. The Lakers weren't exactly teetering over a cliff with arms pinwheeling during his absence, going 5-2, but now they have a couple of minor problems. In no particular order, the Clippers continue to shadow them in the race for third place in the Western Conference and the Lakers need to reintegrate Bryant and his 23 shots a game. Andrew Bynum's shots jumped from 12.5 a game to 19.6 while Bryant was sidelined. Pau Gasol skipped from 13.6 to 18.3. Metta World Peace was a completely different player without Bryant, averaging 16.3 points the last seven games, more than double his season average. And yet, World Peace was almost giddy about Bryant's return. "He makes us better," World Peace said. "I can't wait to get Kobe back. I just can't wait. "We'll get him back in shape. I came here to play with Kobe. I know what type of player Kobe is and I wanted to win some rings. That's why I came to L.A." Bryant said he hated being on the sidelines but spent a lot of time as an unofficial Lakers assistant coach the last two weeks. "Now that I'm not out there, you have to do other things, you have to kind of experiment with your game," he said. "They had a great deal of success at it, so their confidence is at a high level, which is great." Bryant must tightrope his way into the lineup, fueling that confidence by feeding teammates but also being an effective scorer. "He's such a gifted player when it comes to having a feel for the game and guys have played with him for such a long time, I don't think there's anything that's going to be difficult in getting him back in the mix or in the flow," Lakers Coach Mike Brown said. Bryant leads the league in scoring (28.1 points a game) but is shooting only 43, his lowest accuracy since his second season. The Lakers (40-23) stunned the Spurs last week without him, 98-84, but were crushed by them Tuesday at Staples Center, 112-91, their largest margin of defeat this season. Bynum had 30 rebounds last week against the Spurs and World Peace had 26 points, the most he'd ever scored with the Lakers, but San Antonio's Tony Parker had 29 points and 13 assists in the rematch that featured an 18-0 Spurs run. The Spurs (45-16) are in a playoff chase of their own, trying to finish ahead of Oklahoma City for the top spot in the West. Friday will be nothing short of interesting with Bryant back. The Lakers' playoff push begins with three games left in the regular season. --Mike Bresnahan
Original Story:
http://www.foxsportswest.com/04/19/12...
THE BACKYARD
BEST OF MAXIM
RELATED ARTICLES
OAKLAND—The Lakers collected an ugly 99-97 road victory against the Warriors last night, committing a record setting 92 turnovers, a majority of which came when Lakers players passed the ball out of bounds to Kobe Bryant, who, despite being on the bench with a shin injury, called for the ball on nearly every Lakers possession. "You have to crack a few eggs if you want...
LOS ANGELES If there's anyone alive who still believes that the Lakers are a better team with Kobe Bryant sitting on the bench in a 5,000 suit rather than hoisting jumpers in shorts and a tank top...well...the late Betty Ford's people are holding a suite in Rancho Mirage with your name on it and a 28-day stay included. It has been the latest rage among some fans and local...
It's looking like Kobe Bryant will return to the court on April 20th when the Lakers and the Spurs face off in what could be a preview of a late rounds playoff match-up. This shin injury has been something of a beast for Bryant yet the Lakers have rolled on without him winning five out of the seven games that they have gone to battle without him. In many eyes Bryant should wait...
Kobe Bryant, who missed his seventh straight game Wednesday with a shin injury, is eyeing a Friday return for the Los Angeles Lakers after completing running and jumping exercises without pain. "I'll probably be on the floor next game," Bryant told ESPN during the broadcast of the Lakers' 99-87 win against the Golden State Warriors. If he again feels no discomfort...
Describing his shin as pain-free, Lakers star Kobe Bryant will return to the starting lineup Friday night at San Antonio after missing the past seven games. Bryant said after the morning shootaround, at which he participated in full-speed workouts, that he feels he can play all 48 minutes if needed. The 33-year-old Bryant has been sidelined by a case of tenosynovitis, or inflamed...
SAN ANTONIO For those wondering how Kobe Bryant would integrate himself with the rest of the Lakers after sliding into the role of coach for the last two weeks, a new question posed itself Friday when Bryant finally suited up and played. What happened to his team? Bryant returned looking much like his old self, but the swaggering, rugged, ball-sharing group that had surfaced with...
Los Angeles Lakers guard Kobe Bryant will play Friday against the San Antonio Spurs after missing seven games with a left shin injury.Bryant participated in the Lakers' shootaround Friday morning without a brace or wrap covering his left shin.Coach Mike Brown said there would no restrictions on Bryant's minutes in the contest.Bryant is averaging 28.1 points and 5.4 rebounds...
It's a ludicrous question that's posed every year when Kobe Bryant sits out for a few games: Are the Lakers actually better without Kobe? It always sounds crazy, and it is crazy in the sense that it's not true. But there's a reason the question is always raised. The Lakers tend to play more loose and free when Kobe isn't on the floor. There's 20-30...
The San Antonio Spurs handed the Los Angeles Lakers their worst loss of the season earlier this week, but that came with Kobe Bryant sidelined. The Spurs likely won't get such a break this time with the Lakers star set to return from injury. The Western Conference-leading Spurs will be trying to extend their winning streak to six Friday night, but Bryant is expected to play...
The San Antonio Spurs (45-16) will face the Los Angeles Lakers (40-23) for the final time during the regular season in San Antonio as both teams will look to take the series lead. The Spurs and Lakers have both split their first two meetings this season with both teams winning on the road. Add the fact both teams have won convincingly makes tonight's game key as to which team...
The Lakers appear patient about Kobe Bryant's recovery from a sore left shin so that he's healthy for the playoffs. Meanwhile, it has prompted Coach Mike Brown to start Devin Ebanks, who has spent most of the season out of the rotation, at shooting guard. "Hopefully when Kobe comes back," Ebanks said, "Coach will still have me in the rotation to play.&quot...
SAN ANTONIO (AP) -- Tim Duncan, Tony Parker and Manu Ginobili all scored at least 20 points to help the San Antonio Spurs beat the Los Angeles Lakers 121-97 on Friday night and spoil Kobe Bryant's return. Bryant had missed the previous seven games with a bruised left shin, and the Lakers went 5-2 without the NBA's scoring leader. But with only two games left in the regular...
NBA News

Delivered to your inbox

You'll also receive Yardbarker's daily Top 10, featuring the best sports stories from around the web. Customize your newsletter to get articles on your favorite sports and teams. And the best part? It's free!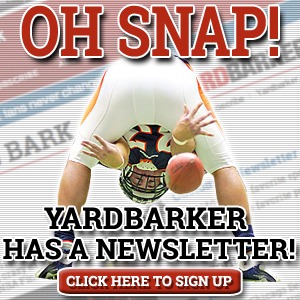 Latest Rumors
The Backyard

Today's Best Stuff

For Bloggers

Join the Yardbarker Network for more promotion, traffic, and money.

Company Info

Help

What is Yardbarker?

Yardbarker is the largest network of sports blogs and pro athlete blogs on the web. This site is the hub of the Yardbarker Network, where our editors and algorithms curate the best sports content from our network and beyond.