Found January 30, 2013 on Fox Sports West:
LOS ANGELES -- The Lakers won their third in a row, beating the New Orleans Hornets, 111-106. There's no arguing that this a much better Laker team than it was just six days ago, with Kobe Bryant and Steve Nash switching roles and Dwight Howard playing with a renewed enthusiasm. However, it also can't be argued that this team still has quite a ways to go in order to turn their season around. Yes, the Hornets are a better team (9-7) since Eric Gordon returned from multiple knee injuries on December 29, and yes, they beat the Grizzlies in Memphis a few days ago. But they're still a miserable 15-30 and tied with the Phoenix Suns at the bottom of the Western Conference. They'll be the Pelicans before they see the playoffs again, but the Lakers couldn't put them away. Even fighting for their playoff lives, the Lakers just can't stand prosperity. It looked like they were going to run the Hornets right back to New Orleans as they shared the basketball beautifully and ended up with a season-high 34 assists leading to 39 makes. They built an 18-point lead98-80--in the fourth quarter, but proceeded to lose their concentration and let the Hornets right back in the game. Behind the shooting of Ryan Anderson, who hit two three-pointers and scored 11 points, N.O. went on a dazzling 16-2 run in 2 12 minutes to cut the lead to one. But Earl Clark scored inside and Steve Nash buried a three-pointer with just over a minute left to play to put away the game. Head coach Mike D'Antoni was happy with the win, but not happy with his team's performance. "We shut it down too early," he said. "Actually, I thought we shut it down in the second half. You can't do that with a team that shoots threes like they do. We were scoring a lot and we get the tendency to think we're just going to outscore them the rest of the way. We almost paid for that." But they didn't, thanks to a great game by Howard, who had 24 points, 5 steals, 4 blocks and 4 rebounds, and the remarkable Clark, who at times was the 13th man on a 12-man roster. He finished with 20 points, 12 rebounds and 4 assists., including the layup that turned the momentum back to the Lakers after they'd blown the big lead. "It's great to get a win, no matter how you get it," Clark said. "We did let up on defense and turned the ball over, but we stayed with it and came away with the win." Bryant's emergence as the Lakers' primary distributor continued Tuesday with 11 more assists, giving him 39 in three games, the most he's ever had in three straight games. "Well (the facilitator role), it's working pretty well," Bryant said with a laugh. "I just get my guys lined up in the right places and get them the ball. "(Having two players) who can move the ball is great, because it always keeps the other team a few steps behind, which is really helpful. It's good for us emotionally because it's working, and they don't have any idea where the ball is coming from or where it's going.
Original Story:
http://www.foxsportswest.com/01/30/13...
THE BACKYARD
BEST OF MAXIM
RELATED ARTICLES
MINNEAPOLIS -- Without even knowing it, Dwight Howard was doing a modern-day impression of that famous Rodin statue, resting his chin on his hand as he hunched over in his chair. He had his back turned to reporters at his locker Wednesday night and was lost in his thinking. Finally he rose, had an ice wrap removed from his right shoulder and showered. The latest snag in the Lakers...
Dwight Howard has aggravated his right shoulder injury again. D12 left in the fourth quarter and didn't return. And the Lakers got beat by the Phoenix Suns. Howard will be evaluated Thursday and his status for Friday at Minnesota is up in the air, ESPN reported. If Howard can't go, Pau Gasol gets a boost. Howard, icing his shoulder and applying kinesiology tape to...
As we all know, Kobe Bryant is very active on Twitter.  He has been replying to fans and posting a bunch of pictures of him icing his knees.  Getting a [...]
Midway through his 17th season, has Lakers All-Star Kobe Bryant reinvented himself as a point guard? Over the past three games, Bryant has led to the Lakers to a three-game winning streak, dishing 39 assists while averaging just 16.3 points a game. Bryant's new style of play is the key to turning may help his team's dismal 20-25 start to the season. Is this pass-first...
We all know Kobe Bryant is arguably the most competitive and passionate player the game of basketball has ever seen. To him, success is only measured in championships, and there's no such thing as 2nd best. In the past 2 games, Bryant reminded everyone just how much he puts winning above everything. The Lakers had lost 3 straight games on the road catapulted by a disappointing...
PHOENIX Nashapalooza, which is a huge betting favorite to rank as the most memorable event of this Phoenix Suns season, turned out to be a dramatic salvo with many engaging characters. The biggest role, of course, was handed to former Suns superstar point guard Steve Nash, who showed up Wednesday night for his old teams retro Back In Black jersey event in the yellow work clothes...
Los Angeles Lakers center Dwight Howard reaggravated a shoulder injury that kept him out of three games in January and is listed as day to day after being evaluated Thursday by the training staff. Howard left the Lakers' 92-86 loss on Wednesday night to Phoenix with 6:56 to play and never returned after his shot was blocked by Shannon Brown. The All-Star said he felt numbness...
The Los Angeles Lakers are still near the bottom of the Western Conference.  Their aspirations of being in the NBA Playoffs is non-existent at the moment.  On the other hand, [...]
Prodigal Sun or Point Guard Non Grata? Applause or boos? Steve Nash returns to Phoenix on Wednesday night for the first time as a member of the Los Angeles Lakers -- the uncomfortable convergence of the player who Suns' fans most loved with the team they most love to hate. It's no ordinary homecoming -- as you might have noticed from the 75 price tag placed on the cheapest...
Even after two wins in a row, including a big win over the Oklahoma City Thunder, there's no denying that the L.A. Lakers are still a big mess. Eventually they're going to figure out that Dwight Howard is one of the big reasons why. During the Lakers' game against the Thunder, ESPN broadcaster Jeff Van Gundy went on one of his classic rants (video below), calling out Howard's...
Every week, our staff writers chime in on the trending topics, rumors and storylines surrounding the Lakers. In today's State of the Nation, they answer five questions that will ultimately decide the fate of the Lakers.True or False: The '12-13 Lakers season can still be salvaged?Photo Credit: WashingtonPost.comJordan Grant // @JordanGrant90:True, but highly unlikely. Hard to...
It's no secret I've been openly critical of the performance we've seen from the Los Angeles Lakers during the course of this season. Everything, from firing head coach Mike Brown five games into the season to hiring present coach Mike D'Antoni, has been in question from my perspective. A huge part of this is because I didn't (and still don't) think D'...
NBA News

Delivered to your inbox

You'll also receive Yardbarker's daily Top 10, featuring the best sports stories from around the web. Customize your newsletter to get articles on your favorite sports and teams. And the best part? It's free!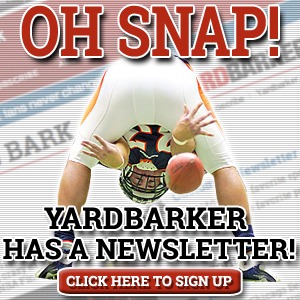 Latest Rumors
The Backyard

Today's Best Stuff

For Bloggers

Join the Yardbarker Network for more promotion, traffic, and money.

Company Info

Help

What is Yardbarker?

Yardbarker is the largest network of sports blogs and pro athlete blogs on the web. This site is the hub of the Yardbarker Network, where our editors and algorithms curate the best sports content from our network and beyond.