Posted May 03, 2012 on AP on Fox
Speedy point guard Ty Lawson believes more running and better rebounding will get the Denver Nuggets back into their first-round series with the Los Angeles Lakers. And coach George Karl thinks it boils down to controlling the paint, preventing Lakers center Andrew Bynum from dominating down low. Or the trick to turning this series around could be something as simple as this: Playing with a lead for once. See, the Nuggets haven't even led for so much as one trip down the floor in falling into a 2-0 hole against the Lakers. That's why the Nuggets are hoping for a fast start in Game 3 on Friday night at Pepsi Center. They hope to jump out on top and get the boisterous crowd into the action early. Maybe that will provide a spark. ''We definitely have to have a good start, especially at home and especially against them,'' Nuggets forward Danilo Gallinari said. Denver was blown out in Game 1 as Bynum posted a triple-double with 10 points, 10 blocks and 13 rebounds in a 103-88 rout. But there was a point in Game 2 when Denver had the Lakers a little nervous. Trailing by as many as 19 in the third quarter, the Nuggets stormed back to make it a game, only to fade at the finish and fall 104-100. They're trying to use that furious comeback as motivation for Game 3. It's given them confidence in a series where Kobe Bryant and Bynum have been so difficult to defend. ''In the second half, looked like we played with a lot of heart,'' Lawson said. ''Played our game for the first time in the series. If we get that into the game on Friday, then I think we have a good chance of winning.'' The Nuggets' brand of basketball is predicated on speeding up the court. That's not usually a solid recipe for the postseason, when teams tend to run more of a half-court system. But they'll keep pushing the pace and trying to wear down a Lakers team that doesn't easily exhaust. ''When we do get the ball, just run them, because they're not that fast,'' Lawson said. Lawson has hardly turned in the type of postseason he would've envisioned. He struggled in the opener - finishing with as many assists (2) as turnovers - before finding his rhythm in the second game with a team-high 25 points. He insisted he needs to attack more against the Lakers, taking the action right to the big men. Oh, and help out on the glass when he can. ''That's the big thing,'' Lawson said. ''That's the No. 1 key we need to do - get Bynum off the boards. From us guards, if there's nobody around us, go hit a big. Go get in Bynum's body, bump him, make sure he doesn't get a rebound.'' Easier said than done. So far, Bynum is having a fantastic series. Bryant, too - but that's to be expected. Bryant put up a stellar performance in Game 2, scoring 38 points on a rather efficient 15-of-29 shooting. ''He's one of the best,'' Gallinari said. ''When he has those kinds of games, there's not a lot to things you can do.'' Especially when he's this well rested. Bryant missed eight of the last 10 regular-season games and now he looks almost fresher on the floor. ''I thought the break was good for him, because I had been playing him a lot of minutes, too, probably more than you want,'' Lakers coach Mike Brown said. ''When you have the luxury of a guy like Kobe, you might ask him to do a bit more than you'd like, so it was good for him to sit out a few games and get his body back to where it was. It was a good thing for him.'' The player flying under the radar is Pau Gasol, a versatile center who has Karl quite concerned. Gasol has been doing a little bit of everything for the Lakers. ''The numbers say Bynum and Kobe are killing us. I might vote for saying, get Gasol off the court,'' Karl said, grinning. ''His decisions and feel for the game are contagious.'' Bryant couldn't agree more. ''Pau has always been willing to do anything for victory for us,'' Bryant said. ''We're fortunate to have him here, because he's a rare breed, a guy who doesn't really demand the ball all the time. So it allows me and Andrew to do what we do, and he's still able to be very effective in what he does anyway. He has a huge impact on the team.'' With his team against the wall, Karl was asked if he thought they could climb their way back into the series. ''If you followed us all year long, every time everybody thought the worst was going to happen, it never happened,'' Karl said. ''Yeah, I believe in them and I trust in them. We're not this consistent, perfect team. We have to do some things to make our motor go, but when it goes, it's pretty good. I think it's going to go on Friday night.'' The Lakers are certainly preparing for just that. ''They're great at home, so we've got to try to control the tempo for 48 minutes and not let them get up and down the court like they want to do,'' Lakers point guard Ramon Sessions said. ''They're definitely going to come out with a sense of urgency, because at this time of the year, it's win or go home.'' --- AP Sports Writer Greg Beacham in Los Angeles contributed to this report.
Original Story:
http://msn.foxsports.com/nba/story/La...
THE BACKYARD
BEST OF MAXIM
RELATED ARTICLES
For a guy who just scored 27 points and found himself on the winning end of a second consecutive playoff game, Andrew Bynum was in a lousy mood. His answers, most of them anyway, are not worth repeating. It's not that they were offensive, just conspicuously short. Finally, someone thought to ask him why. "I left a lot on the court today," he said. "I worked way...
DENVER (AP) -- Speedy point guard Ty Lawson believes more running and better rebounding will get the Denver Nuggets back into their first-round series with the Los Angeles Lakers. And coach George Karl thinks it boils down to controlling the paint, preventing Lakers center Andrew Bynum from dominating down low. Or the trick to turning this series around could be something as simple...
For once, Kobe Bryant smiled. For once, Andrew Bynum frowned. The Lakers' two best players appeared to trade roles. Bryant usually remains stoic and serious during the NBA playoffs. Bynum often appears carefree. Yet, the circumstances surrounding their differing body language actually revealed how they are resembling each other. The Lakers' 104-100 Game 2 victory Tuesday...
After the Los Angeles Lakers held the Denver Nuggets 16 points under their season scoring average of 104 points per game in Game 1 of their seven game series and Andrew Bynum had one of the best defensive playoff performances of all time, Nuggets head coach George Karl says it was all because Bynum cheated. Karl says Bynum played an illegal zone defense on "about 30 possessions"...
Andrew Bynum has played excellent basketball over the second half of the season and into the playoffs for the Lakers.
Hear from the Lakers center after LA takes 2-0 lead on Denver.
DENVER When Andrew Bynum wheeled into the lane and lofted a 5-foot jump hook toward the basket late in the third quarter, Denver center JaVale McGee took a step back and swatted the ball away. It was a call that everyone in the building figured was goaltending, except for the three officials. But the ball went right to Ramon Sessions, who sank a jumper that helped the surging Lakers...
LOS ANGELES -- Denver Nuggets coach George Karl has won the seventh-most games of any coach in NBA history, so he can tell when a team is ready for the playoffs and when one isn't. Karl's inexperienced Nuggets weren't prepared in their postseason opener Sunday against the Lakers, but they vowed to come back Tuesday night at Staples Center with more speed and aggressiveness...
DENVER (AP) -- The Denver Nuggets climbed back into their series with the Lakers thanks to an energy and enthusiasm that was missing from the first two games in Los Angeles. Ty Lawson scored 25 points and the Nuggets raced to an early 24-point lead on their way to a 99-84 victory on Friday night in Game 3 of their first-round series. The Nuggets, who will try to even their best...
Los Angeles, Calif. -- It was a similar story in Game2 as Game 1 as Kobe Bryant and Andrew Bynum continued their campaign of carnage on the Denver Nuggets Tuesday night at the Staples Center defeating the Nuggets 104-100. Bynum, who scored a career playoff high 27 points was impressive again even with officials on the look out for what Denver had alleged hours earlier as his...
LOS ANGELES -- Despite the fact that they head back home down 2-games-to-none in their opening round playoff series against the Lakers, the Denver Nuggets aren't going back as a thoroughly beaten basketball team. Yes, Los Angeles took Game One convincingly, never trailing and finishing with a 103-88 win. Kobe Bryant scored 31 and center Andrew Bynum collected his first-ever...
The Denver Nuggets attempted to come back from a 13 point deficit with 7:09 remaining in their second game of their Post Season match-up against the Los Angeles Lakers at the Staples Center on Tuesday night. The visitors were able to cut the Lakers lead to four points; but could never get any closer and Los Angeles held on to win the game 104-100 and take a 2-0 lead in their best...
NBA News

Delivered to your inbox

You'll also receive Yardbarker's daily Top 10, featuring the best sports stories from around the web. Customize your newsletter to get articles on your favorite sports and teams. And the best part? It's free!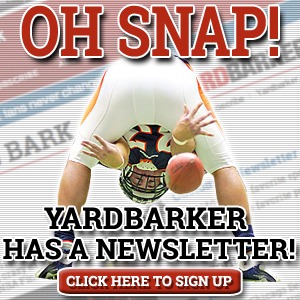 Latest Rumors
The Backyard

Today's Best Stuff

For Bloggers

Join the Yardbarker Network for more promotion, traffic, and money.

Company Info

Help

What is Yardbarker?

Yardbarker is the largest network of sports blogs and pro athlete blogs on the web. This site is the hub of the Yardbarker Network, where our editors and algorithms curate the best sports content from our network and beyond.